Hey! Westward Ho!
When I think of the UK, I think of home. I think of cold weather and I think of a good cuppa' tea. Kiteboarding is not regularly at the forefront of my mind here in England, but trust me when I say, no weather will stop us hardy Brits from having fun!
When you find a place like Westward Ho! that naturally has an "!" in its name, you know it's going to be good. And the excitement is infectious! If we're talking about kiteboarding spots in the UK, then Westward Ho!'s is up there with the best.
Plus, it's not every day you come across a kitesurfing mecca in the quaint Northam Burrows Country Park, with a name chosen from an 1800's Charles Kingsley best-seller (true story). It was written in a bid to win over the nation's hearts and attract tourists to this Atlantic-facing seaside town. Admittedly, it has taken almost 200 years to bring in the punters and unfortunately, many still don't know about this place … which is great news for you because not only do you have a serious Atlantic kiteboarding playground, you also have it pretty much to yourself.
English Summers
Ahhh, Devon. It doesn't matter where you are in the UK, Devon always fills us with a smile and a warm heart. Thatched rooves, homemade cider and clotted cream, Westward Ho!is full of charm. On the North Devon coast approximately two hours from Bristol, Northam Burrows is one of the best beaches in the UK for kite sports.
Between the Northam Burrows Country Park and Westward Ho! town lies a 2.5 mile sandy beach, framed by the pebbled ridge that barriers vast salt marshes. It is quite picturesque and although it can get fairly busy in the summers, it's the underdog in comparison to neighbouring Croyde and Woolacombe. For the moment, anyway. Developments are long underway and the property market is growing in Westward Ho! … meaning, it will be 'the' next best place to be, and it'll be worth the wait.
The annual launch for the BKSA Freestyle Championships already takes place here, unsurprisingly considering its uninterrupted Atlantic swell. And it is fairly raw. This UK coastline has some of the highest tidal ranges in the world, reaching a 15 metre range in the Bristol Channel in a 12hour period. So these strong tides and currents are not to be taken lightly … scribble that down somewhere!
Wind season in Devon
British summertime falls from June to early September and temperatures reach up to 25 degrees. Brits flock to the beaches on weekends and during the school holidays (July – early September) and attract to the sun like moths to a flame. We don't get many heated days, so when we do, we maximise it in its short bursts. This means that beaches can be busier during  those sunnier spells making it a tad trickier to launch safely in public areas.
This being said, April to the start of June, and September & October (Spring and Autumn) offer windier conditions and clearer beaches to launch.
The beach between May and September is lifeguarded by the RNLI and there is a designated kiteboarding area 200m north of Sandymere lifeguard hut, making it the safest months to visit. Signage is marked, and people are friendly, so ask if you're unsure where to ride.
The Westward Ho! Beach itself faces North West into Bideford Bay and beyond, for 2 miles north of the village. It's shallow and sandy but open to the elements. Westerly winds attract kiters from all around, and there is enough variety for freestylers as well as intermediate cruisers. Be mindful that this area experiences gusty cross-shore southerlies because of the nearby headland, and it can get fairly wet in this part of the world… expect rain at any time of the year!
With kiteboarding and land-kiting alike, timing is best done in Spring and Autumn (Fall) every year with there being fewer kiteable days throughout June and July. That said, the UK enjoys a good storm any time of the year so you may see F7-12 winds at any time. How much can you handle?!
Kiteboarding spots in Devon & around Westward Ho!
1. Westward Ho! Beach
Great starting point to learn kiteboarding and can also challenge intermediate riders. While someone who is an A-class pure surfer would be disappointed, the two miles of breaking waves can make for some great freestyle kiteboarding.
In the summer months you'll have to pay a nominal toll road fee to get onto the Burrows and then you drive about a mile onto the spit itself. Park up at the North end of the car park and cross the sand dunes to the beach.
Before you head out, check the tide as it kicks right up to the pebble ridge when it's high. You're not allowed to kite during the two hours of high tide as there must be at least 50 meters between you and the ridge when landing and launching. But don't worry, there's plenty of beach to play with. When the tide is right out, it spans 800 meters wide!
The area is popular among kite sports enthusiasts so take care to stay within the set boundaries marked out with flags for individual sports. You must also have 3rd Party insurance to fly here, unless you're taking lessons with a local school who are covered for full public liability, but best to check with them directly.  If you're found not to have it, you may be chucked off the beach… the worst kind of 'walk of shame'!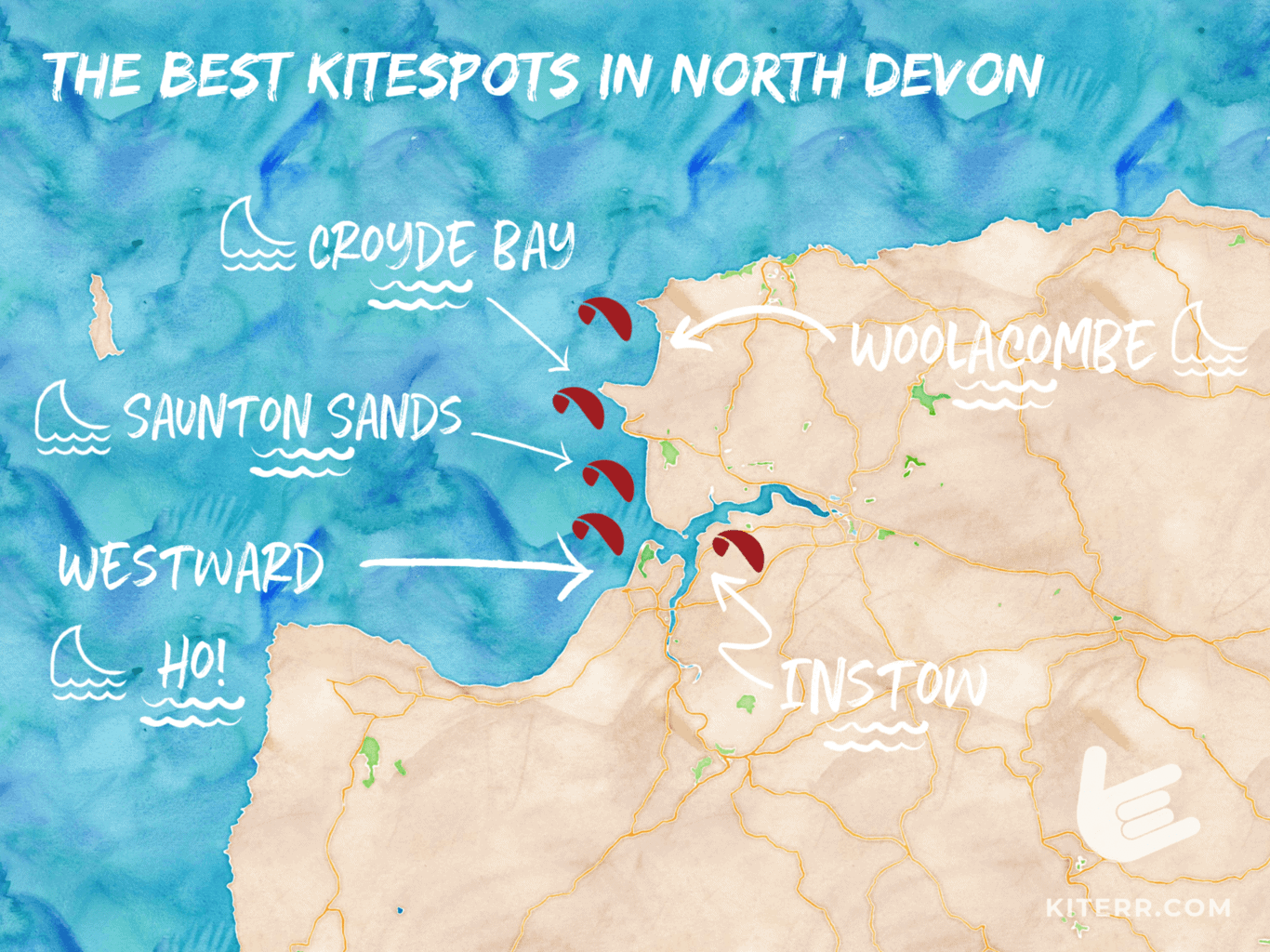 Land kiting on Westward Ho! Beach
There's more to traction kiting than just kitesurfing. Where there are miles of hard sand with a decent wind you can do landkite sports such as kite-landboarding or kite buggy. With friction being almost zero on decent wheel bearings you can be screaming along on apparent wind right at the edge of the envelope. Have you ever travelled at 50mph with your ass just centimetres from the deck?!
Westward Ho! has some of the best conditions for kite-landboarding and kite buggy in the UK. The beach is packed with 2.5 miles of hard-packed sand and is on a plane of NNE – SSW, so in the prevailing westerly winds you are able to enjoy high quality landkite sports to the max most of the year.
Like with kiteboarding, the only limitation is that you must kite on the North end of the beach during the busier summer months (1st June – 30th September).
2. Saunton Sands
Moving just north of Westward Ho! is Saunton Sands. This beach's infrastructure is all about slow, long waves with large flats added to the mix. Breaks tend to be anywhere from 150 to 300 metres on a very good day, making it one of the best surf and wave spots for miles.
Kitesurfers get their kicks at the southern end of this beach (with surfers at the top), although it's prohibited during July and August. As the fun police decided that the teaching of all kitesports in Saunton Sands is forbidden, it's only available for independent riders.
Although a word of warning before rigging up here- take a good look at the forecast before heading out. A massive storm hit the UK in 2019 and a fatality occurred for an experienced kite instructor, on this beach. Whilst the exact cause of death is not known, the winds were said to be hefty.
3. Croyde Bay
Croyde Bay is traditionally more surf turf, so can get busy with these kids during the peak months. Waves are 'A-frame' shaped due to the local topography and the break is very close into the beach, which makes for really speedy kiteboarding. Weeeeeee! The best time to kitesurf is 1-2 hours before low tide, though do be warned that in big seas closer to low tide, the less forgiving the conditions for intermediates. But the fast, hollow and heavy waves make this an expert kitesurfer's crackerjack.
4. Woolacombe
Another top spot similar to Westward Ho! with plenty of swell along a cruisy 2.5 mile sandy beach. Head just head north of Croyde Bay to find Woolacombe, and rig up a bit further south for a quieter ride…this popular place also gets busy during the peak summer season.
5. Instow
An estuary beach that sits pretty along the Taw & Torridge rivers, a hop-skip-and-jump across from Westward Ho!. It's a calm, flat-water alternative to the often wavy North Devon beaches, hugged with sand bars that prevent swells. Take a short ride from Instow beach to Appledore for some village (or pub) hopping!
No wind? No ride!
SUP
On those calm, flat days, grab a SUP (or Kayak) and have fun on the sea from Croyde, Saunton Sands or Woolacombe within an hour or so's drive.
Find a Pub.. or Devonshire Tea!
We Brits are hardy drinkers, and you will learn quickly that there are many pubs to choose. Devon is renowned for its cider, so enjoy a day of tastings around the local brewers!
Or, for a more tee-total jam, venture to a traditional cafe for a real taste of that good 'ole Devonshire cream tea. Which will you choose?!
Northern Burrows County Park
On your doorstep is a natural wonder; a semi wild landscape that is great for an outdoor stroll. The part of the North Devon Coast Areas of Outstanding Natural Beauty with a variety of wildlife-rich habitats and grazing livestock.
Ultimate Adventure Centre
With this exhilarating outdoor playground just around the corner, why not take a day off kiteboarding and jump onto the 'Ultimate Wipeout' assault course, a mountain board, coasteering or laser tag with your buddies…
---
Where to next? If you're sticking to the UK, why not head further south-east to Weymouth Bay & Portland Harbour. Or stay in Europe for some Italian goodness, check out Lo Stagnone in Sicily.