Kitesurfing in Port Douglas and Far North Queensland.
Think of Port Douglas and the Far North as a gateway: not only to the Great Barrier Reef and the Daintree Rainforest, but also to the very special part of Northern Australia. Both of these rare jewels of the Tropical North are proudly listed as the World Heritage sites of UNESCO. Pretty cool, isn't it? This spot guide will walk you through the best kitesurfing spots that Far North Queensland has on offer.
Port Douglas is a peaceful seaside village only about 70km north of Cairns. It can be reached easily in an hour or so and you'll get to experience a smashing scenic coastal drive on top of it.
So If you're looking up places to put on your post-COVID madness wishlist, you'll be pretty pleased to hear that tropical Four Mile Beach in Port Douglas is a perfect kitesurfing spot with great south-east winds.
When to rock up?
For most of the year the conditions here are just perfect. The main kitesurfing season in Port Douglas usually kicks off in late April and continues through to early December, although the trade winds can blow all-year round. August usually tends to be the coolest and windiest month of the year.
Four Mile Beach is perfectly pitched for a pretty reliable stream of cross on-shore SE trade winds.
When the wind is up, the average speeds are a stable 12-18 knots on most days. You get a few cracker days with winds reaching up to 25 knots and over, especially around Low Isles.
In the months between April and September, which is also the 'dry season' in Tropical North Queensland, you'd score a good 16-20 windy days per month. At this time of the year you'll get the most beaming blue-skied days, minimal rainfall and slightly cooler 'winter' water temperatures. A rashie is good enough; a wetsuit might be overkill.
The winds through October to December ease off a notch with an average of about 14 windy days a month. This is the start of the 'wet season', although the rain doesn't generally start pouring until after Christmas.
The early months of the wet season start in January with humid, boiling hot days and light winds. Generally you can expect a few seabreezes coming through especially around the cyclone season. This is the summer time in the Tropical North when the water temperature raises to 30 degree Celcius and the FNQ's famous stingers start to plunge in.
The elephant in the room ..
The jellyfish season generally begins when the wind drops off at the beginning of November and goes all the way to the end of May when the water starts cooling down again.
Box jellyfish stings could be fatal and even the tiniest of all jellyfish, the Irukandji, can make you pretty sick. So you'd want to wear protective clothing, something we call a 'stinger suit'. It looks a bit like a wetsuit, but just a lot thinner and more like a full body rashie. Many kite schools and reef tour operators provide these usually free of charge, so no need to worry about getting your own.
The main beaches (Four Mile beach included) usually roll out a stinger net at this time of year, so you can still enjoy a day at the beach even if you don't have a stinger suit on, as long as you swim within the net of course!
There's not really any Great Whites in FNQ, but there may be salt water crocodiles present in these waters.
Their main territory is around Daintree and Mowbray river mouths and this is where they're most often spotted, particularly during  the mating season from September to April.
They occasionally venture out of their territory when they try to get from one river to another, but as long as you stick to the main open beaches, stay away from the river mouths and don't go skinny dipping at dusk or night time, you'll be sweet and sound. Just be 'crocwise' wherever you are in FNQ!
Four Mile beach is far enough from these areas, and outside the 'critter' season, the beach is pretty safe.
Kitesurfing spots in Far North Queensland
1. Four Mile Beach, Port Douglas
Kitesurfing in Port Douglas and its iconic Four Mile Beach dates back about 20 years back when a kitesurfing pioneer with passion for sails decided that this is the perfect spot for a kitesurfing school.
Windswell Kitesurfing is here till this day and in fact remains the only kitesurfing school in Port Douglas. So for those needing kitesurfing lessons (or a reef trip) drop by and say hi to Bretto.
The main kite and teaching area is at the southern end of Four Mile, which is also an ideal spot for an early morning sunrise SUP when the water is calm and mirror flat.
The kite beach is blessed with perfect conditions for any level. The spot is great for beginners due to the shallow, knee-deep water, stretching 30 to 40 meters out. At low tide, the sandy beach is super wide giving tons of space for launching and landing with almost zero obstacles other than the lining palm trees. For newbies, there's no better spot for practicing kite control and those good old body drags.
You still need to mind the occasional dog walker, but generally, the beach is yours. All the tourists hang around at the other end of the beach near the town.
With the wind, there comes the swell, so it's not all just flat on Four Mile. If you're seasoned enough to venture a bit further out, you'll get a bit of wave too.
Due to the flat and sandy bottom, Stingrays love to chill on Four Mile beach. But like any other beach in Queensland, just watch your step.
The danger with stingrays is the barb on their tails. Disturbing a stingray can cause it to jab the barb into your leg. You won't die, but it will hurt like hell. Stingrays lie very flat on the bottom of the ocean making them difficult to spot and easy to accidentally step on. To prevent that, shuffle your feet in the sand when you walk through the water. Just like a reversed moon walk. This will make the stingray move to another spot.
2. Yule Point
If kitesurfing in Port Douglas won't cut the cheese anymore and you're looking to check out a few more kitesurfing spots around the area, put Yule Point on your list.
Sitting just 10 minutes south of Port Douglas, with good wind and just the right tide, kitesurfing at Yule Point is an absolute treat. If you manage to get here when the tide is just coming in, you'll get a good 3 to 4 hour session. This spot is beginner friendly due to the shallow flat water and tons of empty space, but It can be a little too shallow here and there. If you venture out a bit further, then watch out for the rock reef at about 300 metres out to the sea.
There's little parking at Yule Point, so you'll need to pitch up just by the main road and walk down the steep rocky bit for 20 metres the until your reach the flat sand.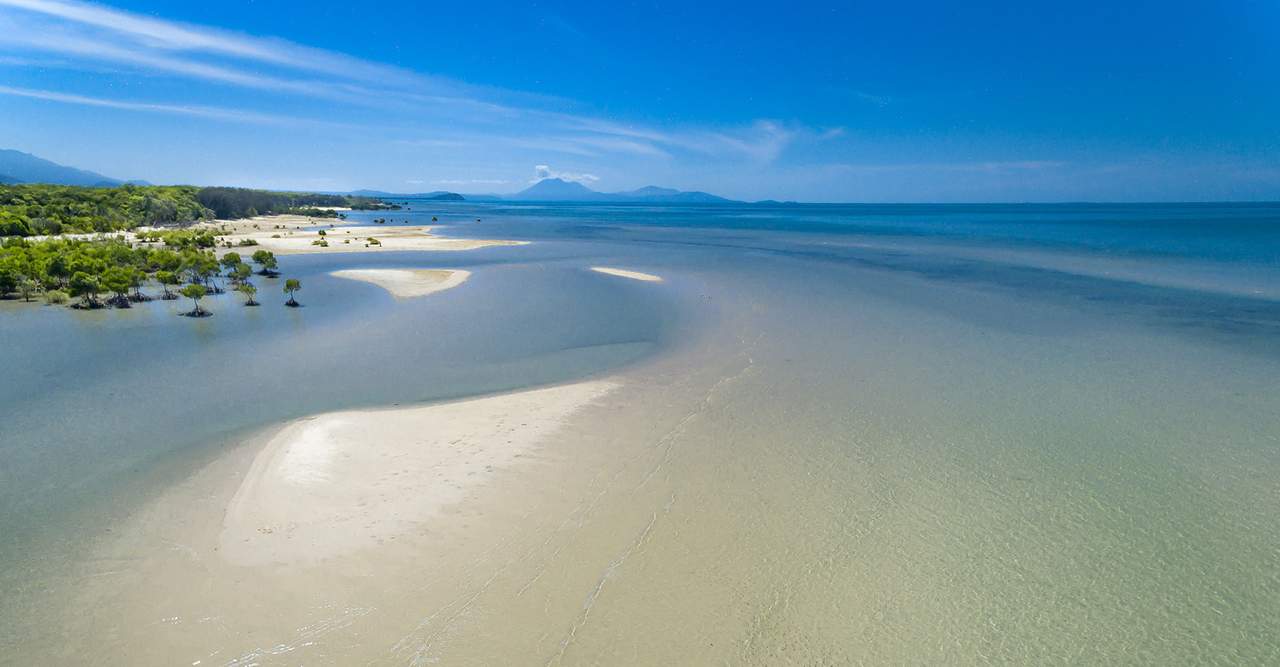 3. Yorkeys Knob
Yorkeys Knob is about a 50 minute drive south from Port Douglas, or about a 20 minute drive north from Cairns. It's the second beach from Cairns just after Holloways Beach.
Just like all other kitesurfing spots in Far North Queensland, the kitesurfing season in Yorkeys Knob starts in May and goes all the way through to the beginning of December. You'll get the best out of it when the wind is coming from south or south-east, with a reliable 15 to 20 knots here on a good day. Occasionally it could even get up to 30 knots further down in the season.
There's a large grassy area to rig up just to the south, at the corner of Wattle Street and Sims Esplanade. This is main hang out. If you just want a quick go, you can launch here and go straight in although the ocean could get a little choppy.
Most folk usually take a 10 minute walk down to the mouth where the Yorkeys Creek and Barron River meet. When the tide goes down and sand banks come up, this spot is just something else. Loved by beginners for the tons of space, golden sandbanks and just waist deep water.
4. Palm Cove
Palm Cove is about 30 minutes drive from Cairns, just past Yorkeys Knob. Although most locals kite at Yorkeys Knob, you'll be quite nicely surprised with Palm Cove. The wind is generally a few knots stronger and comes a bit earlier, but just like Yorkeys, you'll be mainly riding on south-east tradies during the main season. As long as the skies are blue and a high pressure system is pushing the wind into Northern Queensland, you're in for a good breeze.
The main kite beach and rig up area in Palm Cove is all the way down at the south end of the beach, on the corner of Williams Esplanade and Veivers Road. You're in for a light chop and a few waves, but it's generally safe and beginner friendly. As Palm Cove is a busy beach, make sure you stick to the kite area for everybody's safety.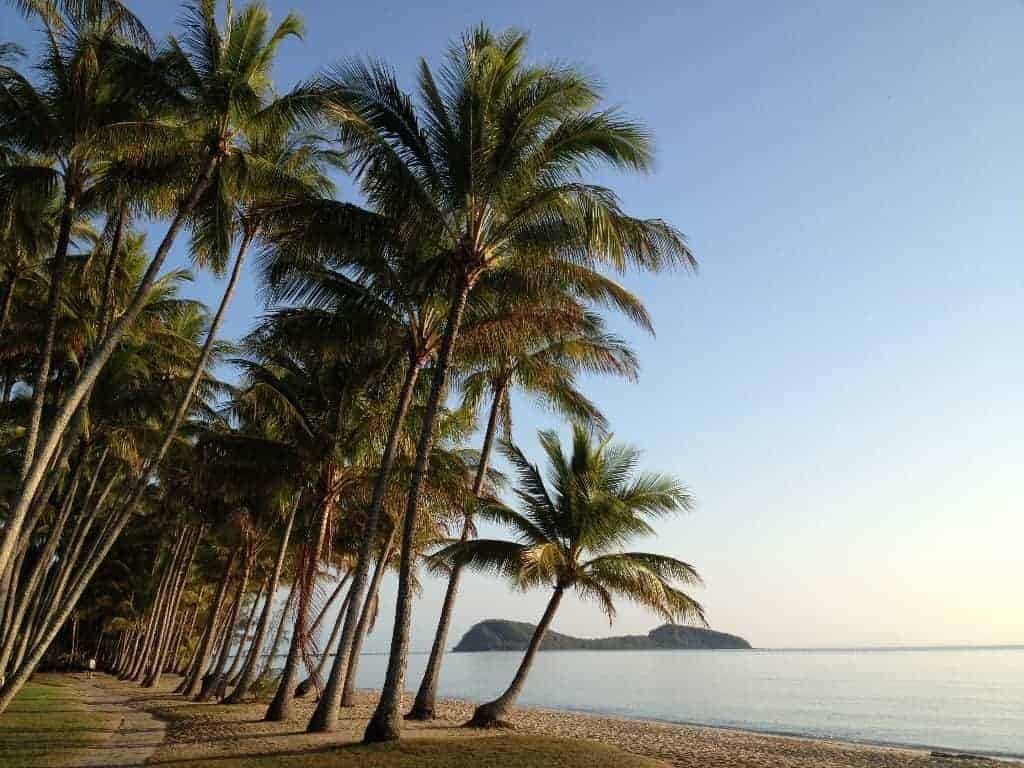 5. Double Island Lagoon
If you ever wonder what's the island you can easily see from the beach at Palm Cove, that's Double Island, and it's under 1 nautical mile away from the coast.
There's a posh resort on the island and it once used to be a an exclusive, whole-island-private-hire experience costing about $25K a night.
But since a few years ago, things took a spin and the island opened its beaches to the public.
Double Island is a part of the Great Barrier Reef Marine park, so make sure to pack your snorkel and fins as the underwater is pretty cool too. It's surrounded be fringing coral reef creating an amazing flat water lagoon. The wind here is a lot more consistent, especially in the early season from May till July when it blows from south.
You can book a transfer with Palm Cove based Pacific Watersports who also run kitesurfing lessons on Double Island. As of writing this post, the transfer will cost you $60 Aussie dollars per person, but it's money well spent as the experience is quite something else.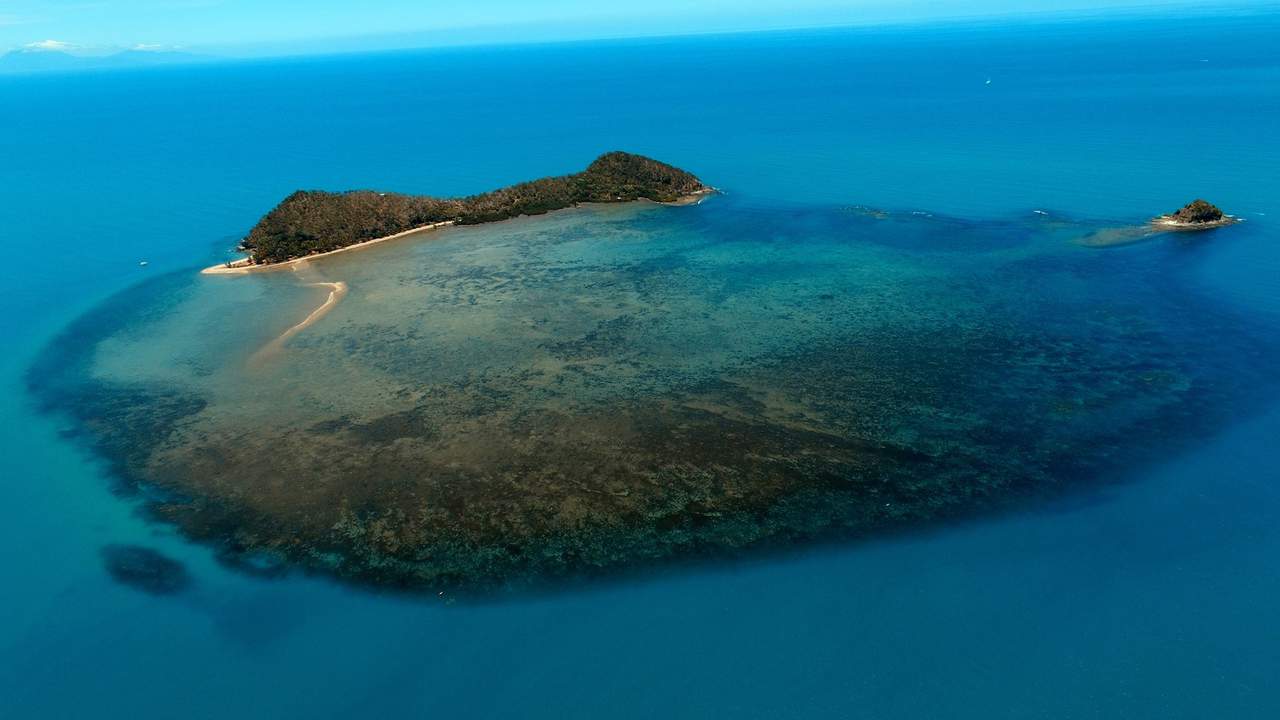 6. Archer Point
Changing direction to the North of Port Douglas now, Archer Point is about a 250km drive away. There's no need for a 4WD in the dry season, but make sure you have a decent car when it rains as the roads could get flooded. You're in for a real blast. The access point is about 15km South of Cooktown, just off the Mulligan Hwy. The turn to the Archer Point Rd is well signed so you shouldn't miss it. That will then lead onto a dirt road for the next 8km or so and you'll end up right on the beach.
On average, you should get about 10 knots more than Port Douglas or the Northern beaches. The wind just doesn't stop here. This spot is great on low tide, but keep an eye out for the sharp reef around.
Archers has a free camping grounds, so you can camp right on the beach if you want. But you're in the crocks 🐊 land with Annan River is just around the corner, so be crockwise! And make sure you lock your food away when you're out, otherwise the dingo's will steal your dinner.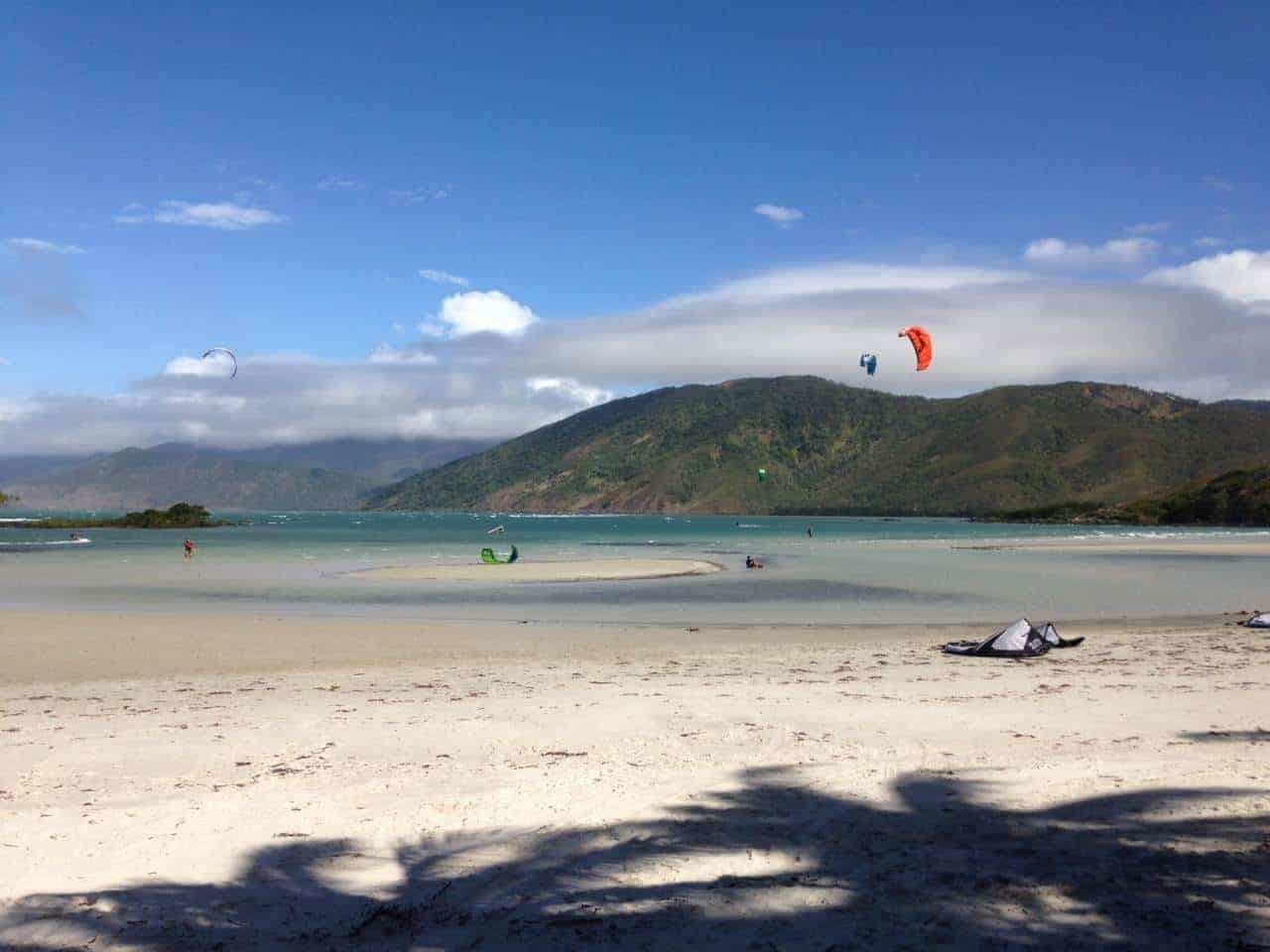 7. Elim Beach & Coloured Sands
The Cape York Peninsula is a really special part of this country and Elim Beach with Coloured Sands are truly magical spots. You can see a lot of photos online, but nothing can prepare you for how idyllic this place really is.
Elim Beach sits in the bay between Cape Flattery and Cape Bedford, about an hour drive from Cooktown. As this is a traditional Thiithaarr-warra Aboriginal land, you'll need a permit to be here. Permits are either sold at the Hope Vale service station or at Eddie's Campground at Elim Beach.
You don't need 4WD to get to Elim Beach and access the campground, but you'll definitely need a 4WD to access the Coloured Sands beach if you wanted to self-drive.
The beach is only accessible at low tide. When the tide goes right out, you can drive along the coloured cliffs for about 7km to reach Coloured Sands Beach. You need to be super careful with the tides, because as it starts coming back in, it'll completely lock you out and you don't want to get stuck half way.
Coloured Sands is private property and not open to tourists, although a visit is included in your campsite fees. But If you're there to kitesurf, you'll need to check-in with Ant & Paully who run the cabins on Coloured Sands Beach. The cabins are made from refurbished water tanks, pretty cool huh? You definitely don't get to stay in one of these very often.
This place goes by the name of the Australian Kite Surfari or Kiters Cove, so you can either get an all inclusive kite camp package for a few days, or book in for the night or two and self-drive. If you do self-drive, make sure you take enough food as the local shop in Hope Vale is somewhat limited and the nearest supermarket is back in Cooktown.
As with the other kitesurfing spots near Port Douglas, the kite season here runs from May to October/November. The strong and constant trade winds off Cape Flattery and just a handful of non-kite days in the entire season make this spot an unforgettable must-do gem.
The flat water lagoons in Coloured Sands stretch for miles. And with water only about waist deep, coral free and powder soft sand, this spot just can't get any better for those independent beginners.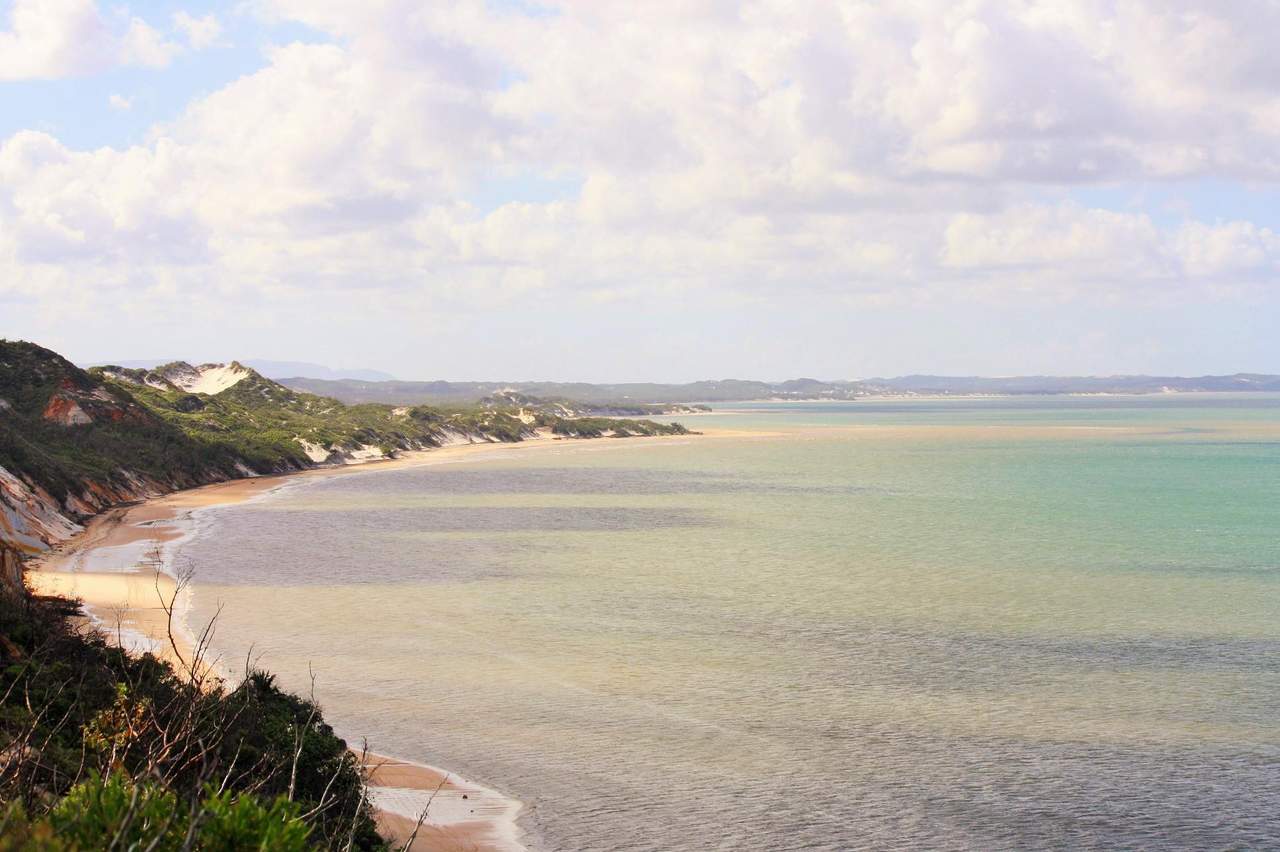 The Islands
Now here is a bit of a challenge to add to your adventure. The next few spots are located on the reef so you will need a boat to get to them. If you have a mate with the boat, you're all sorted. If not, you better make some friends and find a skipper!
Your best bet would be Windswell. It may work out quite expensive for a couple, but if there's a group of you, you're in for some action.
8. Low Isles
Located just about 15km off the coast of Port Douglas, the 2 islands are a stellar spot for lagoon conditions. The 'Low Isles' are made up of two islands surrounded by 55 acres of reef: the larger and inhabited Woody Island, and its smaller brother Low Island sometimes called 'Little Woody'.
The two islands are separate but share the common reef, and are considered an important indigenous cultural site for both the local KuKu Yalanji and Yirraganydji tribes.
The kite beach on Low Isles is on the south side of Low Island. The reef is stunning and full of life and the winds here are pretty strong and consistent as you would expect.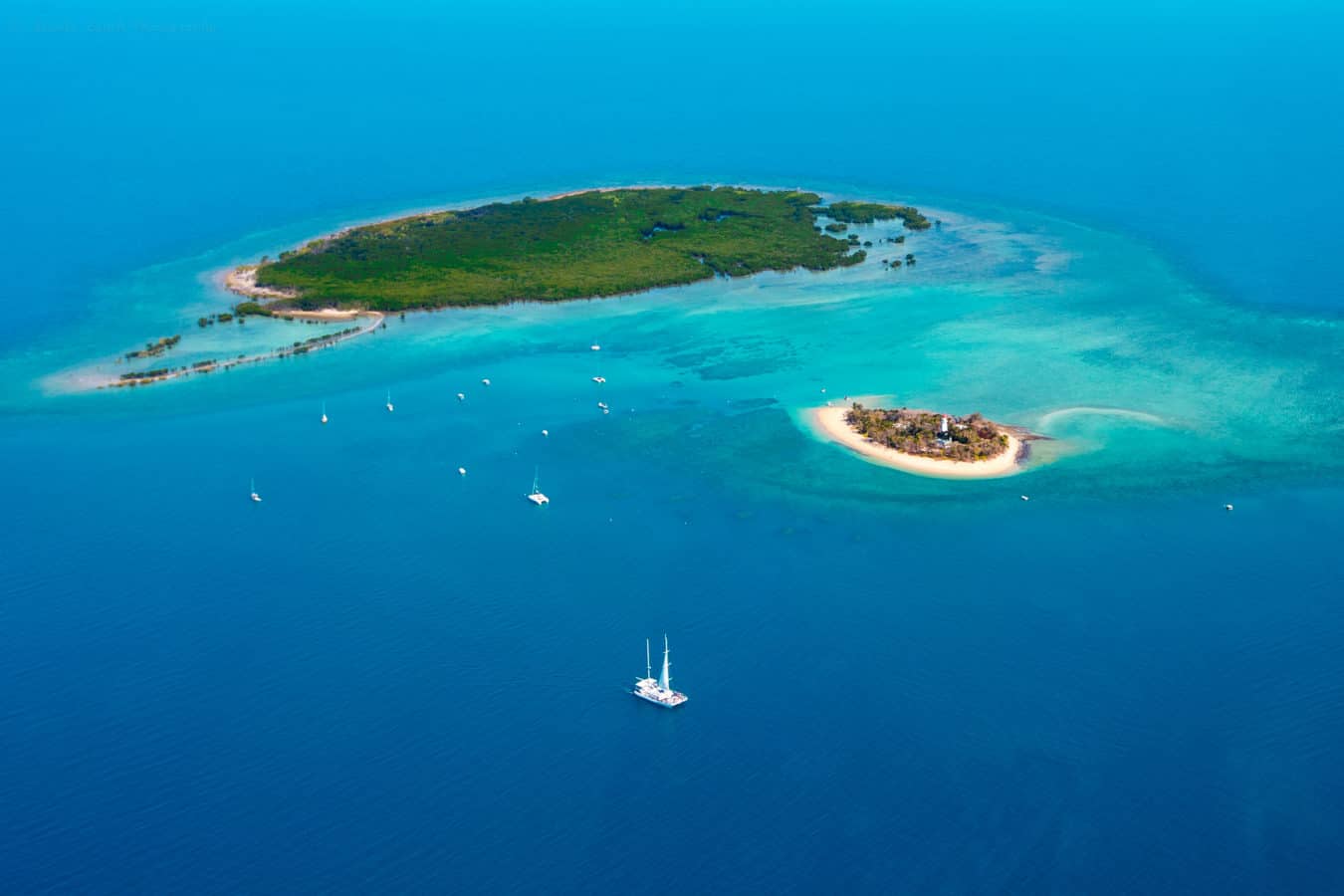 9. Lizard Island
Lizard Island gets consistent SE trade winds pretty much most of the year, but particularly in winter. It could be super windy here from April to September. It's probably not far off to say that you usually get 10 more knots here than Port Douglas on a good day.
The best spot to launch on Lizard is the Mangrove Beach with its crystal clear lagoon just out front. Lizard is a great ride on lower tides as it tends to be quite choppy on the high, but you need to be super careful when the tide goes down below a meter or so. There are a few spots where the sharp coral pokes out of the sea and that's likely to be your biggest hazard.
There is a luxury resort on Lizard Island, so if you can go deep in your pocket, you can make this a pretty exclusive kitesurfing holiday.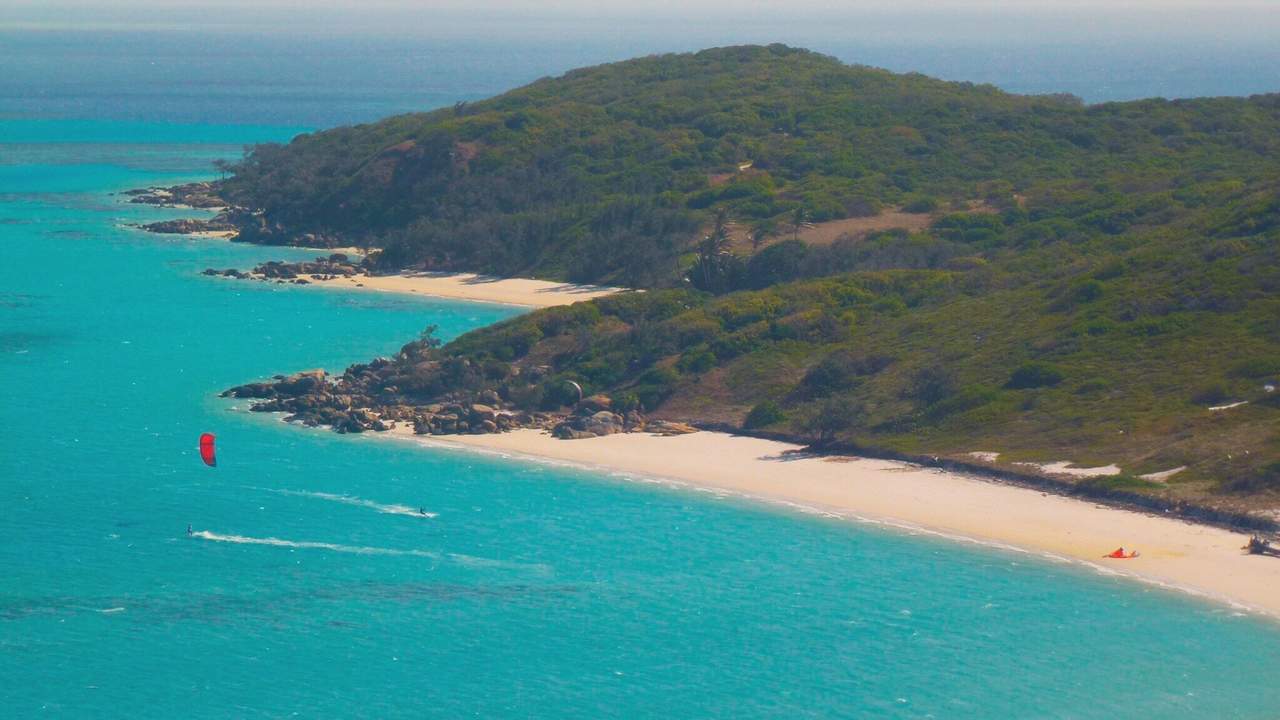 10. Undine Coral Cay
Being a part of the larger Undine Reef, Undine Coral Cay is a tiny pristine, soft-powder-white-sand island that pokes out from the Coral Sea. It sits just off the Cape Tribulation National Park.
You'll be absolutely blown away to see this spot.
When the wind is up and conditions are right, it is one of the best kept secret kitesurfing spots in the Far North.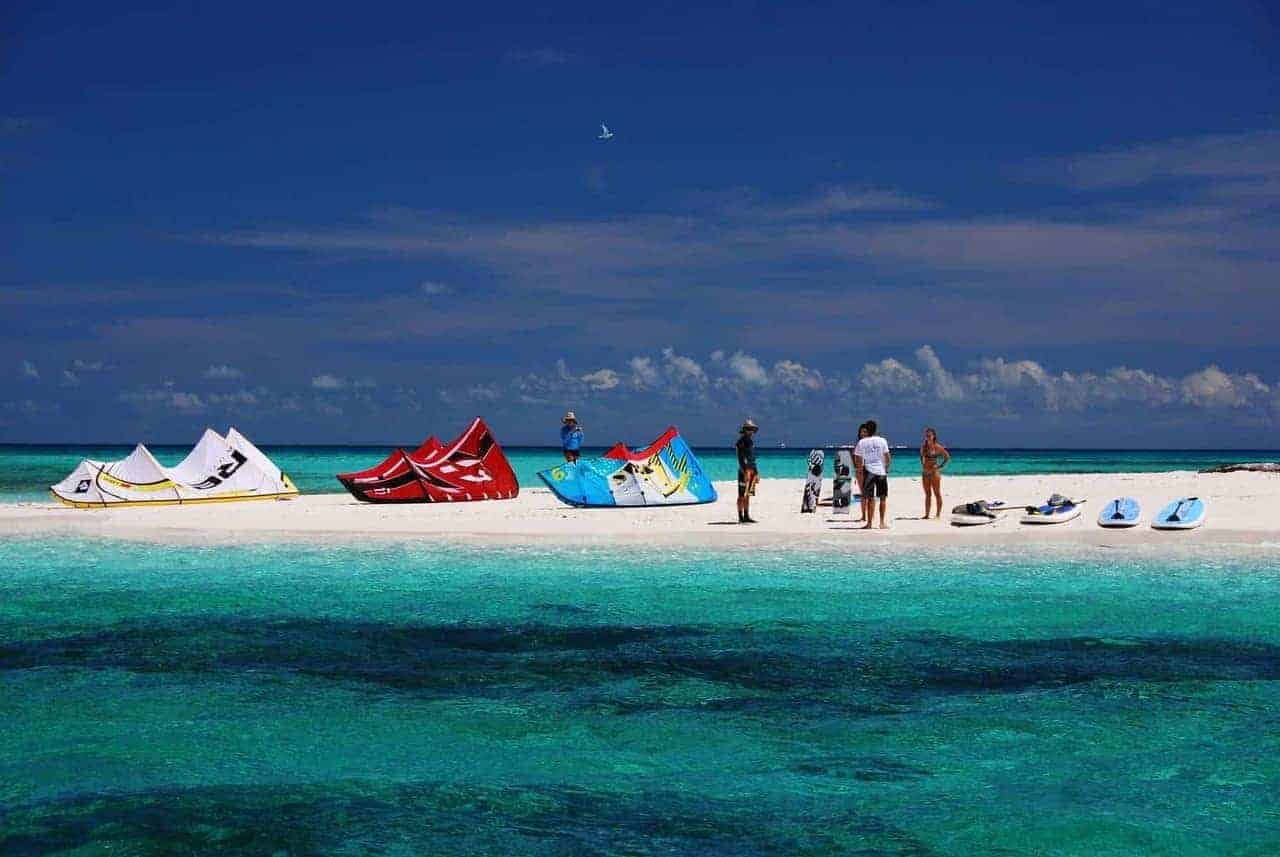 11. Snapper Island
Part of the Hope Islands National Park located just off the Daintree, some 20 kilometres North of Port Douglas, Snapper Island is definitely a kitesurfing spot well worth a shout. It's also one of the very few local islands that has a camping ground. If you're feeling pumped with adventure, you can even stay a night or two. You'll need a camping permit to camp on Snapper, and a fishing rod to catch your dinner.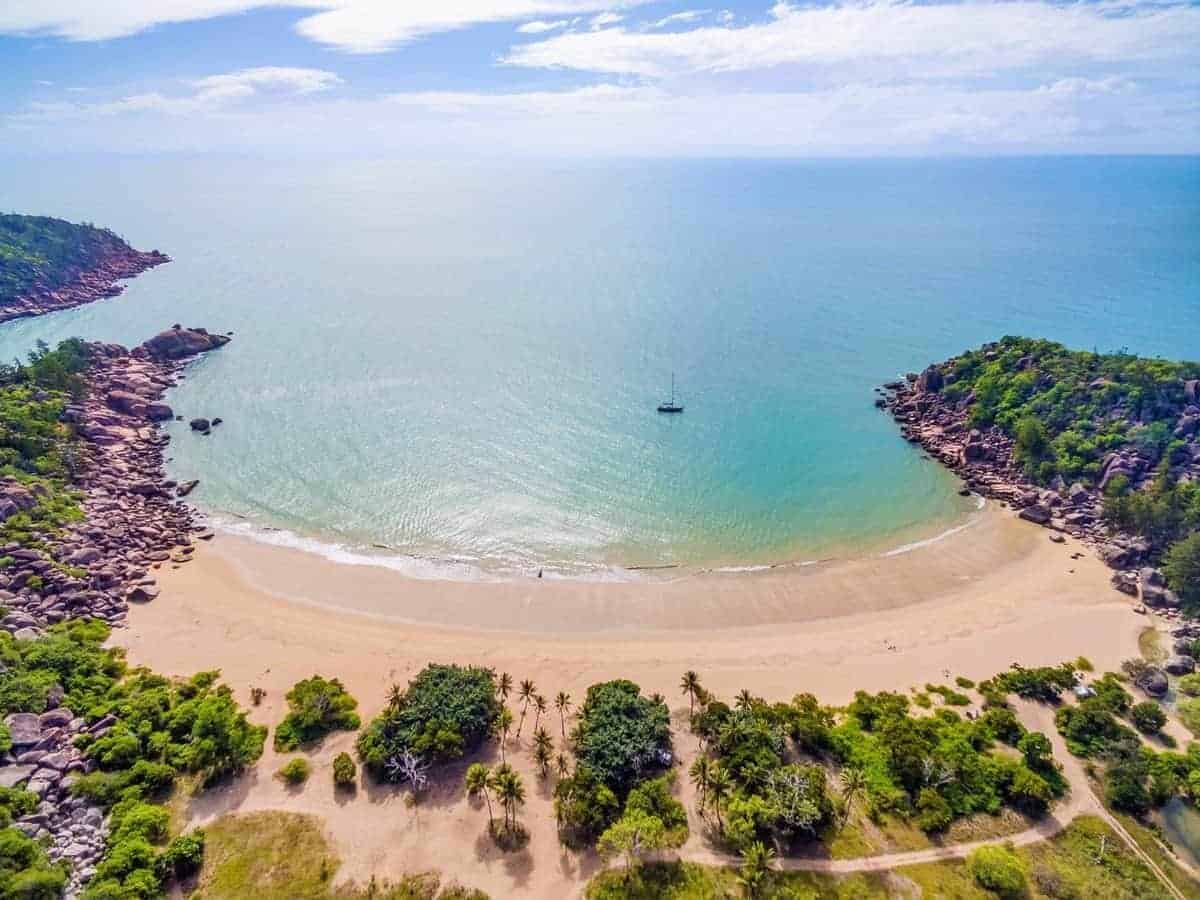 No wind?
But awesome weather, so what do you do in Port Douglas and Far North when kitesurfing is out of question?
People often say that their brain just stops for a while and time goes backwards when they visit Port. And it does, but in a good way! Although Port Douglas seems like a little sleepy town, it offers a wide range of activities you can, and absolutely should, do while you're here. No excuses.
The Great Barrier Reef has so much to offer and you should find the time to explore it as much as you can. It's your holiday after all.
Nature is simply breathtaking around Port Douglas and the Daintree and here is the perfect guide on all the things you can do when the wind drops.
Explore the reef. You will learn about the 1400 species of local fish and more than 400 corals living in Far North Queensland.
Spend the day with the Aboriginal elders catching crabs and fish in the traditional way and make sure you make it to Cape Tribulation, one of the many stunning sites in the Daintree.
Have fun, stay safe, respect the locals and help us protect the 🐠 reef! There's not much left of it.
---
Where to next? Check out some more spots that Australia has on offer. Head down to Tazzy and checkout what kitesurfing in Tasmania is all about or catch some waves in Margaret River and Western Australia.