300 days of summer
This is a kitesurfing spot guide to the coastline of Algarve. Read-on to find out about the wind season, when to rock up, where to pump up and discover some of the best kitesurfing spots this windy and wavy coast of Portugal has on offer.
The legendary waves are well known for being world class here in Portugal, and the lengthy 200km Algarve stretch is a whopper of a spot for all water sports, but kitesurfing in particular. Let us take you on a journey to the south of Portugal to this diverse destination, with stunning cities and hidden gems around every corner. In-land. On-land. Off-land. Here, you have the pick of the litter. From glassy lagoons to soaring waves and every imaginable bit of fun in between.
Wind season in Algarve
Expect your expectations to be met, but always expect the unexpected here in Algarve! Ok, that makes very little sense to you while sat at home reading this, but it will when you're out in Lagos, home to one of the best kitesurfing spots in Europe.
The preferred seasonality in Portugal can really depend on what your kiting ability and style is. During winter, the southern coast of Algarve endures the SW storm winds heavy and hard, followed by SE – NE offshores. These Mediterranean "Levante" winds come and go in a hurry and wave heights can reach double overhead in some spots. A bit full on for some.
Summer is calmer, with the coast offering perfect shelter with offshore breezes. The "Nortada" blows from April to September, offering N-NW dominant winds, making it this famed spot for kitesurfing.
With timid glassy mornings followed by 11-21 knot gusts, winds regularly ramp up to 25 knots throughout the summer season. The Algarve area does get occasional blusters reaching up to 30+ knots into the evening (which is pretty epic during sunset) but it can get a little too gusty for some if you're not a comfortable kiter. There is consistency in the surf along this coastline but less in terms of wind, and as you get further out west towards the Atlantic coast, things start to mix up a little (a lot) more with everything. In an absolute flurry!
Whatever the weather, the one thing you do need to bear in mind is that the Algarve weather is changeable, merging the Atlantic & Mediterranean seas means that things change fast & furious. The locals are hot on the case and will update warnings when things get a bit heated, or busy … my advice is to listen to them! There may be forbidden kiting signs dotted around and trouble starts if you ignore the Portuguese!
Temperature wise, the general rule of thumb is that it is warm in summer (24 – 32°C), colder in winter (14 – 20°C) and water temperatures fall near the lower part of these (24°C in summer and 15°C in winter).
The best winds fall as follows: Season South Coast = March – September, Season West Coast = November to March
What is worth a bucket and spade, is that the Algarve is not only a kitesurfing paradise, but also a sun-lounging haven, with over 300 glorious days of sunshine a year, you can pretty much guarantee that it won't rain during your visit here.
Kitesurfing spots in Algarve
where to pump up?
There are a tonne of kitesurfing gems dotted all along the Algarve coastline and you won't be bored, that's for sure. To make things a little easier, here are the hotspots for you to keep on your radar. There is something for everyone in this area, and not everyone knows about it!
1. Alvor lagoon, Lagos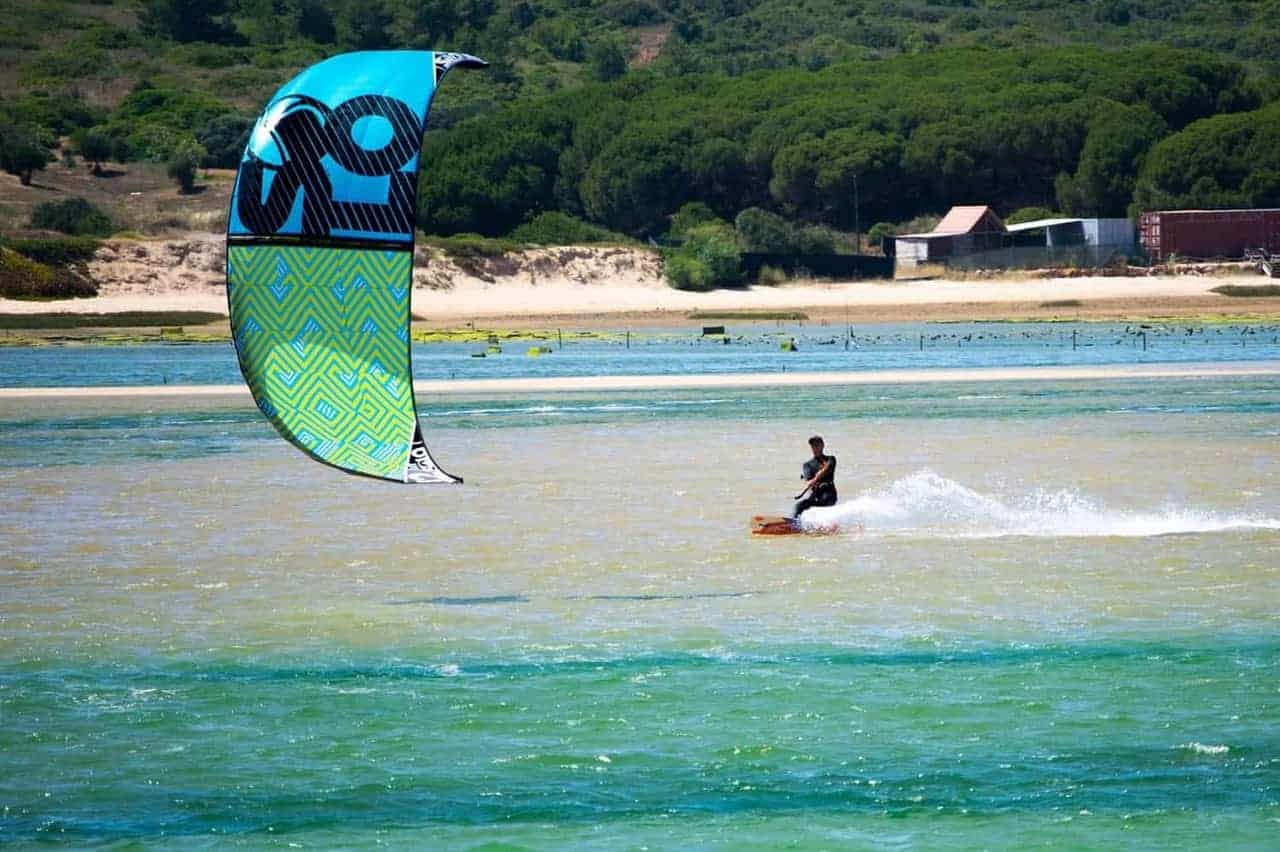 Tucked down a 600m a dirt road, and set back from the Algarve in an estuary, Alvor Lagos lagoon is the all time favourite. Offering protection from the offshore winds, this spot boasts a sandy base, crystal clear, tepid shallows, and is perfect for beginner and intermediate kitesurfers.
This flat water lagoon offers something for freestylers, freeriders, beginners and of course the speedies. It is close to Lagos town, a small spot that is buzzing in the summer, with a cool hipster vibe and a few kitesurfing schools if you're after some tuition!
2. Meia Praia (Lagos City beach)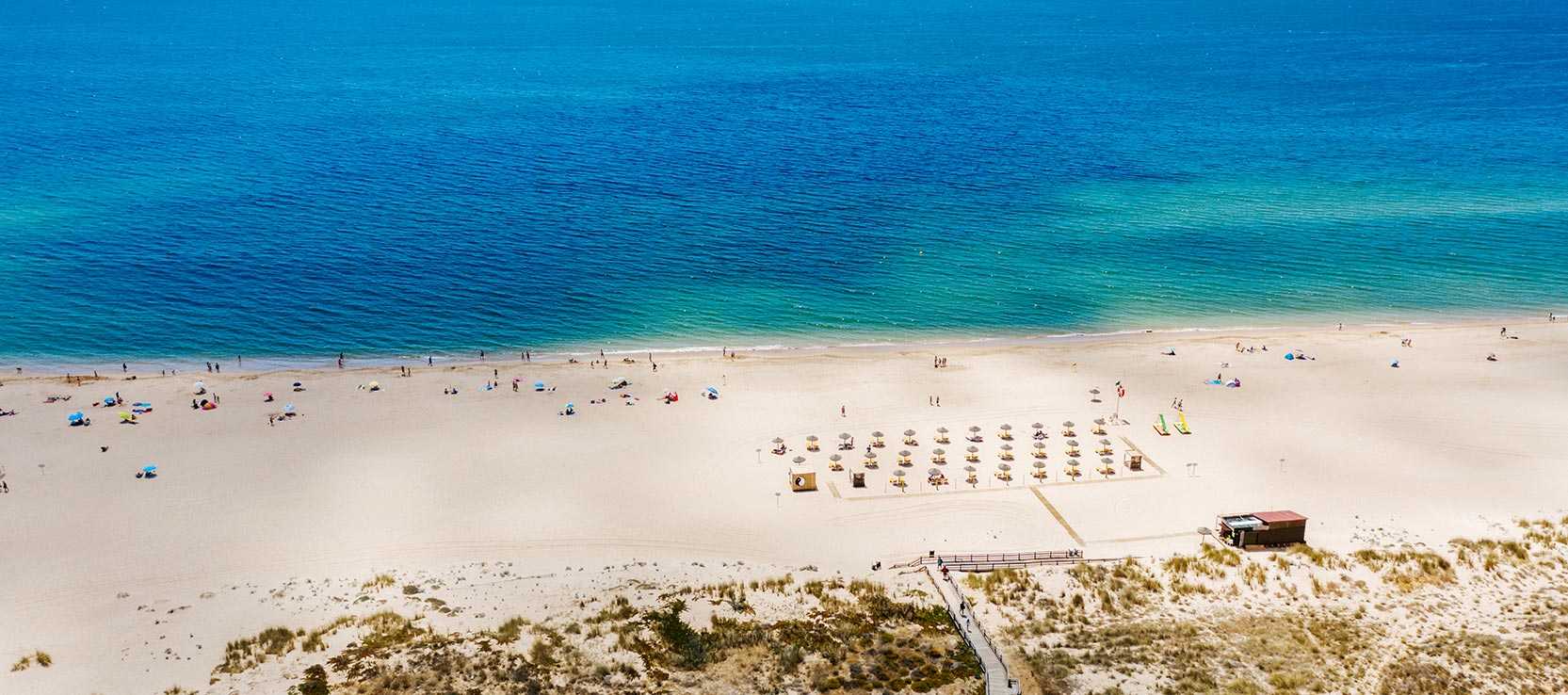 The main Lagos city beach – Meia Praia sits on the west side of the Alvor lagoon. It is the most popular beach in this neighbourhood, beginner friendly and perfectly suitable for all skill levels.
The offshore Nortada winds don't get as strong as you'd expect, so things rarely get too intense here making the Lagos City beach a safe spot for all beginners, but also a popular freeride option. There is enough space for everyone to launch, so you can really take it easy and not feel rushed. The official kitesurfing zone on Meia Praia is just by the golf course to the east.
Nortada blows cross-offshore here during summer, but this spot also works really well in winter. The onshore winter south-east to southerly winds are a good ride, but the current and shorebreak seriously increases at this time of the year.
Praia de Alvor sits on the east side of the lagoon and boasts very similar conditions.
3. Martinhal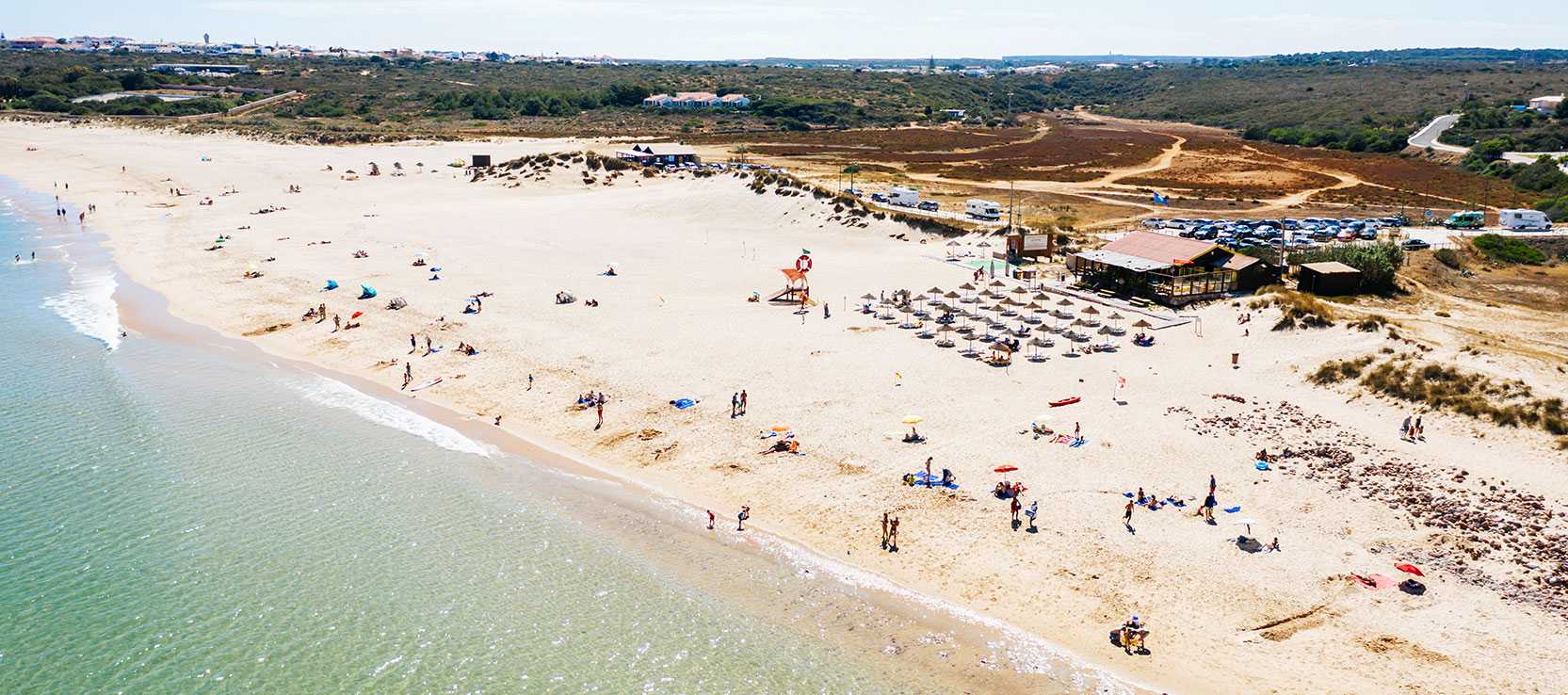 Praia do Martinhal is a long and sandy beach not far from the tip of Sagres and about an hour easy drive from Lagos. Martinhal is a speed & freestyle Nirvana. Nortada trade winds blow strong & steady, a tad offshore, flattening all ripples on the surface. The beach gets busy in high summer with swimmers & the sandcastle brigade, although they get sandblasted away as the wind pick up in strength. Martinhal only works in summer.
4. Praia do Tonel
Another kitesurfing spot that people often talk about is Sagres and its Tonel beach. This place is nicknamed 'The end of the world', not only for the most amazing sunsets, but it was actually once though this was the end of the world. Although not the end of the world, it is definitely 'The end of Europe', but is it any good for kiting? Hm, decide for your self.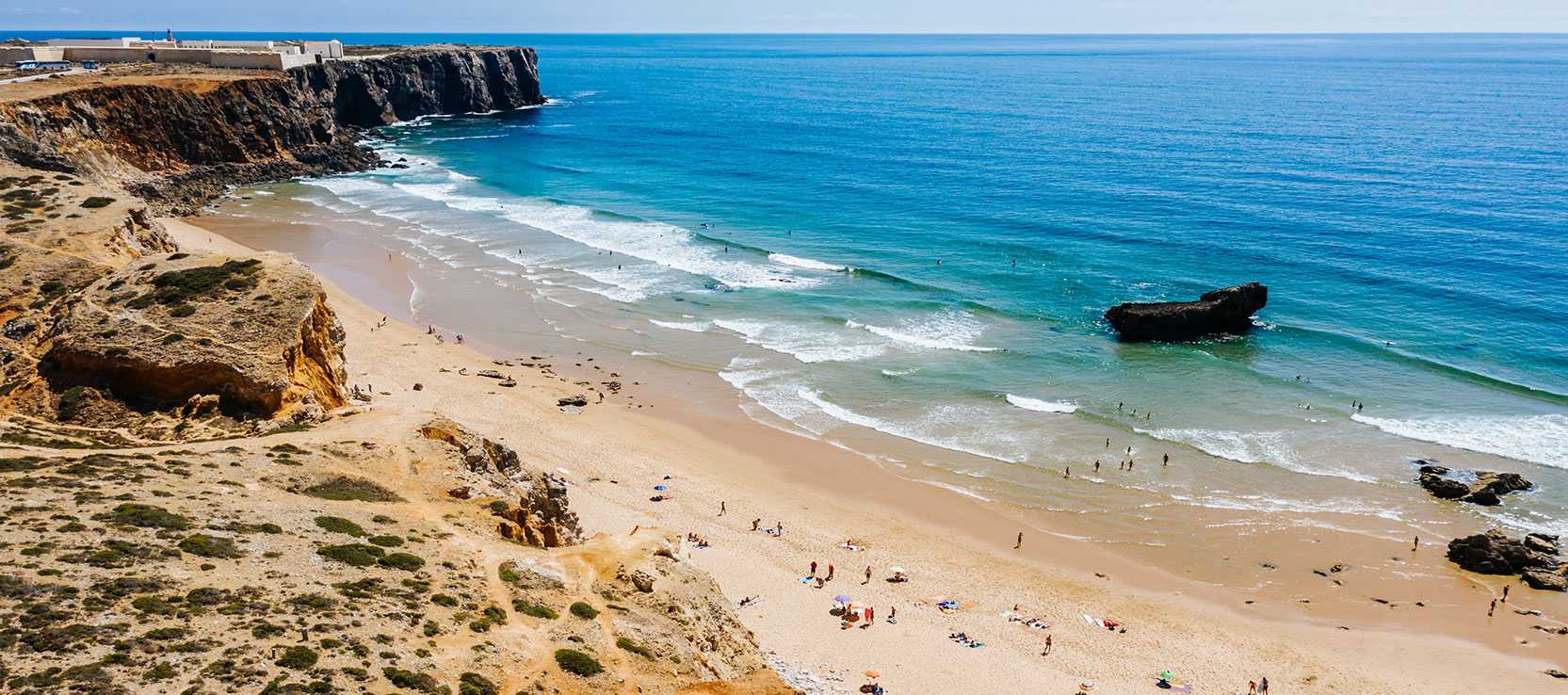 This part of the Algarve coastline is very rocky and Sagres has high cliffs. Although the winds here are pretty strong, it could be often very gusty. And while this is a super great surfing spot with some of the best waves around, it may not be the best spot for kitesurfing. Definitely not for the beginners.
Tonel carries a few hazards for kitesurfers.
The bottom is rocky. High tide is very tricky with launching and landing as the water is to close to the rocks. The beach is not exactly huge and surfing schools are taking up too much space, so it often get crowded with surfers, especially in summer. And the lifeguards often prohibit launching and riding too close to the shore.
As much better alternative, head up north about 20 minutes to Carrapateira. Although the famous Praia Da Bordeira is still not the best spot for the beginners due to the large waves, it is a great kitesurfing spots with lots of space, good wind & chilled vibes.
5. Praia Da Bordeira, Carrapateira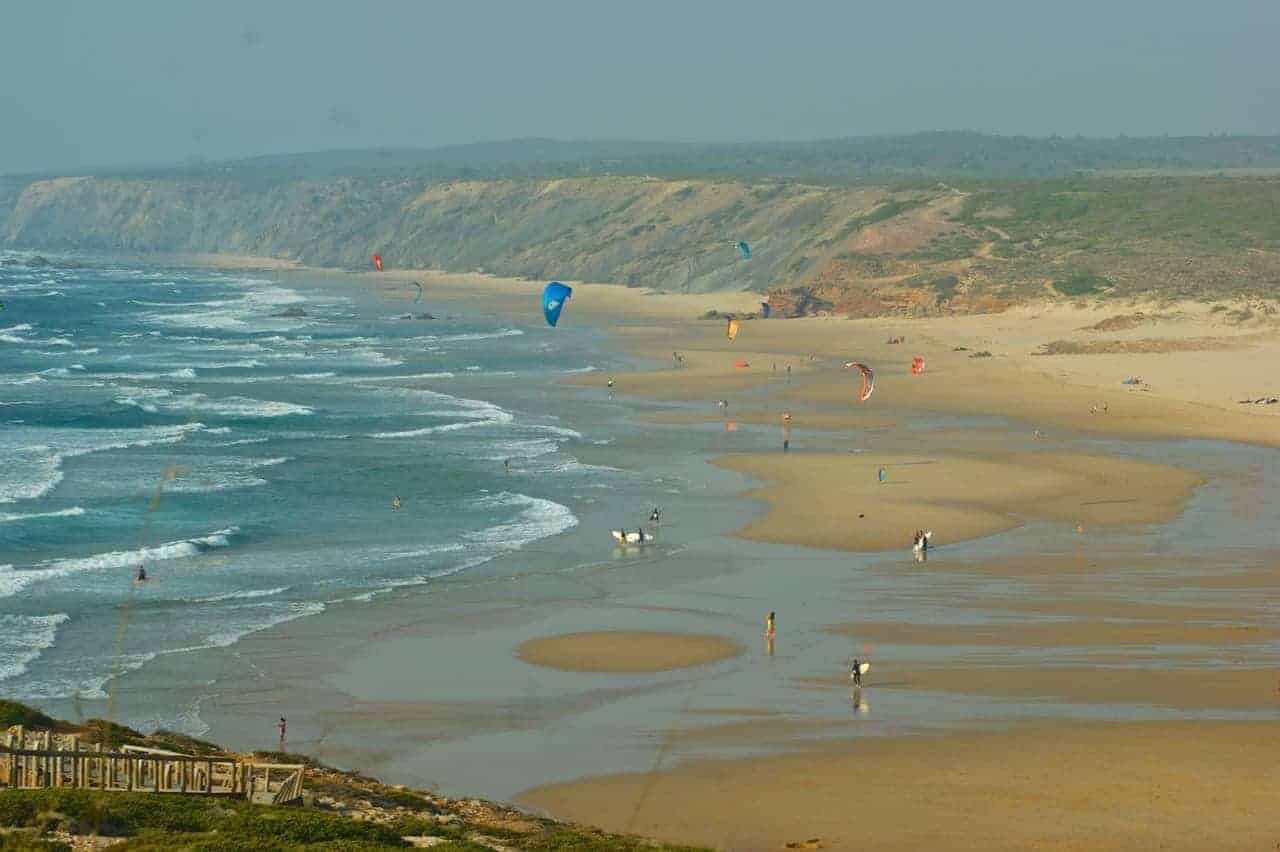 A short drive up north from Sagres or within an easy reach from Lagos, there is Praia Da Bordeira in Carrapateira, a top kitesurfing spot for the winter season, but also works in summer. 
After passing through Bordeira town, follow the sand dunes and either leave your car before the rocks or on the rocks. Then it's just a short walk down to the launch site.
This is open ocean spot known for its humungous waves. The best conditions for kitesurfing here are from October to March. You're in the Atlantic so you know things are going to get hairy out here, but it is yet another one of Portugal's most famous kitesurfing gems.
The cross-onshore winds make this one of the celebrity spots not just popular with surfers, but also kitesurfers. If you don't quite feel ready for the big blue yet, the area also benefits from a flatwater lagoon hidden by the estuary, worth checking out.
6. Amado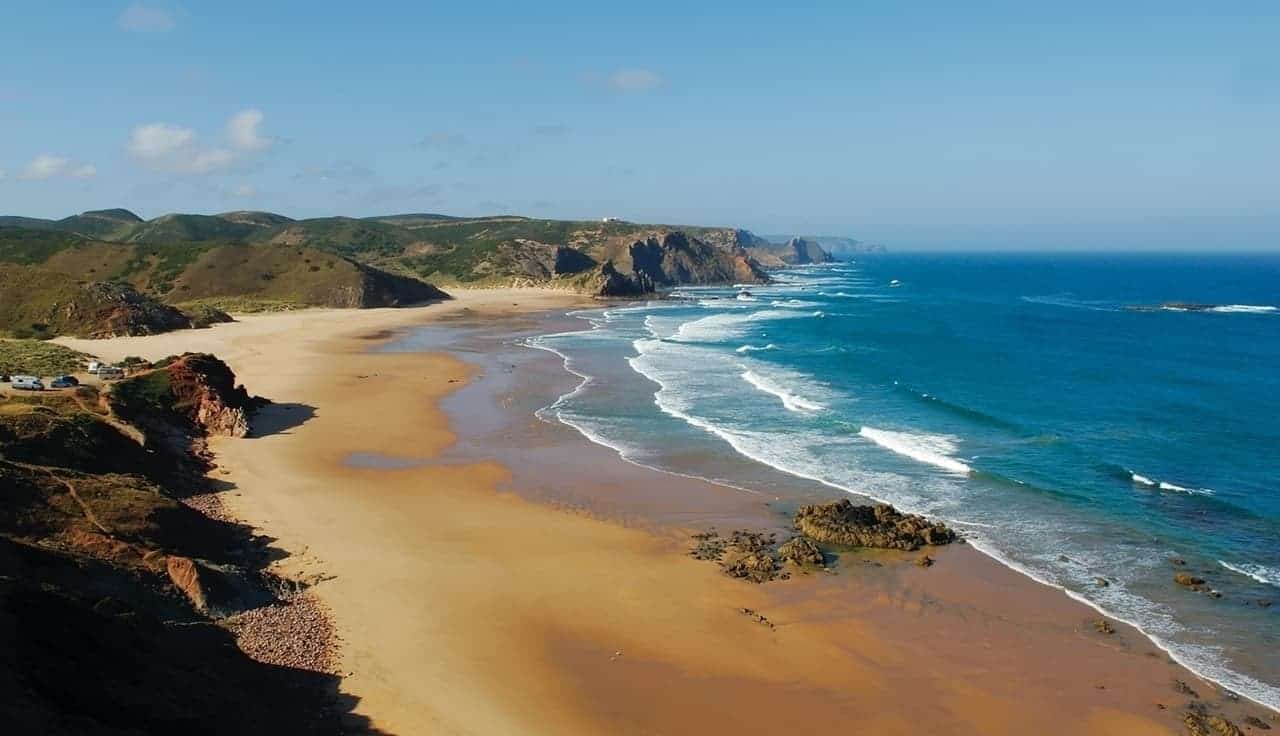 Just south of the headland, you'll come across Amado – a somewhat unique place that may be worth keeping on your radar if winds permit. Generally speaking, the south-westerlies are too much to handle even for the most experienced kitesurfers, but when it's a northerly blow, this area can contain some enjoyable big waves! This spot is best in winter as the most other kitesurfing spots on the western cape of Algarve. And good skills are needed.
Faro
Faro offers a mixed bag of flat water lagoons and open ocean wave spots.
7. Ilha de Culatra
8. Ilha da Barreta / Ilha Deserta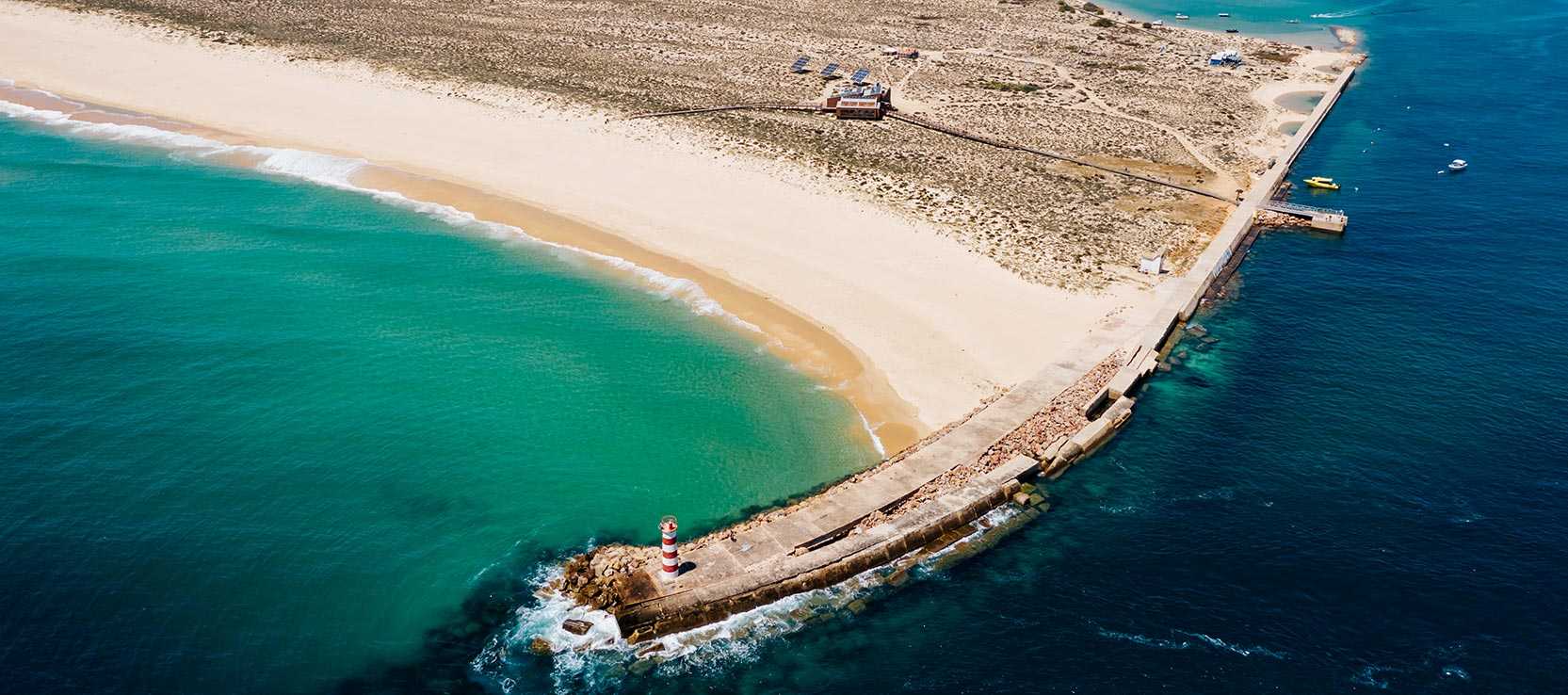 Both Ilha de Culatra and Ilha da Barreta are the most southerly points of the Portuguese coast. Ilha de Culatra on the east of the channel, Ilha da Barreta also nicknamed as Ilha Deserta (Deserted Island) between the local fishermen, is on the western side of the channel. Both islands are easily accessible by ferry from Faro. The trip usually takes around 40 minutes and the service is available all year round, few times a day.
With only sand dunes as far as you can see, the islands form a divide between the marshes and the sea on the edges of Ria Formosa Nature Park. A true paradise for the bird watchers and nudists.
9. Barrinha
10. Praia de Faro
Both Praia da Barrinha and Praia de Faro sit on the 9km long stretch of beach, Ilha da Faro peninsula, just next door to Ilha da Barreta island. Ilha de Faro is easily accessible either with a short ferry trip from Faro, or by car or even by foot over a single-track bridge, crossing a small section of the Ria Formosa.
Once you get to Praia de Faro, you can find a spot to rig up and kite down to Barrinha that sits further down east. Conditions are very similar all along the south coast. Easy offshore Nortada winds with open Atlantic ocean chop & wave.
Ilha de Armona & Ilha de Tavira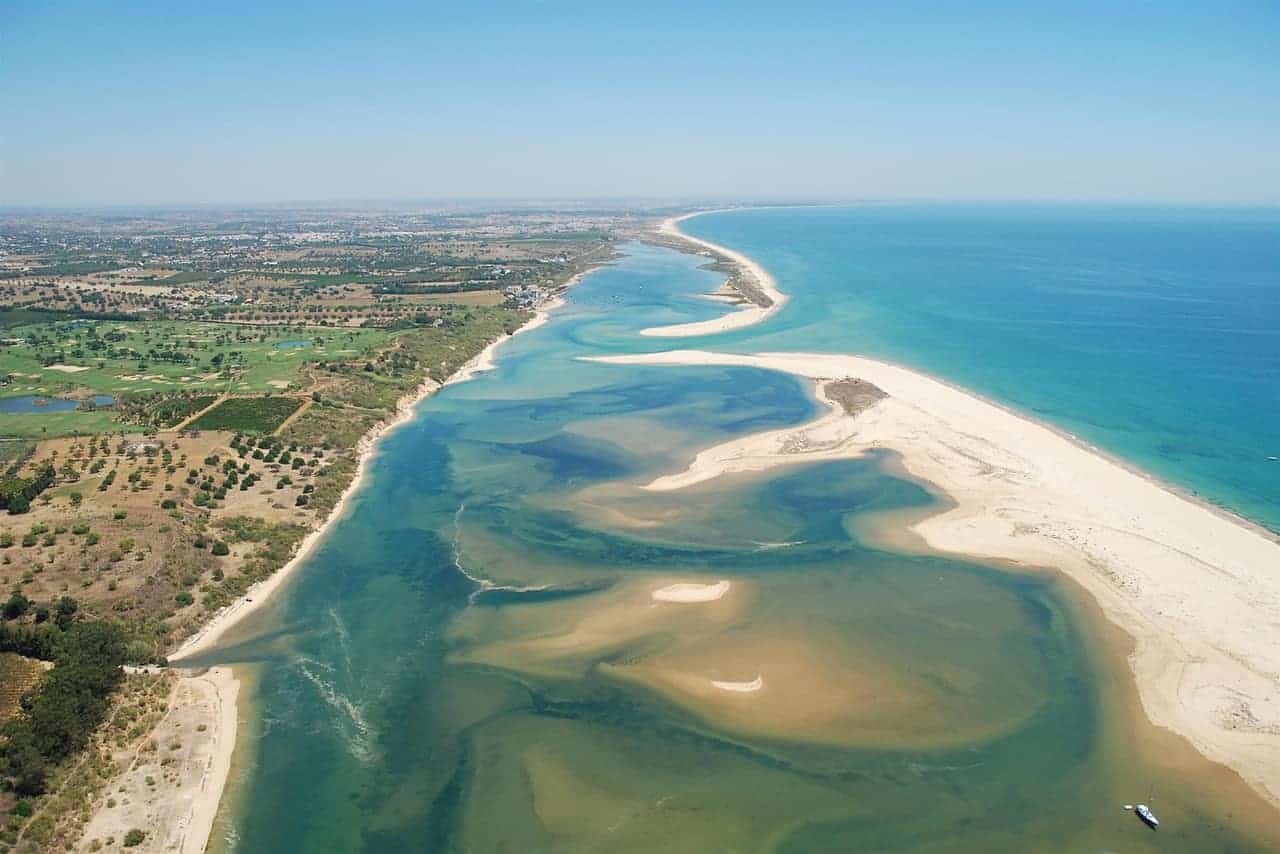 Further east to the other side of the Ria Formosa Natural Park, there is Island Armona on the west and its neighbour Island Tavira on the east. This really is a gem. Sand dunes, lagoon after lagoon reaching out to the open ocean, connecting the two at high-tide.
Flat water lagoons and a bit-a jump & bump makes kitesurfing the Algarve beaches the most fun. But these parts of the coast can get busy at times unfortunately, specially in the high summer. (apparently, it's one of the 12 wonders of Portugal)! Best in summer season (March to October), ideal conditions are SW side-on winds (11-18knots). Peak summer afternoons can get a little gusty, so recommendation is to bring your big kites for then!
There is a couple of popular launch sites here.
11. Praia Fuseta (Ilha de Armona)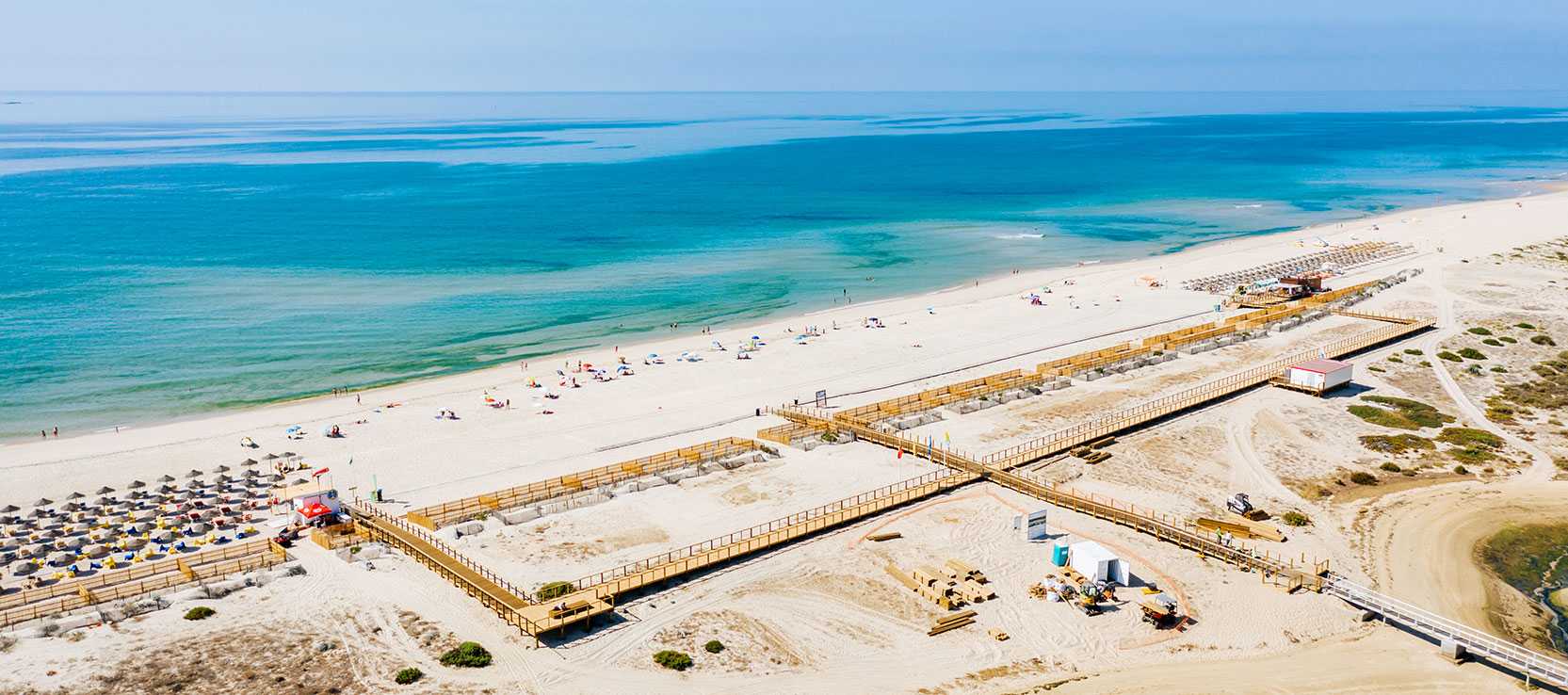 12. Barril's Beach (Ilha de Tavira)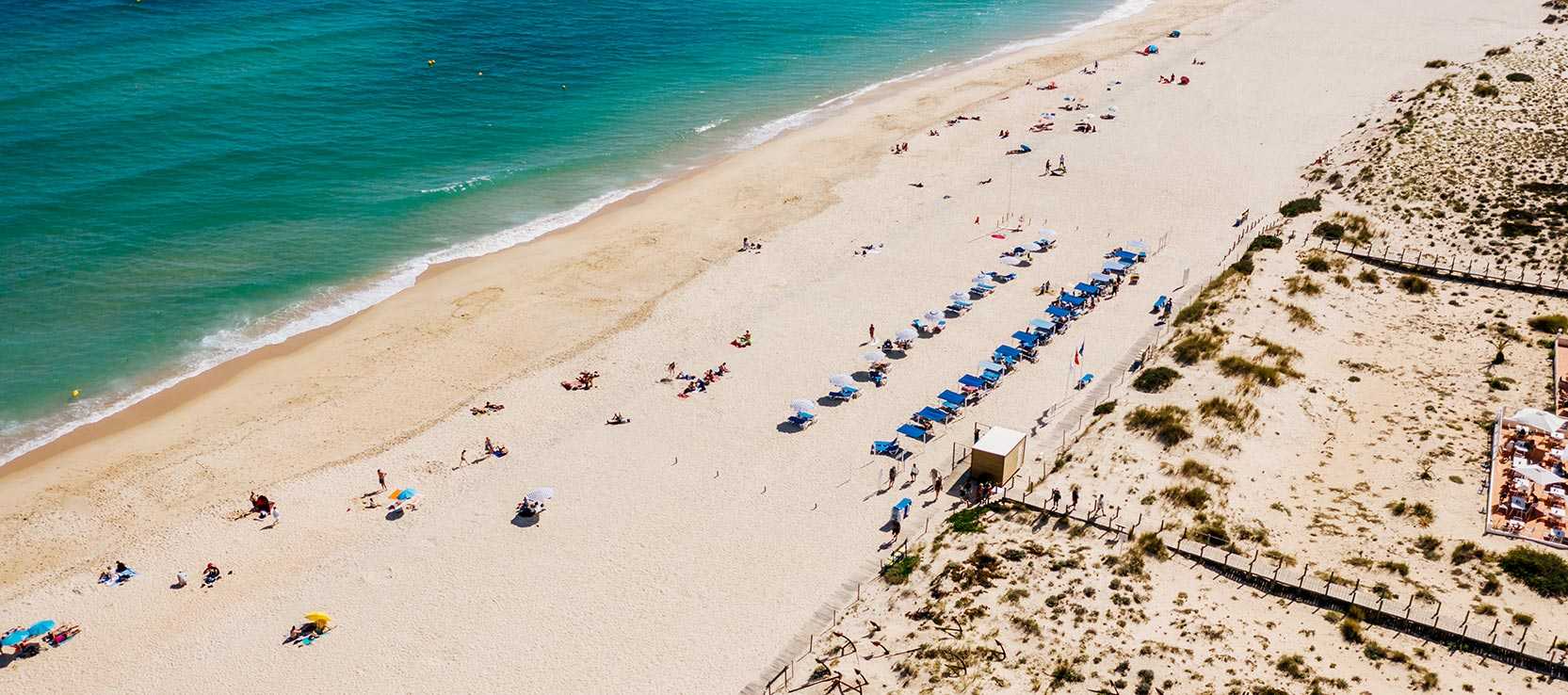 Respect the protected areas and avoid riding in the swimming/bathing zones. We don't want any accidents with protected humans or birds. Everything else here is perfection, with warm, crystal clear waters, a sandy bum and barely any tide to worry about!
13. Cabanas de Tavira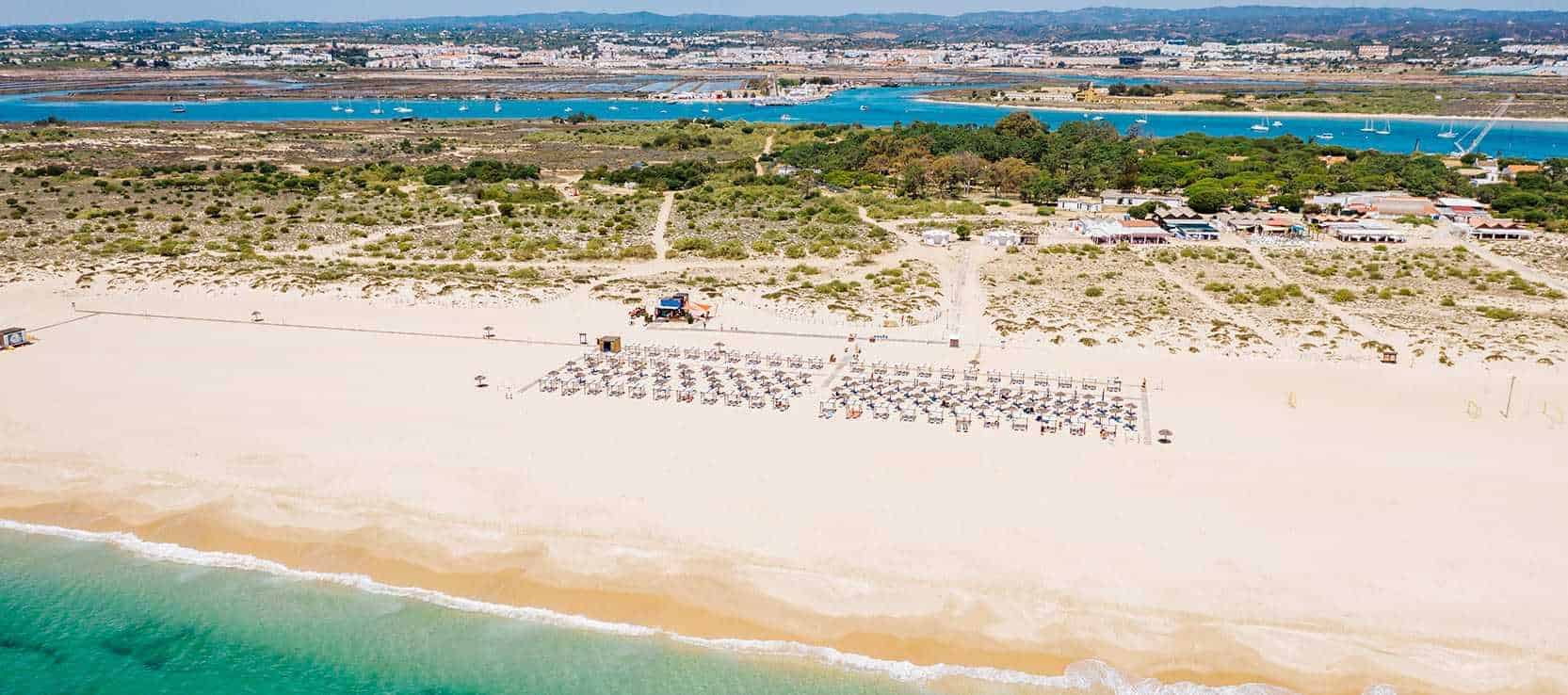 And lastly if you haven't yet exhausted your options, there is yet another golden kitesurfing spot to try out on the coast of Algarve. Cabanas de Tavira is a wide sandy beach. Hardly ever busy, but busy enough, so there's always someone around to help you launch and land.
No Wind?
Algarve is described as a "land of contrast" there is everything you could imagine to do here, and a hellava-lot-more!
Tee Time: If you like golfing as much as you like kiting, then Portugal's Algarve is home to some of the best golf-courses in Europe including Penina Championship, Quinta do Lago Golf Course
Cave Time: There are a few cool caves that you should know about here on the Algarve Coast. Get deep and dirty in the "Benagil Cave", voted one of the top 10 Coolest Caves in the World. What's so cool about it? Out of all sea caves spotted along the Algarve coastline, the Benagil Cave is the only one that has been eroded both from the side and from the top which then resulted in an opening in the ceiling of the cave that allows the sunlight come through and lighten up the beach that it hides inside. Worth a visit.
There are a few ways to go about it. You can kayak-it, or you can hire a SUP and stand-up paddle-it, or you can just sit back and sail it in style on the back of the Pirate Ship 🦜.
Heads-up, you're only allowed to set foot on the beach inside the cave if you arrive by kayak, SUP or swim (!).
Coasteering Time: Head to the beautiful Natural Park of Costa Vicentina between Sagres and Lagos and explore this adrenaline packed coastline. Climb, scramble, cliff jump and fall into the Algarves abundant beauty.
Enjoy the ride!
Did you want to check out some other European kitesurfing destinations? How about Lo Stagnone lagoon in Sicily or see our guide to the best kiteboarding spots in Tarifa in Spain.