With a tropical coastline of around 300 miles, paper white beaches, endless summers, crystal clear water, colourful reefs and uncongested lagoons, this part of the world is just awesome. So where is this "Diani Beach"?
Diani Beach is in fact a whole area … a whole peninsula stretching long 25km across between Tiwi Beach and Chale Point (Galu Beach).
Wind, sun, sand and sunscream!
One big, long, warm, summer, Kenya is glorious year round. With the exception of April – June where there can be "some" rain. The rest meets all the expectations. The temperatures soar in Summer season (December) to 35+ °C and drop a little in "winter" (June) to around 25+. Water temperatures never really dips below 22 °C, so you'll never get cold tootsies, but pack long rashie and strong sun cream to protect yourself from the relentless equatorial sun!
Wind all year round … side shore and consistent, the glory hits bi-annually. This part of Kenya experiences two wind seasons. The 'Kusi' (meaning 'south' in Kiswahili) blows up from the Southern Ocean. It is cooler and much stronger, flowing from April until September. It averages 25knts+, and brings in some great swell so you can charge down head high waves on your 9m.
The 'Kaskazi' (meaning 'north') blows down from the monsoon in India. It is much warmer, solid and very, very reliable. Kaskazi blows from December through until March. Like a Swiss watch, it turns on at 10am every morning, turns off at sunset and speeds at around 20 knots. Kaskazi season brings flatter conditions so you can be on your twintips day!
Kitesurfing spots in Diani Beach
Kitesurfing in Diani Beach is an epic experience. With such a range of kitespots and perfect conditions for all skill levels, this place is a blast. Being made up of a number of tip top launch drops, this is a hotspot to hang-out for the local kitesurfing crowd – so here is the 101 on Africa's number 1 best location …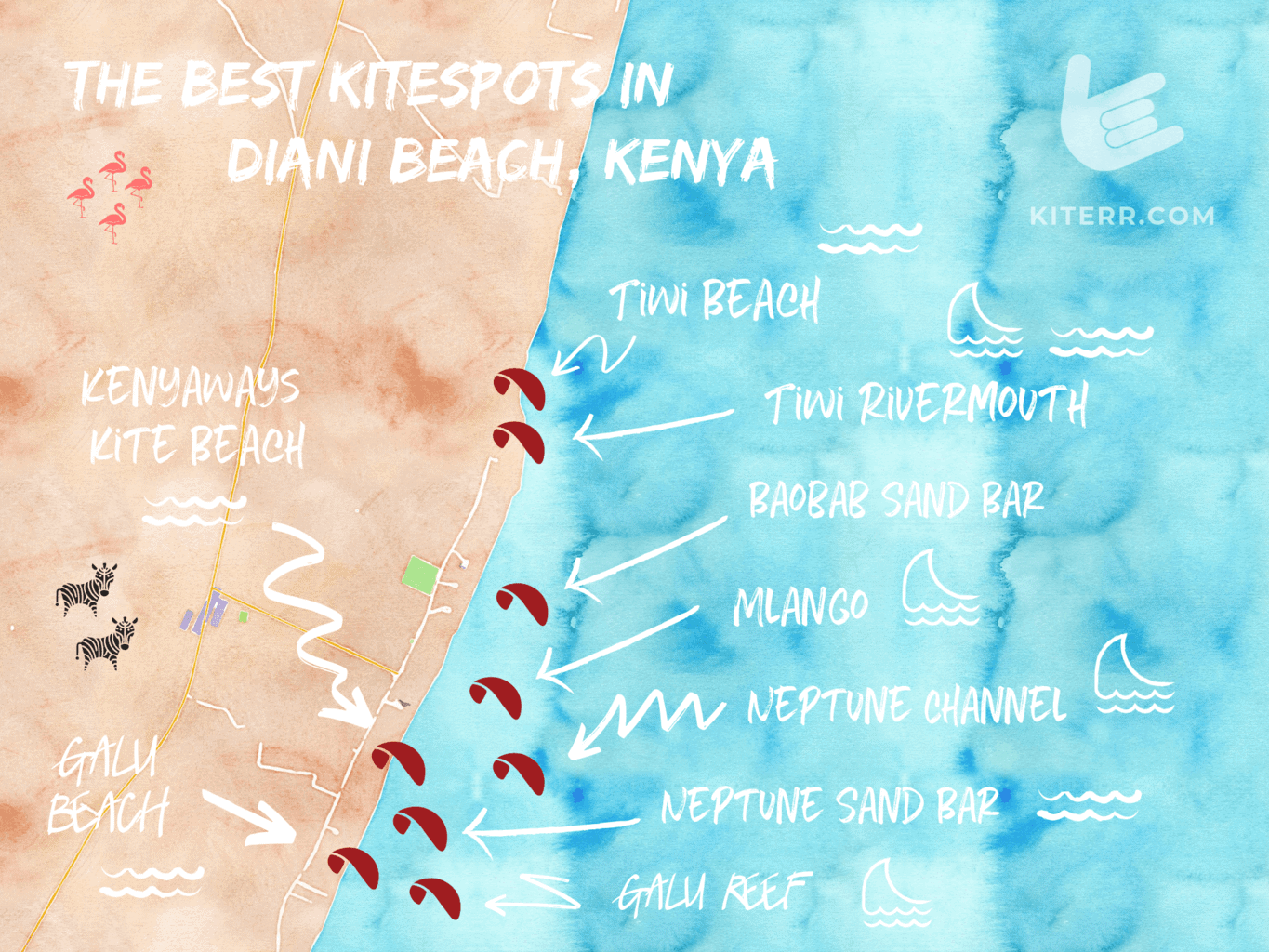 1. Galu Beach
The Galu Beach area at the bottom of Diani Beach is relatively undeveloped, but as you may guess, a lot less busy too, but still a lot happening.
With a set of wheels between Galu and the other Diani Beach kitespots, you can flit between with ease, so even if you're staying at the other end, do check it out, because it's worth the trip.
Galu Beach has been described by visitors as 'outstanding' – a deserted beach with a deeper lagoon, popular amongst kitesurfers as well as windsurfers for it's mirror flat water.
Awesome fun on a lower tide with side-shore winds as the water is nice n flat, but it may get a little choppier when the tide gets high.
2. Galu Reef
Just a couple hundred meters offshore, the break at Galu Reef picks up some serious waves during a big swell (as can all of Kenya's reef-breaks). Awesome fun.
3. Kenyaways Kite Beach
Just a short ride up the road from Galu, Kenyaways Kite Beach is by far the most popular spot in the area, with wave and flat combined. Peak season can get around 35 kites riding at once, but the diversity and the local schools offer everything you may need to start out, so if you're opting for kitesurfing lessons, this would be your spot.
Kite Kenyaways Village has plenty of sandy lagoons, so low spring tides aren't a problem – plus a consistent surfable beach-break!
About 350m offshore, a natural lagoon is formed between the beach and the reef. Within, you have this balmy lagoon. Flat and larvely.
And If you get bored of this scenery, then checkout the all times favourite. A constant, long reef wave that kicks in during strong winds and high tides. But not only. It is an awesome shore break at all times, especially during Kusi season.
Morning sunrise and evening sunset are when things start to calm down in Kenyaways Kite Beach and people clear off.
The water is illuminated by the light of the big cheese, with glassy, shallow, moon-lit waters … how romantic! But being so popular, this spot can be a busy bee hive, so if you're after something a bit more private, there are other spots to settle down.
4. Neptune Sandbar
Just a couple hundred meters offshore from Kenyaways, this is a near-empty lagoon that is what you and I would describe as …. honeymoon perfection. The low tides make it not-too-shallow but there are a few moorings so watch out for anchors!
5. Neptune Channel
A little further up from the sandbar, the Neptune Channel is where you'll find the bouncy castle of waves, kiteable downwind, off the reef and upwind. Outsider pros hit the outsides and insider beginners hit the insides. Waves are here all season long, but In the Kusi season, life bumps up a notch, all over.
6. Mlango
Mlango, meaning "door way" or "opening" is the official translation by the locals (fishermen) explaining the reef gap. But it isn't a fisherman's village … no lines are getting caught, so don't worry!
There is an awesome reef but stay away from the north. The reef can get super shallow up north, especially during low spring tides. But everywhere else is beautiful. Clean breaks galore. Waves can get heated in the Kusi season as you'd expect, so head there if you want some jumpo bumpo.
7. Baobab Sandbar
Flat lines are what Baobab Sand Bar is all about. Boats, snorkelers, kitesurfers all congregate here in the high season when the wind drops a bit, but otherwise … you mostly have it all to yo-self.
8. Tiwi Rivermouth
Far north, on the other side of the Diani Beach, there's Tiwi Rivermouth. This is a more of a local 'secret kitespot' and definitely worth a look specially during the dry monsoon season (Dec-Feb).
This spot is unprotected by the reef and so it quite often gets a decent swell, but shifting sands make it more unpredictable. Plus the offshore winds make it more of a surfing spot specially around June to September.
9. Tiwi Beach
Again, this may not be the ideal kitesurfing spot, but definitely worth having a go at. The south of Tiwi Beach is much better as the north gets very rocky with narrow coves. The reef here is close inshore making it unridable at low tide, so watch out here.
Both Rivermouth and Tiwi Beach are advanced spots, so if you're still a bit shaky, you should stick to the safer spots.
If you're planning on sticking a bit longer and explore as much as you can of this beautiful part of the world, then checkout out this guide for some juicy kitesurfing spots in Watamu, a few hundred km north up the coats.
No wind?
So, you find yourself at Mombasa Airport and not sure where to go? A taxi from Mombasa Airport takes a couple of hours (30km) or from Ukunda's local airport (5km) to the spot of your choice. But if you are left on a whim, and there is no wind … well, wind or no wind, you are in good hands!
Kenya is filled with animals. Lions, tigers, leopards, bears, cheetah, buffalos, rhinos, elephants, zebras, wildebeast, kudu, topi, oh my dayz my head is spinning! Well, not quite Wizard of Oz eclectic, but you will find the "Big Five" here in most National Parks, so take a day or two to explore some.
If you're just after a nice & relaxing day out, you don't even have to go too far. The Shimba Hills National Reserve is just at your doorstep. Take the nature trail through the forest to peak on some elephants and the rare Sable antelopes.
But if you want to see the real deal 'Big Five' safari, venture a couple more hours inland to Tsavo National Park. Or even further up to Masai Mara, Amboseli or Ngora-ngora Crater. Or maybe that's for another holiday.
Different country, different passport stamp, so if it's not just Kenya you're visiting, you'll be pleased to know that Tanzania's Zanzibar has some of the finest kitesurfing spots. Check out this guide on the best kitesurfing spots in Jambiani, Zanzibar
You know we love flamingos, so we're mega happy to let you know there are flamingos here in Kenya too! Although not exactly a stone throw away from the coast of Diani Beach, Lake Nakuru is quite the spectacle – also known as 'pink lake' and this spot is littered with the things!
And if you just want to stick around – Go Surfing!
Sometimes the wind and weather could be way more difficult to predict and It's down to the tropical rain storms passing through. The Kuzi season usually brings a pretty decent swell with it, so from June until about October, Diani Beach is blessed with waves up to 3m high .. on good days. When it blows, it's awesome, but when it doesn't, it doesn't have to suck. There are plenty of surf schools around, so just grab your self a board for the day and go have fun!