Escape out in the "Little Fortress"
Maybe Essaouira, this little Moroccan kitesurfing gem is one of the less known kitespots, but it surely is well worth the visit, not only thanks to its long sandy coastline and fairly consistent winds, but also for its rich history and ancient sights.
As its name declares, the "little rampart" is a picturesque old town, which has been there as a meeting point for European, African and Arab people for more than 2500 years.
Why Essaouira?
It's pretty easy to get there, especially from Europe and there are several flights a week from wherever you may be. It is relatively cheap in comparison with other kitesurfing holidays and destinations, plus you don't need a car to get around. Pretty much everything is within reach, so just to save a buck. Or get a camel like the locals.
The beach is only 10 minutes away from the old town, where most hotels are. Moreover, local kiteschools organise transport and daily trips to further spots, so that's pretty handy and in case you need to go anywhere else, there are also the local blue taxis.
If you are visiting Tarifa in Spain for kitesurfing holidays by any chance and want another fancy stamp in your passport, you should book a place in Essaouira for the night or two and go check it out. Well worth the visit and easy to get to. There are several ferry boats leaving Tarifa to Tangier in Morocco few times a day and from Tangier to Essaouira it's just an easy costal trip.
Check out this guide with the best kitesurfing spots in Tarifa.
Kitesurfing season in Essaouira
Essaouira kitesurfing season generally starts in late March and runs all the way until September. You can usually expect a pretty consistent breeze between 15-25 knots during the season, especially in the afternoons, on the clock. But there are few odd days in July and August where the wind speed increases and you can occasionally score a 35+ knots ride.
The trade winds in this time of the year blow mostly from North and North-east. Mostly cross off-shore when they hit Essaouira, but the direction changes depending on the part of the bay you choose. If you're taking kitesurfing lessons, most local kite schools teach in those parts of the bay where the wind hits cross on-shore, for safety. Waves can vary, flat to spectacularly high. If you surf, you'll have fun.
No need for big kites in the main kitesurfing season. You'll get away with a 9 or 10m on most days. But one thing to pack though is a wetsuit. The hot days and full blasting sun can be misleading. The water gets pretty cold and if you want to spend a bit more time riding without a wetsuit, the chill won't let you.
Kitesurfing spots in Essauira and along the coast
1. Essaouira Bay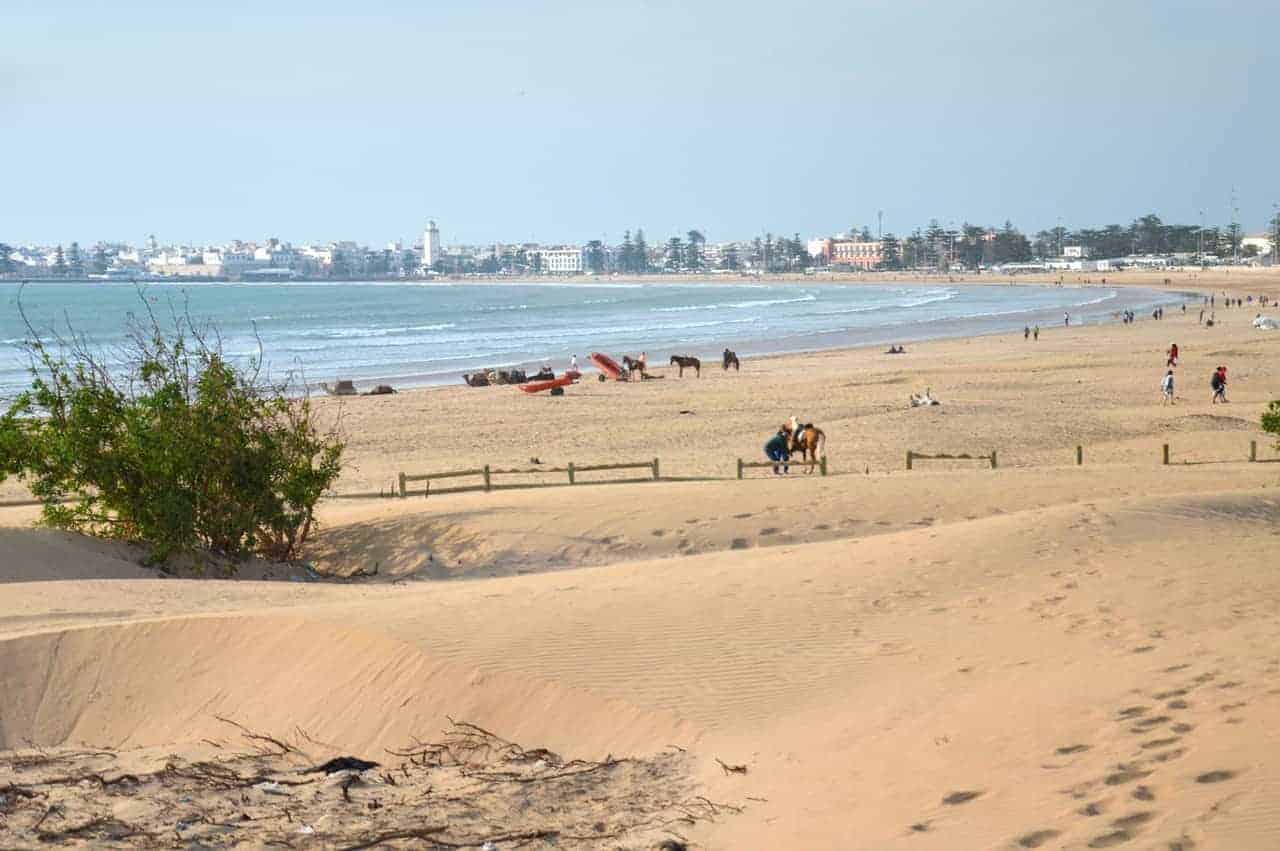 Essaouira Bay is the main kite beach. The half-moon shaped bay is perfect for kitesurfing lessons and so this is where the most kite schools are based. With the Passat trade winds, this spot has a great side-shore breeze pretty much all year round. Shallow water and the soft sandy bottom makes this kitesurfing spot perfectly suitable for all beginners.
2. 2nd Beach
Following Essaouira Bay beach all the way down south, you'll reach the Ord Omar – locally known as the "2nd beach". If Essaouira Bay beach is the main beach, then the next one down is the '2nd beach', hence the name. It's a long stretch of sand with the waves often a lot bigger than in the bay. There may be a light current at times to be mindful of. But once you get a bit more seasoned in your riding, you can take an awesome half-hour downwinder from Essaouira Bay to the 2nd beach.
3. Moulay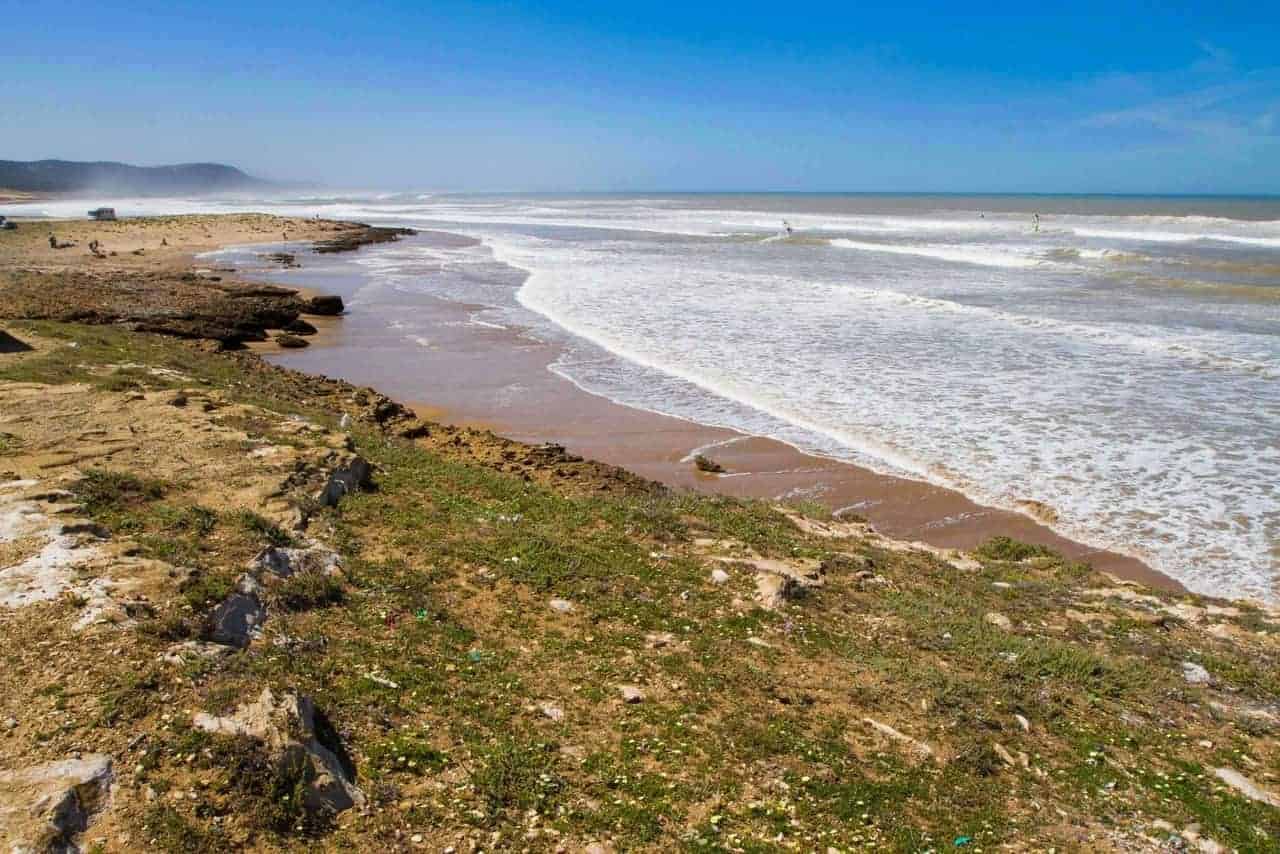 Moulay Bouzerktoun is about a 20-minute easy drive north. Although quite a small sandy beach with rocky slab, it's a great kitesurfing spot with awesome waves. From March to June, perfect spot for the surfers and kitesurfers with the waves around 1.5 up to 3 meters high.
Until the early '90s, Moulay was an unknown pin on the map. No electricity, no running water, just loads of wind and great waves. This place was often visited by just a handful of early days windsurfers. Nowadays, this spot is one of the celebrity spots for all European wave chasers. You'll find two waves here: one breaks at the foot of the cliffs; the other runs further down south at the actual 'beach'.
The waves are best to ride on a raising push tide. When the tide is too high, you may find your self getting pushed against the rocks outside the water. When the tide is too low, you might be greeted by the rocks in the water. But the rocks in the water are not sharp and they won't hurt.
4. Sidi Kaouki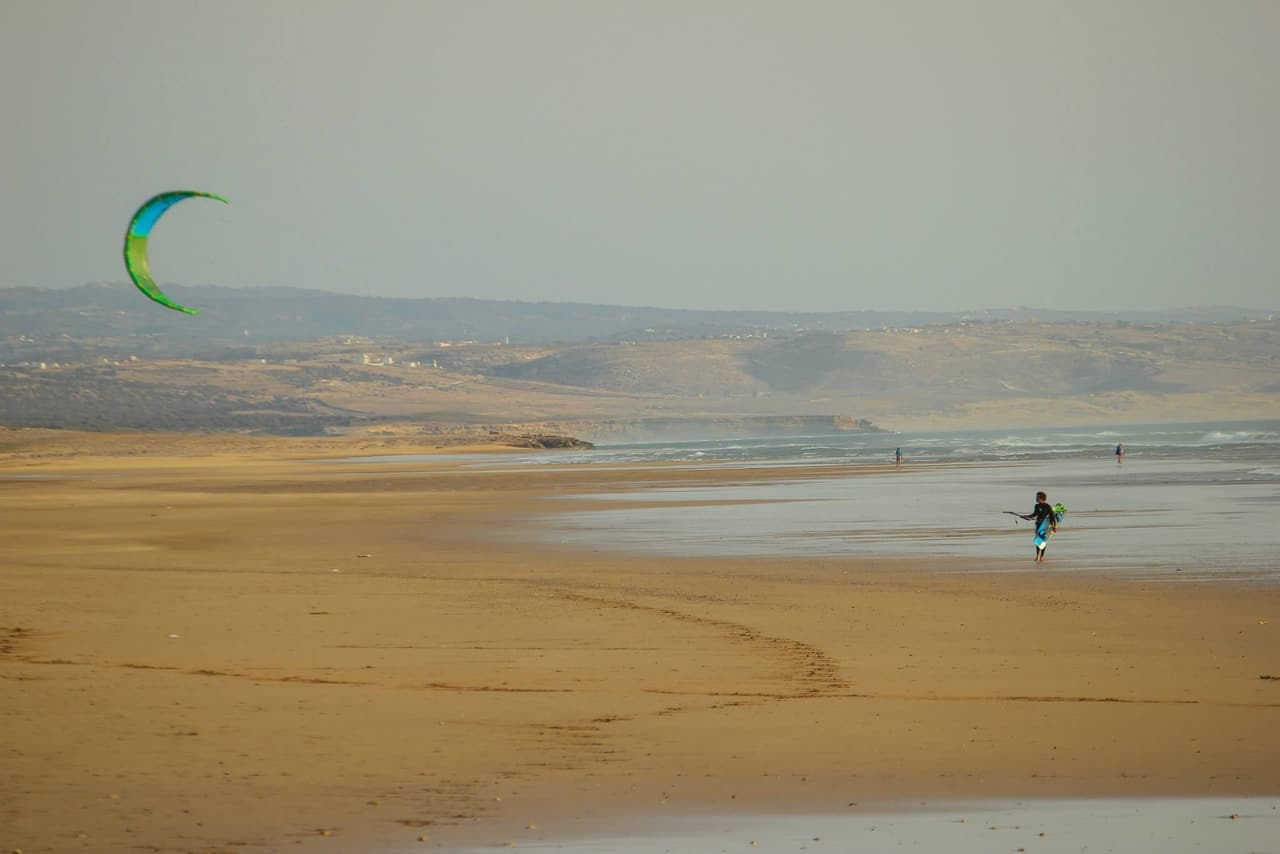 A good wave alternative to Moulay is a small fishing village of Sidi Kaouki, a spot at the same 20 minute distance to Essaouira, but the other direction, to the south. Sidi Kaouki is a large open sandy beach with pretty reliable, but offshore winds blowing from the south. In front of the large main beach, a small square with two surf shops, a handful of small eateries, a couple of camels and wondering donkeys.
The main spot itself is not necessarily the most interesting, but it is the fairly powerful shore break with a quite a strong current and numerous individual wave spots spread around. It is one of most faved spot especially in the surfers community as it has a pretty good reputation of being windy and wavy. The waves are rolling long and riding them is best when the wind is light and the tide is up.
Head up a north some few hundred meters to get to the goodies.This is where the famous La Grotte (The Cave), La Couronne and La Bouteille waves are. Each has its own unique character. All very well known between the surfers, but La Couronne and The Cave is getting more popularity with the kitesurfing crowd.
5. The Cave / La Grotte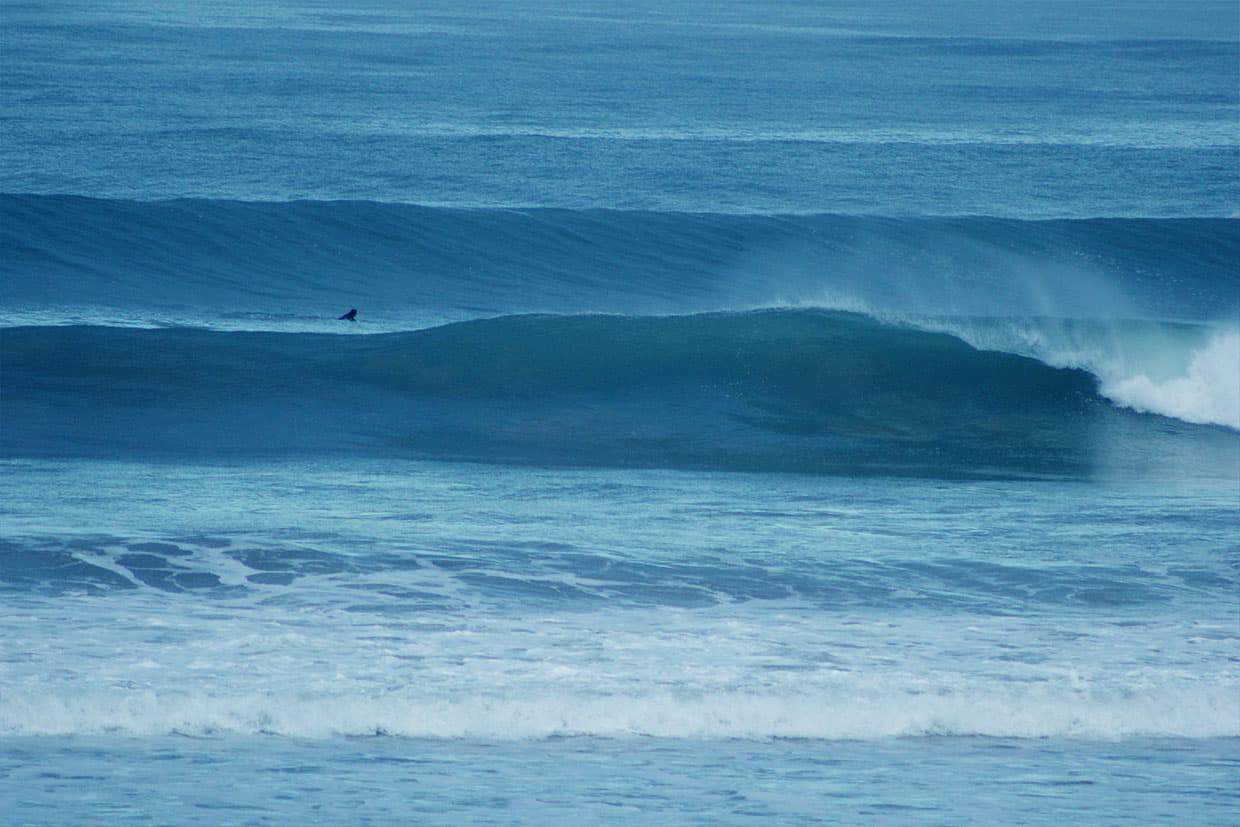 The Cave sits on the cape near Cap Sim in-between Essaouira and Sidi Kaouki, about 20 minute drive from Essaouira town. Locals say this is the best surfing & kitesurfing spot on offer in Essaouira. And hell they're right! The journey to The Cave is a bit of an adventure itself. It's best accessible by 4×4 via a dirt road or a long walk. This kitesurfing spot is notorious for its large swell, specially in the season from October to May. The waves here are just something else, so be ready for some action.
This is where you catch the perfect, long right-handers. Easy to ride and works especially well with low to mid tide. Although well known in the surfers community, this spot is hardly ever crowded and often you can claim it. But you may be sharing it the surfers, so play nice!
6. Imsouane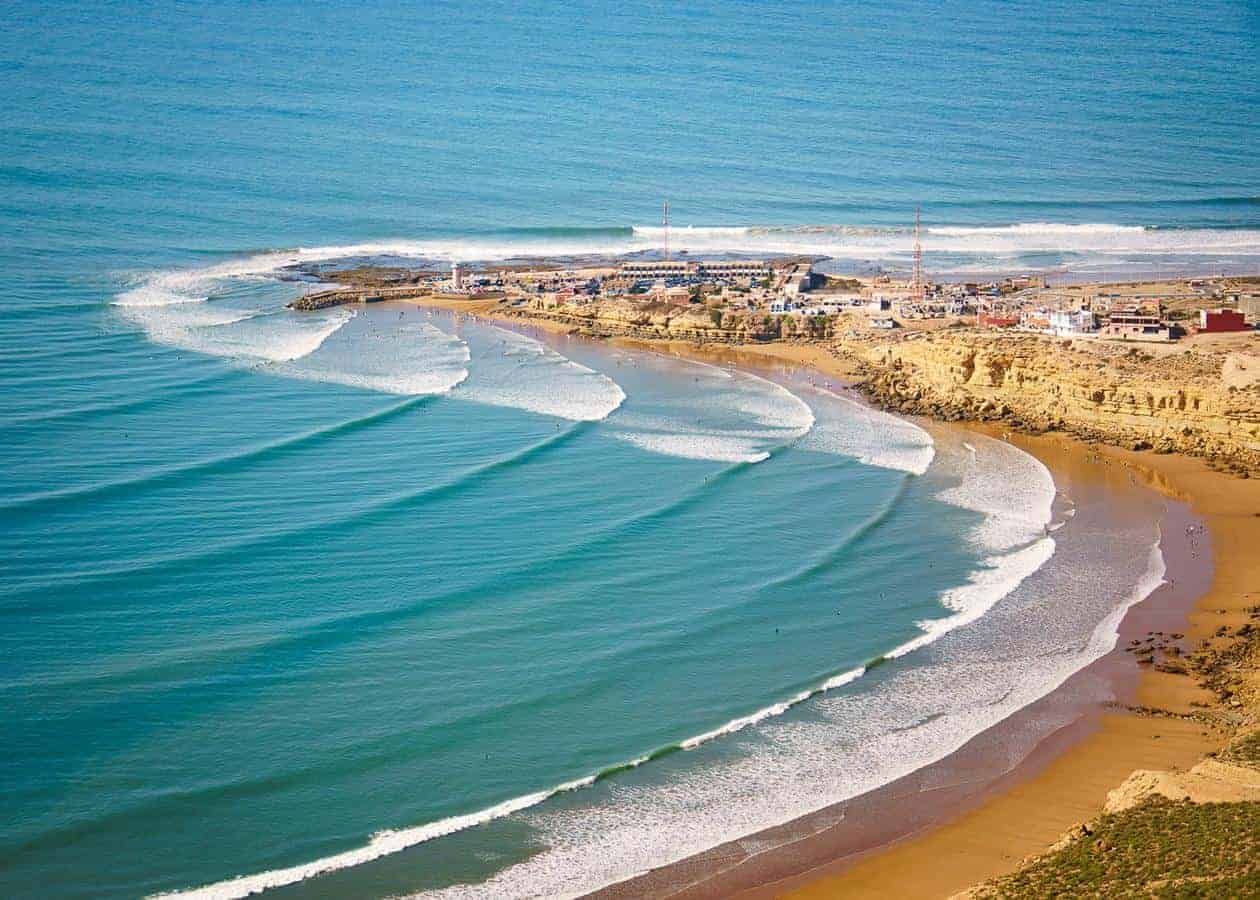 This next kitesurfing spot is a bit further down the coast, but very well worth a visit, so if you have your own transport, make sure you put it on the must-do list. Located about an hour and half drive from Essaouira town, Imsouane used to be a tiny fishing village, pretty hidden from vast tourism. It has now became a popular surfing and kitesurfing spot, yet still managed to keep its unique vibes.
But the diversity of the waves is what's really unique about this kite spot and why it got its fame. You can catch some shorter waves towards the Southern bay area or switch towards the Western bay area and for the larger waves.
The famous Cathedral Point is always opened for business, but a cool fact, you'll be quite interested to know that this spot is blessed with one of the longest waves in Africa named 'La Bay' or also known as 'la be'. Once you hop on, you're up for a pretty smooth ride, sometimes even up to 3km long.
No wind?
Wind-free days in Essaouira are pretty rare! But it would be a pity if you leave this place without exploring its medina ("old fort"), checking its colourful markets and the bargains you can find there, testing the traditional dishes of the local moroccan cuisine and – why not? – riding a camel! So that's for the days when it doesn't blow or you just need to take a little break.
Keep in mind that Morocco is a Muslim country and, as such, there are certain rules you should respect. Rude behaviour, alcohol in public and bathing in the birthday suit are just some that are simply (and understandably) unacceptable.
Have fun, stay safe & respect 💛 the locals, you're the stranger in the town after all!