Kiteboarding in Lake Garda
Kiteboarding the largest lake in Italy sounds tempting enough, but when you hear about their gelato you'll start packing your bags pronto! Imagine a day where you are riding buttery flat waters across a 370m² lake, getting lost, steadily swept along by a breezy wind, carrying you along gracefully with the sculptured, scenic mountains in view.
Then, your afternoon in the setting sun, with an Italian fine wine in hand and hand-made bruschetta. Or perhaps a party on Limone's beach is more your scene? Some hiking in the afternoon, camping with a BBQ and tasting the local lemon groves that surround the lake. With a bit of flat, a bit of wave, a bit of northerly and a bit of southerly winds, Lake Garda shows off to be a great Summer spot for European kiteboarding dwellers.
With the protection of the surrounding steeped mountains, the morning northerly Peler winds and the afternoons southerly Ora breeze offers the perfect wind balance all day long. Reliable around 80% of the year, Italy rarely fails to deliver on stable, consistent winds from May to September.
Not only a pleasure to gawk at, Lago di Garda is one of the more beautiful spots to kiteboard. For launching, kiting schools and rentals, Limone is the place to be, and rentals are free if you take a boat ride from one of the resident schools. Yes, we said FREE. The only catch is that anyone water-sporting on Lake Garda has to wear a life jacket. Despite this, you can zip away in moments, getting lost on the big, badass lake that covers such an enormous area – so your peers won't see you for too long. Also available are race boards, foils, surfboards and twins for hire, namely from Limone if you fancy trying something different for a day or two.
Calmer in the afternoons, kiteboarding in Lake Garda boasts stable winds, two reliable directions and ample space to roam. If Limone is known for the flattest spot on the water, Capo Reamol is one of the windiest. Just note that you can't launch from anywhere.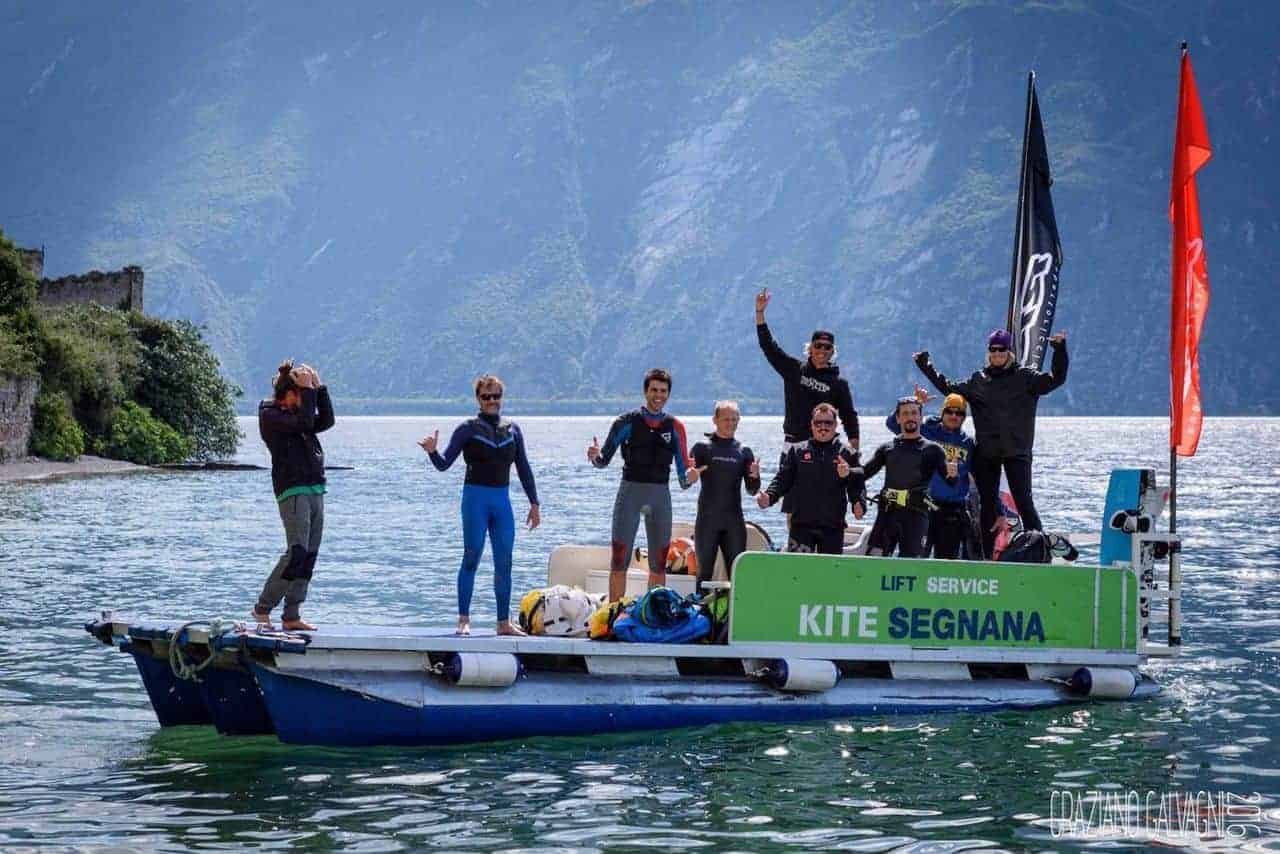 Opening out onto the Padana plain, Lake Garda delivers thermals that can differ depending on where you are. It is said that every shore has its own wind, so knowing the lake is key, and the safety of its participants is taken seriously from the locals. Safety checks will be taking on, of you, your equipment, your attitude (!) before you're given the ok to proceed. Some days in summer, the storms are known to invert the wind directions, which can baffle inexperienced riders.
The Peler winds usually produce small waves, making a perfect jump and bump platform for riders to play in the mornings. The waters tend to be cooler during this time. The more famed winds are the Ora winds, meeting between Gargnano and Brenzone, forming in the early afternoon until sunset.
The Balin (Balinot) winds generally form over the Ballino mountains after snowfall. When this kicks in, the chop kick up and swell can reach 1.5 meter waves. It's in these conditions that riders have to take care, as winds can pick up to 40 knots and it's easy to get yourself in a pickle if you don't know what you're doing.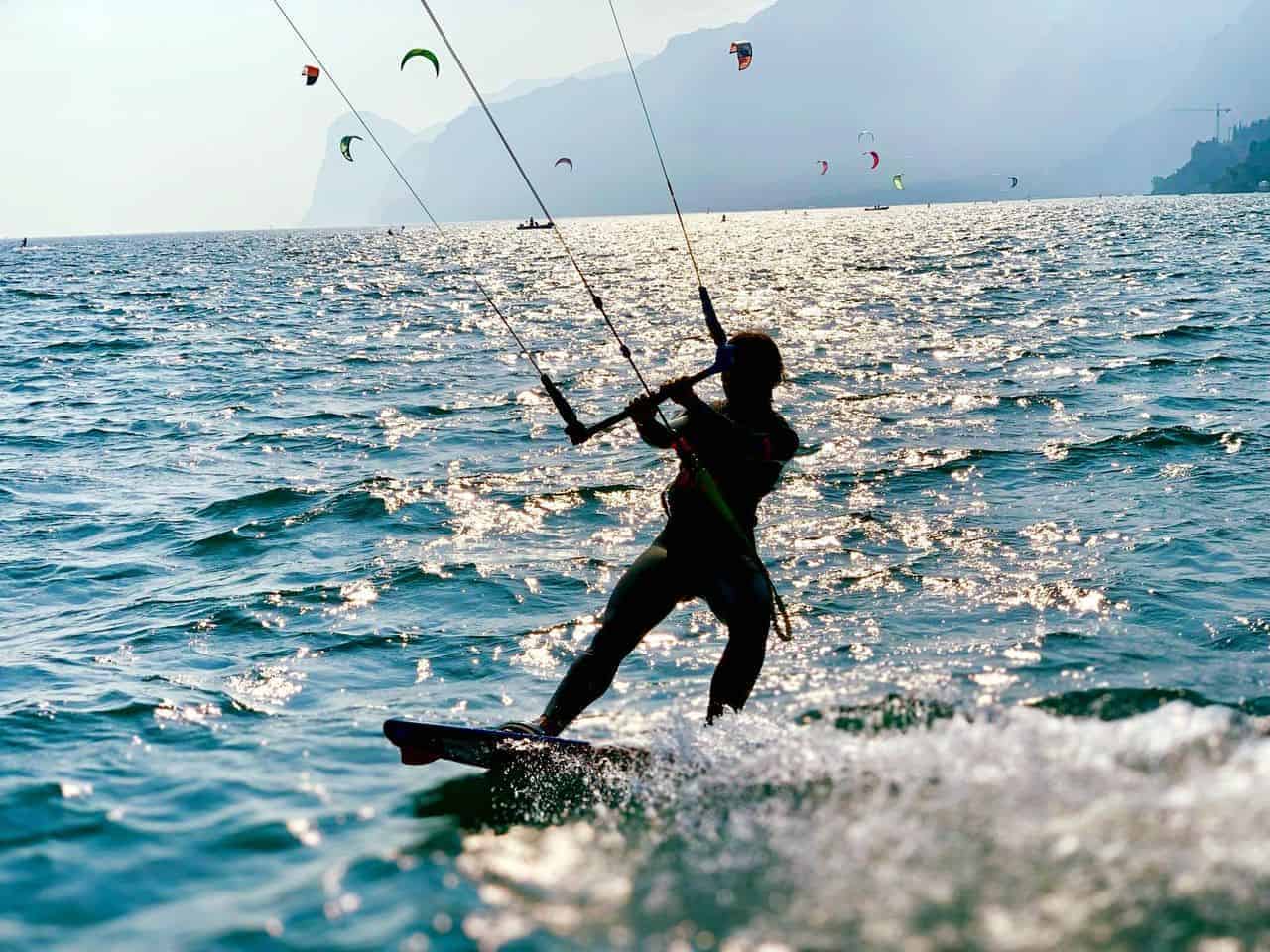 Kiteboarding season in Lake Garda
Lake Garda's kiteboarding season runs April to September, with the warmer months peaking in June, July and August. Riders can get away with boardies in July but wearing a shorty in June & August and long wetsuits outside this is more ideal. In July, air temperatures hit 35°C and waters peak at 22°C. Outside this, the air temperatures can vary anywhere from 15°C upwards. The water can be fresh so you'll need some more clothes in other months… and in Winter, wrap up warm (5-6mm at least).
Gusty Peler winds in the morning set off from around 6am and kick between 12 – 30 knots. Things chill a bit in the afternoon reaching 12-15 knots, sure and steady with the prevailing Ora. The Ora afternoon winds peak in April and September but it can rest flat in summer months. Despite it being a lake, Lake Garda's size opens itself up to some chop, mimicking the open sea (almost).
Kiteboarding spots in Lake Garda
There aren't many launch sites around Lake Garda, so you need to know your spots and choose carefully.
1. Limone
Limone, Lake Garda is the main spot for kiteboarders to rig up. With plenty of space and reliable flat waters, this north-easterly spot offers stable thermals and delivers stronger afternoon winds. Popular for beginners, this is the hub of most water sports activities, with rental shops for every sport under the sun. Kiteboarding lessons can go from here too, so in peak months (June – August) it can get a little busy. Luckily, Lake Garda is big enough for everyone!
2. Campione
A discreet, typical Italian location on the west of Lake Garda is Campione, open for Kiters February to October. The morning Peler powers through with windy gusts, and the day continues with a warmer, less gusty Ora in the afternoon. A surf school, rental store and pebble beach can be found here, with side-shore winds.
3. Malcesine
Located on the east shores, kiteboarding on this Lake Garda spot offers side-shore winds with parking, rentals, toilets and other facilities ideal for a launch site. Open March to October.
4. Assenza di Brenzone (a.k.a Malibu Beach)
Malibu Beach is one of the few spots that offers waves. Side-shore winds & side-on reliably blow over summer months June to September, with the prevailing Peler northerly wind delivering most days.
5. Lido di Lonato
Suited for high intermediate and expert kiteboarders, Lido di Lonato is on the south-west coast of Lake Garda, and offers a side on wind. Stoney beach and the launch can be tricky.
6. Navene
Equipped for kiteboarders, Navene is located on the east of Lake Garda and open between February and October. Welcoming kiters, side-shore winds make for a run ride, but the launch site is small, although beautiful.
7. Castelletto di Brenzone
With a tow boat to take you out to the rider's spot, the side-shore winds are probably best for the more experienced riders who feel confident out in deeper waters.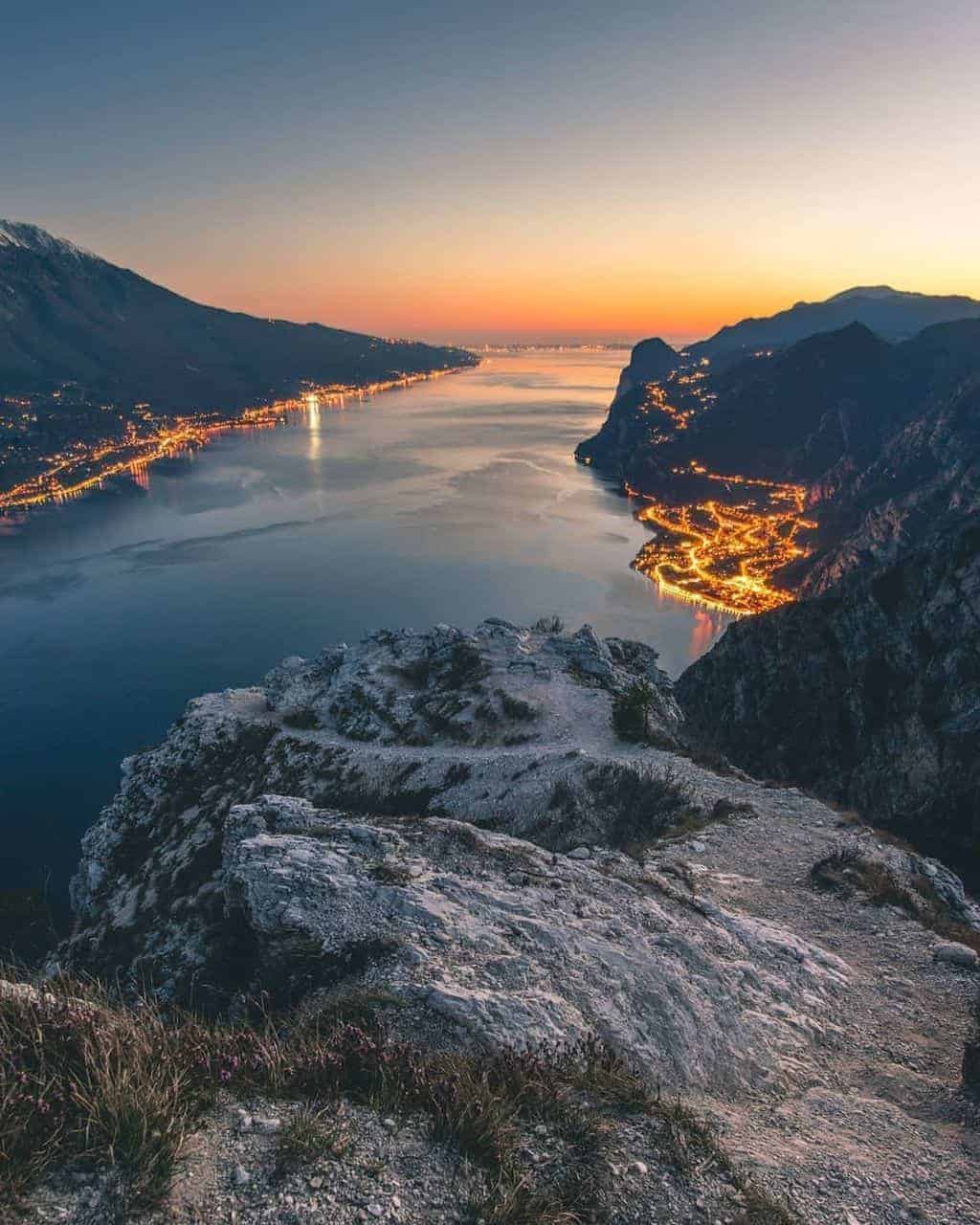 No wind, No ride!
All of the Italian food in the world would never find you bored here at Lake Garda. Traditional al-fresco eateries line the lake, alongside quirky campsites, quaint B&B's and luxury lakeside villas.
Hire a car and drive around the lake, taking respite in towns who's names you can't pronounce. The north will be filled with outdoor fanatics, hiking, biking and water-sporting away and the south finds a chilled vibe of local life. Despite Limone not being a party-town per-se, there's a great beach vibe up there to join with friends or on your tod.
If you want to explore further afield, Verona is just 90 minutes away and filled with awesome things like Romeo & Juliet's balcony as well as more outdoor adventures such as paragliding, castles, theme parks and shops!
---
Where to next? Check out some other cracker spots in Europe like Ireland's wild winds on Achill Island. Or head to warmer Med climes and ride the crystal-clear waters in Limnos, Greece.