The 3 W's. Wind, waves & wine!
Margaret River – or "Margs", as the locals often refer to it – is well known surfing and lately kitesurfing destination for several decades.
It is a typical small peaceful town located about 280 km South of Perth and named after the nearby Margaret River.
The name "Margaret River" appears for the first time on a map designed in 1839. European migrants have inhabited the area since 1850, while after World War II, people from other parts of Australia as well as the rest of the world were invited to Margaret River in order to start their own dairy farms.
Some of the wave surfing legends started visiting the area as early as 1920's, but surfing only begin to thrive here in early 1960's. Margaret River finally found its proud spot on the surfing map in 1969 when the Australian National Titles took place.
Only then the town and surrounding areas started filling up with surfers and with the blooming wine industry, there was casual work to sustain them.
Wine production started in 1967 when cardiologist Dr. Tom Cullity saw the premium wine growing potential in this region and planted the first vines at Vasse Felix. Other commercial wineries such as Cape Mentelle, Cullens or Moss Wood opened up in the early 1970's. During the 70's, another twenty wineries saw this potential and started businesses and even more in the 80's.
Today, the area is considered to be an elite wine producer. It produces only about 3% of the total Australian grape production, however it produces over 20% of the premium wines produced in the whole of Australia!
Wine industry has brought international fame to this amazing region and today, more than 500,000 wine tourists are visiting the every year.
But enough about wine!
Wind season in Margaret River
But apart from the wine and surfing, Margs has some very fine conditions for kitesurfing. You're able to kitesurf literally every day in the main kitesurfing season that goes from the beginning of October all the way to the end of March.
There are two main winds blowing through the area. You've got the Southwest breeze that comes on very early in the afternoon which then changes to the breeze blowing from Southeast. This starts in the late afternoon through to about midnight.
The intensity of the wind usually remains around 20 knots, but it can sometimes get much stronger. The average air temperature is at 26 degrees Celsius with the water at around 20 degrees.
Getting there & around
The most convenient and highly recommended way to get around Margaret River is by car. If you haven't arrived in one, then you should definitely consider renting some wheels in town. Everything in Australia usually looks shorter on the map than it really is. There is no local public transport unfortunately and the areas that you will most likely want to visit are quite spread out, so having your own form of transport is a smart move. The beach is about 10 km away from Margs town and Augusta is just something little over 40km down South.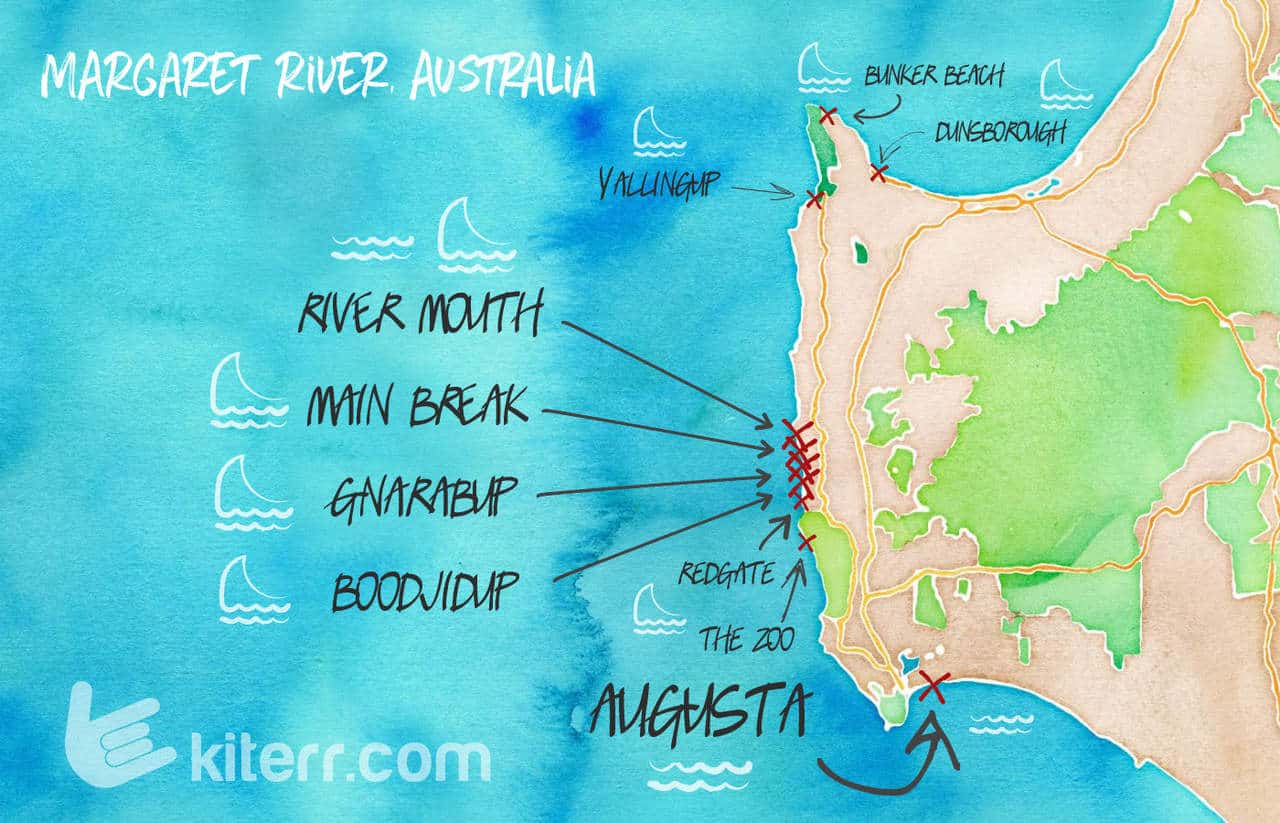 Kitesurfing spots in Margaret River
Most of the kitespots around Margaret River need a good level of experience due the the shallow reef and some pretty vicious waves. If you don't know the waters here much, it's generally a good idea to track down a local and ask a lot of questions. If you're a beginner then head down to Augusta, this is a great starting point.
1. Augusta
Great freestyle spot with easy and steady wind and butter flat water. This kitespot has some stunning scenery. You get little waves to play with as the river joins the ocean. Great spot for kitesurfing lessons and beginners.
2. Margaret River Main Break (Surfers Point)
Main break has been the top surfing spot for decades, but it's a pretty tough kitespot to ride on and often gives goosebumps even to the pro riders. Not a kitespot suitable for the twin tips. You should not be riding the Main Break if you're a beginner or still feeling a bit shaky. It carries few dangers specially due to the large waves and shallow reef they break on.
There is not much of a beach, so launching can be really tricky and often requires a buddy to help you out. Keep in mind that this is a surfing spot and you know how the surfers get protective over their turf. Just snatch the waves when they're too busy paddling.
There are 3 main spots here, the Main Break, Boat Ramp Reef and The Bombie.
3. Margaret River Mouth
Has a lot better conditions for launching with medium sized waves, but rocks are spread out in the water with shallow reef. Again more of an advanced spot and very dependent on the tide.
4. Gnarabup
Not the easiest of the kitesurfing spots around, Gnarabup has a bit choppy water with medium size waves. It has few currents and could get quite busy with fishing boats and jet skis.
It's more suitable for freestyle. The wind here is usually side offshore which makes it a bit challenging for launching. There is a reef more further out which may seem like a candy to ride on, but it is extremely shallow and could get quite tricky.
5. Boodjidup
Nice beach break, always perfect waves no matter what size the swell is. Winds are pretty steady cross shore. This kitespot is always chilled with hardly ever a soul, so quite often you can have it to all yourself.
Kitesurfing safari around Western Australia is just the perfect idea and so if you drive a car, you should definitely make a road trip out of it and explore the rest of the kitespots in the region.
If you head up North, you'll come up to Yallingup, Bunker Beach and Dunsborough.
If you want to go even further North pass Perth, you should check out Lancelin and the surrounding kitespots. Lancelin is about 400km away North from Margaret River and offers just an awesome experience.
Check out this guide on the best kitesurfing spots in Lancelin.
Heading down South from Margaret River, you'll pass the Redgate and The Zoo before finally arriving to Augusta.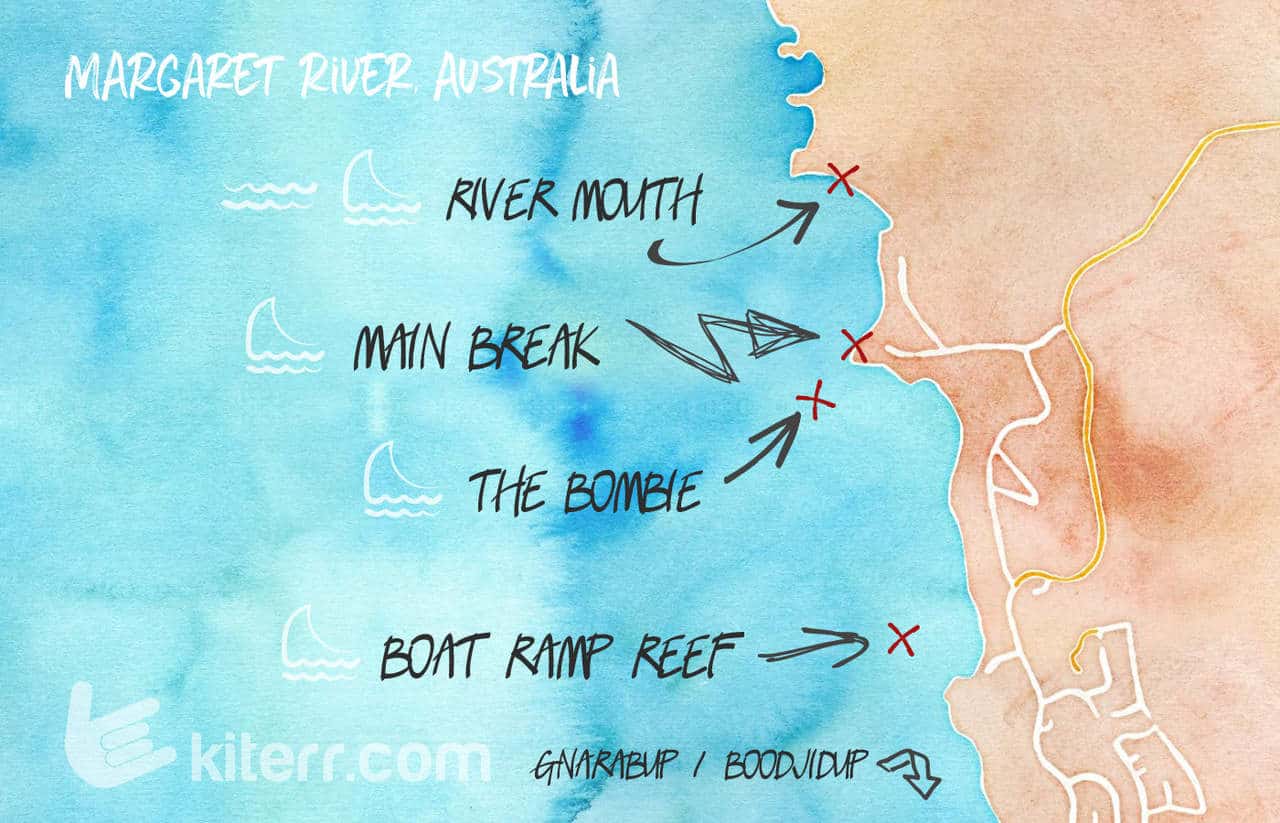 Don't miss the caves!
There is just so much more to see and do during a visit here.
In a day with less or no wind, you definitely must checkout some of the local wineries. There are just too many on the list, but some of the premium names are definitely Cape Mentelle Vinyard, Woody Nook Wines, leeuwin Estate. Think, if you have a wine nose, you've probably seen some wines from these vineyards in your local bottle-o.
It's all about nature in Margaret River, but if you want even more nature, you can book an awesome day tour in the Leeuwin-Naturaliste National Park.
This protected area includes hundreds of caves, six of which are open to the public. The most impressive one is the Mammoth Cave, discovered by European migrants in 1850. It is 21km long, it has been open to the public since 1904 and it is full of fossils over 35,000 years old.
And if you'd rather stay on the water, there's plenty of kayaking or stand-up paddle tour on offer.