Kiteboarding on Achill Island
Kiteboarding around Ireland's windiest island sounds ominous, but the lack of crowds and ability to ride ocean wave & lagoon flats in the same session is something worth shouting about. Achill Island will always deliver wind, fresh air, a wild & rugged coastline, beautiful beaches and some quality Irish entertainment… which no doubt will leave you breathless and craving more.
To be shore …
A boggy island off the Atlantic coast of Ireland doesn't exactly sound appealing and truth be told, it is likely to be the reason of its continued lack of crowds. But this largest Irish isle offers more talent than just Gaelic football.
Achill Islands' rugged coastline comes up top in adventure and water sports. In fact, sailing regattas and 'Battle for the Lake' festival put this place on the kiteboarding map and to be honest, we think the fuss needs a bit of a boost. With bracing North Atlantic ocean waves and lake flats side by side, sessioning two disciplines in a day is possible… and you can go for a great Guinness afterwards.
Just remember your winter suit because the elements are consistent, and relentless – mostly great news for us kiteboarders!
Wind season in Achill Island
The good news is that the south westerly winds prevail year around, which means that if you're brave enough to face some cold for an epic rip, then there isn't really a "bad time" to visit Achill Island. The west coast hits the best spots for these prevailing winds giving you a consistent side/onshore breeze. This, and it's lush sandy beaches with no reef or obstructions, the freedom and space to progress- is a gift. This being said, everyone loves a little sun and to maximise warmth we'd personally recommend March – October over the bracing cold months of winter.
Wind gusts vary but one thing is for sure is that the wind will continue to blow. Winter gusts can be up to 60 knots with average speeds around 25-30 knots. Well, when it blows, it gales. It does calm slightly between March to October around 16-25 knots. Wave heights also change across winter and summer, averaging 3-4m in height but in all honesty, the open ocean option isn't for the faint hearted. For the less experienced, stick to the 180 degree winds on Keel Lake instead.
Temperatures average between 7 – 15°C, and the water 12 – 14°C, meaning it's not as cold as you'd expect for a North Atlantic ride but suits really are needed all year. We'd recommend 3mm suits in summer and 5mm+ with gloves and booties and hats and anything else you can get for warmth in winter!
Kiteboarding spots in Achill
On the west coast you'll find the 2 spots for kiteboarding on Achill Island; Keel Beach and Keel Lake.
1. Keel Beach
At the base of Achill Head lies the breathtakingly beautiful Keel Beach. A picture-perfect, 3km long stretch of Blue Flag beach, and recommended spot for water enthusiasts. Wetsuits and surfboards can be hired at Keel Strand, while the more confident kitesurfer can play in the open ocean. Attracting the ride of a lifetime, fuelling adrenaline hunters and excitement cravers.
Currents and ocean swell are notorious here, especially in winter times and the wave can get chunky. But for those who are experienced and daring, the open sandy beach with side/on-shore winds will make you feel free as a bird out there in the elements.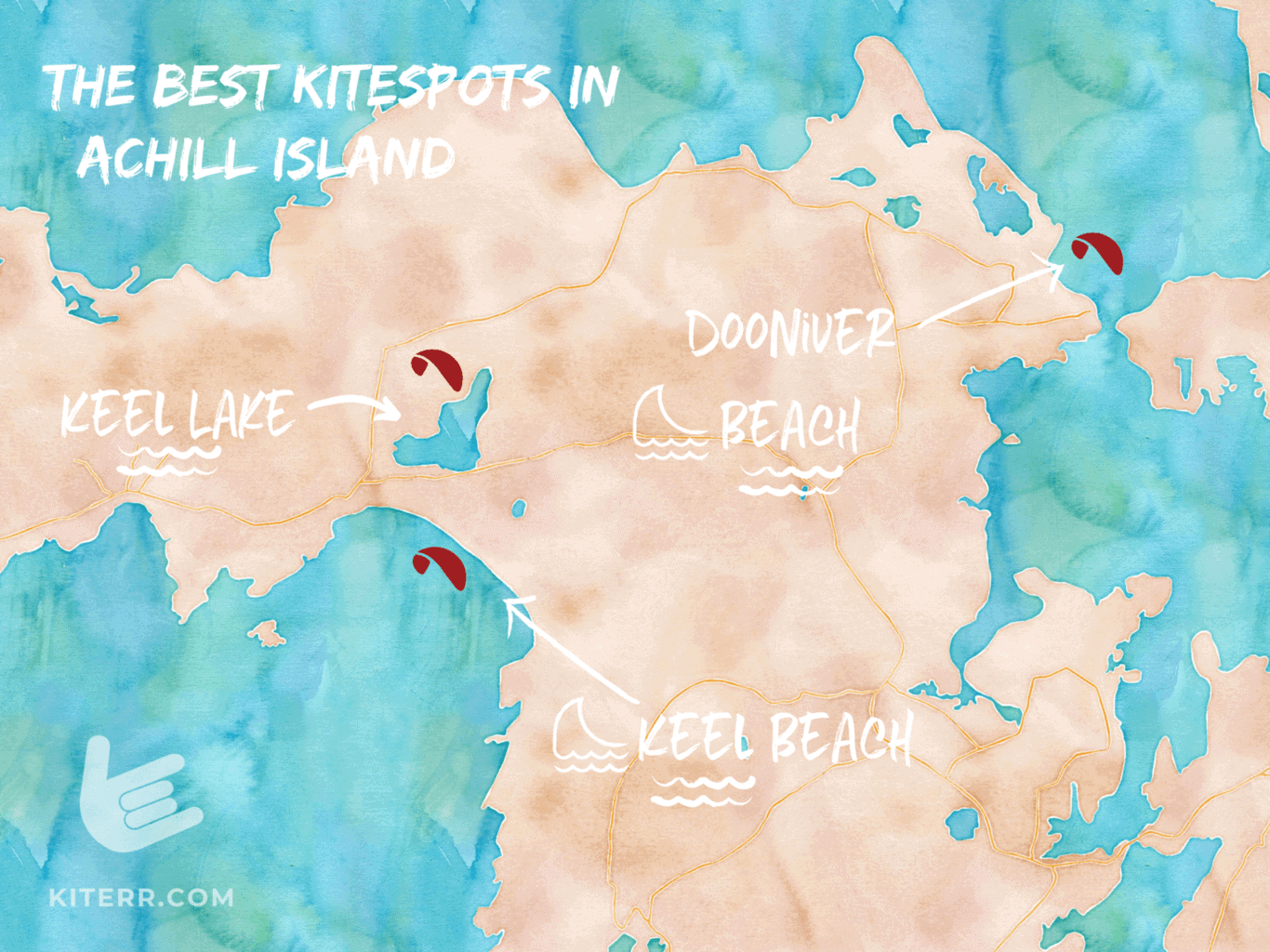 2. Keel Lake
The calmer twin of the two, just inland from the Keel Beach, sits Keel Lakel; a sizeable, shallow lake that holds freshwater and attracts water sport enthusiasts. A calmer option out of the two, Keel Lake is a great learning spot, and taster before taking to the rougher shores of Keel Beach.
Protected by the sandy banks, winds approach the lake from 180 degrees into the vast shallows. Keel Lake doesn't just attract beginners but also flat water fiends who thrive off that prevailing south westerly wind. Here is also home to Battle for the Lake, an annual kiteboarding event hosted by Pure Magic in September that celebrates the end of the kitesurfing tour. In true "festival" style, the lake comes alive with bonfires, fireworks, and of course, the kiting competitions.
3. Dooniver
Transferring over to the east of the island, Dooniver is a lesser known kiteboarding spot on Achill Island. The stone/sand beach offers a harsher entry into the oceans' flat chop and when the rare northerly winds hit, waves can become quite playful.
No wind, No Ride!
Achill is the largest of all Ireland's islands and it's a veritable hive of activity compared to the others. The Achill Tourism community are pretty hot on their outdoor adventure options, and whatever it is you're into, you won't get bored. Here are our top 5 things to crack on with, outside of the kiting world.
With 5 "blue flag" beaches on Achill Island, you have the pick of some of the best in Ireland. From the absolutely stunning Keem Bay in the west of the Island, the remote Annagh, or the truly intrepid Corrie Lake, all are equally breathtaking and challenging to reach.
Keem Bay is quite known not only for the picturesque backdrops, but also for its celebrity resident, a 7 meter shark sometimes spotted swimming with the dolphins. But don't freak out, it's a Basking Shark. It's an oversized beast, but feeding on plankton and completely harmless to humans. They tend to appear off the Irish coastline between April and August.
The Deserted Village at Slievemore. Take a step back in time and reminisce in the ancient artefacts and architecture dating back over 5,000 years in what seems to be an abandoned field of 100 stone-built cottages that have been inhabited since at least the 12th Century.
Explore Achill's "Blueway" – a network of waterways over 2.4km that meander between Golden Strand and Silver Strand in the north. Less experienced kayakers are recommended to hire a guide.
Ah, the land alternative to the Blueway, is indeed the Great Western Greenway. 42km trails offering the biggest walking and cycling routes in Ireland will be sure to keep you busy for a day, or three.
Learn how to … horse ride, golf, bike, scuba, SUP, paint, coasteer, orienteer, fish, canoe or just stick to what you know and kitesurf.
---
Where to next? If you fancy staying in the British Isles, why not cross the pond to North Devon and check out kiteboarding in Westward Ho!. Or head to warmer climes in Europe and ride free around Greece's 'Island of Gods'.