Kite buggy on Fanø Island
Fanø Island is internationally famed for being one of the world's top spots for beach cruising. If there was one spot that grabs outdoor adrenaline junkies and wraps them up in picturesque beauty, perfect seas, white sands and ideal conditions, then it's this place.
Fanø is a small island located off the west coast of Denmark, and is described as an adults playground for outdoor sports, from kite-boarding to buggies, SUP and surf. But fear not, there's enough space for everyone to glide. The Danes have set up this spot safely, so each sport has a designated area to play in without causing too much chaos.
The Fanø locals love this place and flock in their plenty to get a sporting fix, but if you're not from around here, you'd easily miss it and not know it was here. Doh, thank god we're here to tell you about it then.
With a catalogue of activities to choose from, your first challenge will be to pick your discipline. Here's a little free guidance:
Kite Buggy
Speeding kite-buggies along the sandy beach of Fanø sounds pretty fun… and it really is. It doesn't take much more than a little common sense and courage to gain lightning speeds and feel the full impact of adrenaline satisfaction here.
A kite buggy is essentially a three-wheeled go-kart (without an engine). You sit in it, hold on for dear life to the kite and get pulled along. You control the steering and speed with your hands and feet by moving the buggy into different positions according to the wind.
Along Fanø Beach, beginners flock as they learn to kite buggy in less than 3 hours. Course material is sent in advance, so make sure you pre-book this course if you're interested.
Beach Sailing
Beach sailing works in a similar way to a kite buggy, but without the kite. Instead the vehicle has a sail attached to it. In this set-up, you are strapped into the driving seat and your control is more like riding a bike, directing with your hands. The sail size is dependent on your weight, experience, wind force, and it sits in front of you between your legs. With a leash adjusting the sails depending on the wind, you can tighten or loosen the sail which will adjust its speed.
Like in a dinghy, you can tip over but you won't capsize! This being said, you can get a variety of creative vehicles, from canoes-on-wheels to a simple pipe-frame kart. The most common, is a Blokart. Founded in 1999 by a Kiwi, Blokarts are quick to build, cheap and a compact version of beach sailing, still with your sail attached.
Land Boarding
Kite Land boarding is a bit different. Standing on a board with wheels, this activity is similar to snowboarding on dry land. A great entry discipline into any of the kiting activities, you hold the kite in your hands and away you go. At any point you can jump off the board so it is safer than it looks.
When to go?
Danish summers make for the nicest time for any beach sports but winds here are consistent all year around, so if you head here in winter, make sure you wrap up! Reaching maximum temperatures of the early 20°C, June – August are the warmest months. Westerly winds suit Fanø best.
If you have never been on a kite buggy or Blokart before, then you will need to be a bit organised before you get there. With a number of licensed trainers and guides on hand, you will need to connect with a school for a quick course before going solo.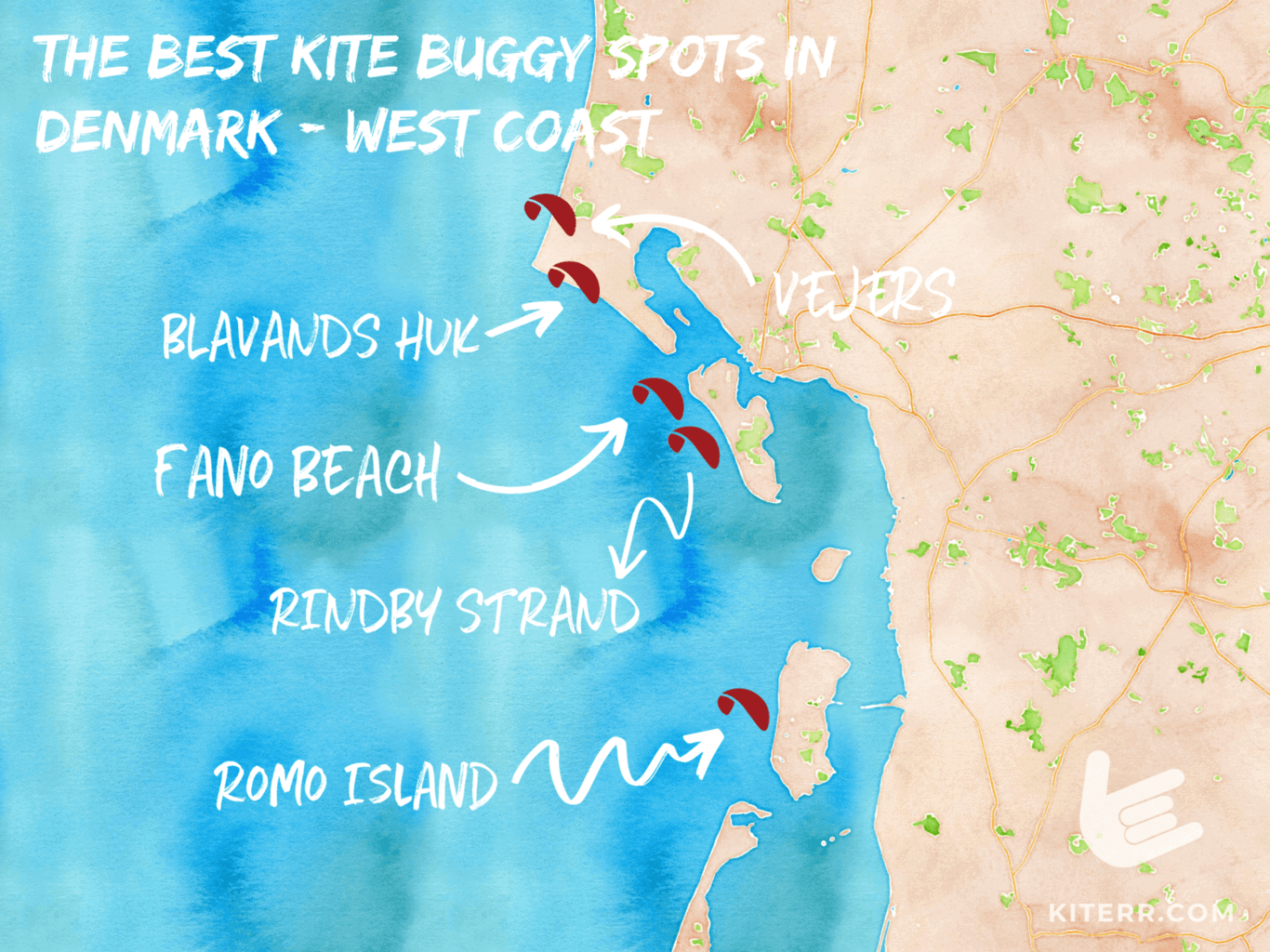 Kite buggy spots in Fanø
Fanø Island is a thin and long island that runs alongside the west coast of Denmark. Attracting some of the best drivers around the world, competitions, events and training camps are regularly hosted here. Focussing on the north west of the island, here are a couple of launch bases that are popular for land kiting here.
1. Fanø Beach
Fanø Beach is extremely wide with a firm base and consistent winds, meaning that this is one of the most popular spots for such activities. With a huge amount of space, collisions are rare! A safe and popular spot for many land kiting activities, people flock from all over Europe just to ride here. The westerlys make for the most amount of fun as you can ride alongside the water line. Access is easy as you can park by the water so you don't need to lug equipment around.
2. Rindby Strand
Just south of Rindby there is a unique spot that is dry 90% of the year. World records are broken here with the longest distance rides, but also beginners learn here to keep out of the way of Fanø Beach.
*Note: the east side of Fanø is protected, so kiting is not permitted.
3. Rømø Island
Located south of Fanø Island lies Rømø Island. On the central west coast of the island is a huge beach, similarly dedicated for land kiters.
4. Blåvands Huk
North of Fanø Island back on the western corner tip of Denmark's mainland is Blåvands Huk. In summer, the area is too busy with muggles, but outside of this, it's suitable for a little ride. Note: there are no designated buggy areas, so caution is essential!
5. Vejers
Again on Denmark's mainland, just 7km north of Blåvands Huk you will find a 250m wide beach with a possible 20km beach run. Stick to months outside of the summer holidays, as there are again no separated areas for pedestrians.
No wind?
Although it's unlikely that the wind won't be blowing when you're here (and it definitely won't stop the 'Fanø International Kite Fliers Meeting' festival every June), there's a few things to keep you entertained in Fanø.
Denmark is a stunning country, and Fanø Island is an outdoor haven with or without wind. In warmer months, SUP, kayaking or surfing are popular activities with equipment hire available on the beach. Or, head out on a seal safari! Towards the west of Sønderho, hundreds of harbour seals and grey seals can be found basking on the sandbanks.
If you're sticking to land activities, hire some bicycles to explore the island, or take a hike through the Fanø Klitplantage nature reserve where wildlife is abundant. It's a picture perfect destination, so keep your camera handy when meandering through the woodlands and wild fields.
Alternatively, visit the quaint, historical village of Sønderho, voted the most beautiful in Denmark. Walk back in time down it's narrow streets with centuries old buildings, and stop for some tasty Danish tukka at one of the oldest inns in the country, Sønderho Kro (opened 1722).
---
Where to next? Stay in Europe and head to England's North Devonshire coast for some more land kiting action in Westward Ho! (and we didn't add the "!", it's actually in its name!).