Kiteboarding in Atins
For those looking for a truly out-of-this-world, mind blowing, unlike any other adventure spot, then kiteboarding in Atins could be your winning ticket.
This uncut jewel is by far one of the last frontiers in our modern world, which will- undoubtedly- not last. Atins is selling off land faster than you can ride those waves, which means it will be THE next popular spot.
Currently, Atins is a hidden eden that's still relatively virgin in the world of kiting and tourism. Set in the North East of Brazil and protected by a sheltered delta, you'll have to work hard to get here. But you'll be blown away when you do.
The neighbourhood has no paved roads and your transportation is by mule, boat, or 4WD- it's basically one great big, sand pit playground. Yet for acres and yards, you will have the opportunity to kite epic downwinders without seeing a soul; just you, your board, and nature to gawk at.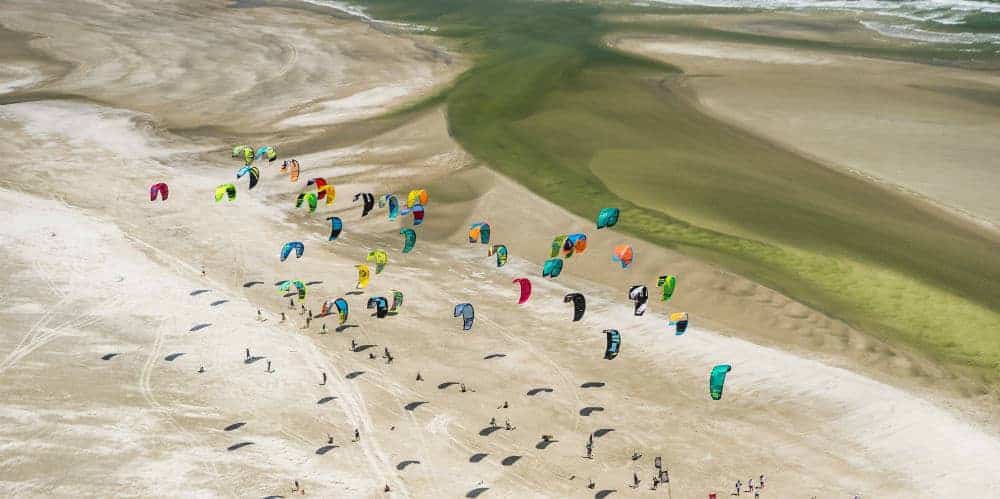 Sand Dunes and Lagoons
With white-water ocean waves at the river mouth, a reliable south westerly wind, and an endless network of protected flat lagoons tucked inside sand dunes, Atkins gives you everything at your fingertips. But for even more thrills and stoke, hidden outside of this secluded, picturesque fishing village is a series of sand-banked lagoons that appear and disappear with the tide.
Only a couple of km's away is Lençois Maranhenses National Park. Here, a vast expanse (383,000 acres) of soaring sand dunes appear in a desert-like phenomenon. The seasonal lagoons are created by rainwater, filling pockets of swimmable pop-up pools that's ready and waiting for the adventured kiterboarder. The challenge is not what, but how.
You asked for an out of the world experience: here are knee deep lagoons, warm flat waters, and endless downwinders that are ever-changing depending on the winds, tides, and rainfall. For miles upon miles, you can discover new pools that are only accessible by a 4WD (and a guide) … the possibilities are endless. Just remember that sand dune driving is risky, and the distance to and from the beach is physically demanding. Consider staying in a Pousada on the beach!
Kiteboarding season in Atins
July to December is the kiting season here, with air temperatures averaging 28ºC and water at 27ºC. Consistency is a wonderful thing, and you really won't have much to worry about other than getting around.
The wind starts in June to January, with a more zen period in the first 5 months of the year. If you're after reliability, then stick to October/November where you'll regularly experience 25-35 knots plus, of consistent cross on-shore trade winds. Take a rashy – a wetsuit is overkill.
Beginners should stick to low tide when there is more space to launch from Atins' main beach with sand, and only sand, to fall back on. It's good to also note that it gets dark around 6pm so be ready to head back with enough time to spare so you don't get lost forever.
Kiteboarding spots in Atins & the South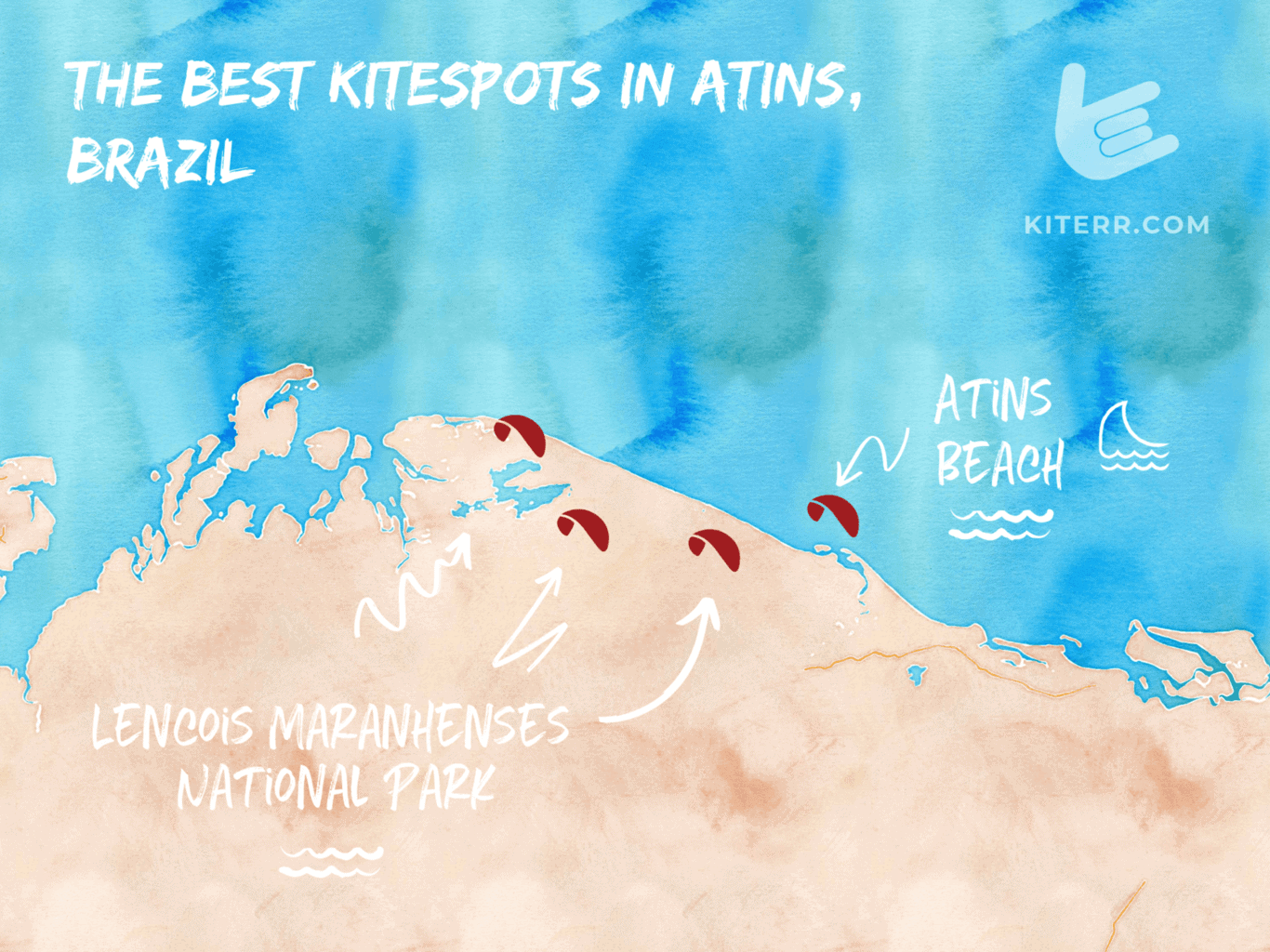 1. Atins Beach
With 2 launch spots on Atins Beach, you have to time your ride with the tides. Opposite the mouth of River Preguiças, sandbanks emerge at low tide, offering an opportunity for the free-rider to enjoy flat, warm waters. Then as the high tide approaches, foiling seems to be the popular way to head upwind to reach the river mouth… and beyond. It's a great spot for all ability levels, offering calm lagoon flats for novices, and then an ocean sandbar surf for some bump and jump cross-shore funsies. Alternatively, during high tide, take a 15km downwinder along endless sand dunes of Lençois Maranhenses National Park for a real adventure!
2. Lençois Maranhenses National Park
Within this remarkable National Park, there are endless lagoons carved out by huge sand dunes. Take a local guide and a 4×4 to explore this playground. There is a strict management of kiting within the park, so keep up to date by using a guide and IBAMA (Nature Reserve Org) for the latest info. Generally, you want to be hitting this area August – September as many of the lagoons lose their water depth by December.
Kiteboarding spots along the East coast of Brazil
Brazil is notorious for world class kiteboarding, and all down the east coast is a network of hot spots for a bigger road trip around this region. Here are some other picks along the coastline:
Barra Grande & Macapa – Large river mouth with variety of riding conditions in a number of lagoons!
Tatajuba lake & lagoon – High tide river lagoon or surreal & gusty lake riding.
Guriu Lagoon – Waist deep flat water spot tucked away next to the mangroves. Accessibility difficult.
Ilha do Guajiru – 6km x 400m lagoon in a dedicated kiters village.
Lagoinha – Open water and small lagoon riding with a kiting school.
Paracuru – Known as the top riders spot in the area, small but reliable. No accommodation
Taiba Lagoon – A small playground for pros that gets busy, but a great pitstop for downwinders.
Cumbuco – The last pitstop before your flight – open sea with some jump and bump, with a self-sufficient town.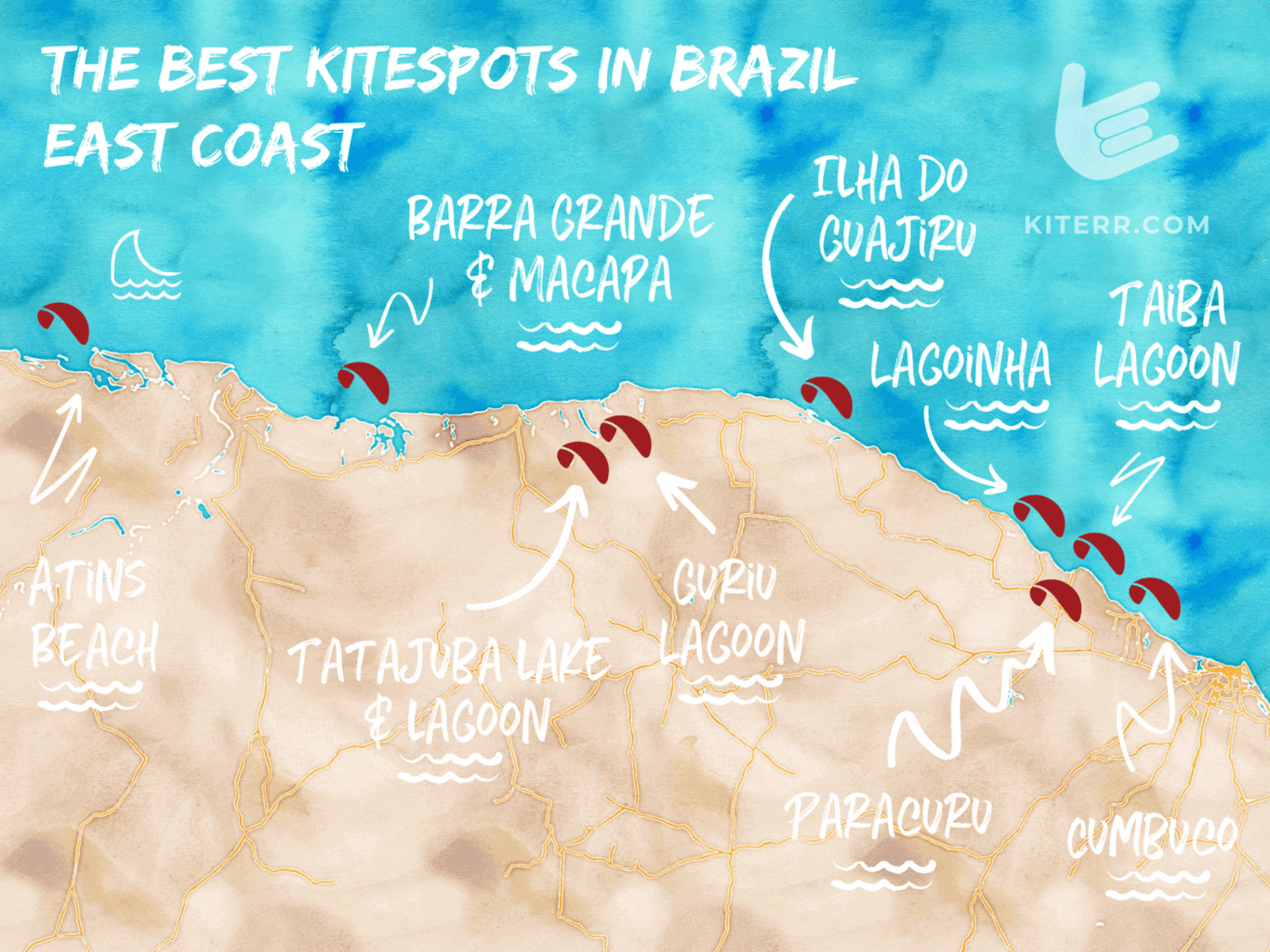 No wind, no kite!
In the rare and unforeseeable chance that wind doesn't run its course, (which is really, really rare) then there are a few top things to do in this unexplored region.
Obviously, first and foremost is the epically vast Lençois Maranhenses National Park. This area is vast, wild and expansive, so you have your options. Hire a 4WD if you think you are up to the driving (taking a spare and a local is highly advised).
Another way to experience this otherworldly cinematic sandscape is on foot. Check out recommended São Luís-based Terra Nordeste for a well-organised hike that will take you into the endless abyss of dune-age.
If you're addicted to the ocean then there is loads to check out too – from SUP, fishing, sailing or just hammock chilling. Sea turtles, pink dolphins and other rare and rehabilitated wildlife is on offer here too.
Or simply wine and dine with the locals, and be tempted by the local tasty prawn dish (camarão) washed down by delicious cerveza or two under the sun!
Note:  Wifi is still in its infancy and cash is required in most places.
Getting here
Atins won't be a kept secret for long, and is destined to be the next Cumbuco or Jericoacoara, (two hot kiting spots in the north).
Get to this little gem by flying to Sao Paolo or Rio de Janeiro, and then catching a connecting flight up to Sao Luis. Then its a 3+ hour car ride to Barreirinhas and a 1+ hour midnight ferry to "Lazy River" – it is a trek, but then the best places always are.
---
Where to next? If you're after all all-round good spot, checkout kiteboarding in Jupiter, Florida. Or hit the Caribbean? Here is a guide on kitesurfing in Cabaret, Dominican Republic's 'Mecca of Kitesurfing'.