More than just a party island
It's no secret that Koh Phangan is best known for its crazy Full Moon parties, but I bet that not many of you folks actually know that Koh Phangan is also up there on top with some of the best kiteboarding spots in Southeast Asia. Why? When the wind blows it's awesome! Water is super flat, shallow & crystal clean, the locals are cool, the food is hot and the scenery is just to die for!
Koh Phangan, or you may find its name spelt as Ko Pha-Ngan, literally means 'the island of sandbars'. And yes, it lives up to its name with miles of sandy coastline, crystalline ocean and pockets of pretty lively coral.
Outside of the monthly Full Moon debauchery fest, the island is a peaceful paradise with nothing but yoga retreats, super chilled vibes and pretty decent kiteboarding conditions.
Thailand's underrated rep in the kiteboarding community gives you a distinct advantage in Koh Phangan. Fewer kiters and more space to ride!
Wind season in Koh Phangan
So when to rock up? Being a tropical Thai island, the weather is generally hot and humid. Temperatures span between 25 to 35°C all year round, just the way we like it. You can scrap the wetsuits here and just stumble out in your humble bathers.
The monsoon season runs from October to November and usually brings a lot of rain. The rest of the year is generally quite dry with some quick rain showers just to keep things tropical.
Whilst it's not as blow-your-head-off as Mui Ne in Vietnam, if you get here at the right time, then Koh Phangan offers an easy going and stable wind. But in any case, this is where you bring your big kites. There are days where you get to ride your 10m, but better not count on it.
Kiteboarding season in Koh Phangan
Koh Phangan has two main wind seasons. From December to March the S/SE wind blows averaging 13-15 knots. Wind is lighter, but more smooth and reliable. On a good day it can reach up to 25 knots. The weather is a bit cooler and less humid at this time, and sees the most amount of sunny days.
From July to September the SE wind averaging 15 knots, with some days reaching even 30 knots. The wind in this season is a lot stronger due to the frequent storms, but a lot more unpredictable. It usually comes early in the morning for a few hours and then again later in the day. 
The weather is generally hot and mostly sunny, with a bit more rain than usual to keep things fresh before the upcoming wet season.
Generally the wind throughout the year could be a bit of a hit and miss, so just keep that in mind and be ready for some days to be a complete no show, or just a two hour window on others.
When it does get going though, Koh Phangan is a cracking place to ride, but you do need to keep a close eye on the forecast.
Busy Periods
The high season on the island runs from December to March, peaking at Christmas and New Year. The Full Moon Party runs every month, so you may want to check the lunar calendar to see when the party's on, either to join or avoid it.
All the action is on Haad Rin Beach where it all started in the late 80's with a humble bonfire and a few guitars.
Most revellers tend to stay on the neighbouring Koh Samui and arrive just for the big night or a couple of days before and leave once the hang over is gone. Otherwise the rest of the island doesn't really feel the numbers.
I won't go into the details in terms of where to stay on the island, but to avoid the 'Ha, we'll know for next time' type of situations, here is a guide to the best value for money places to stay in Koh Phangan by TravelMermaid.com to give you a few priceless tips.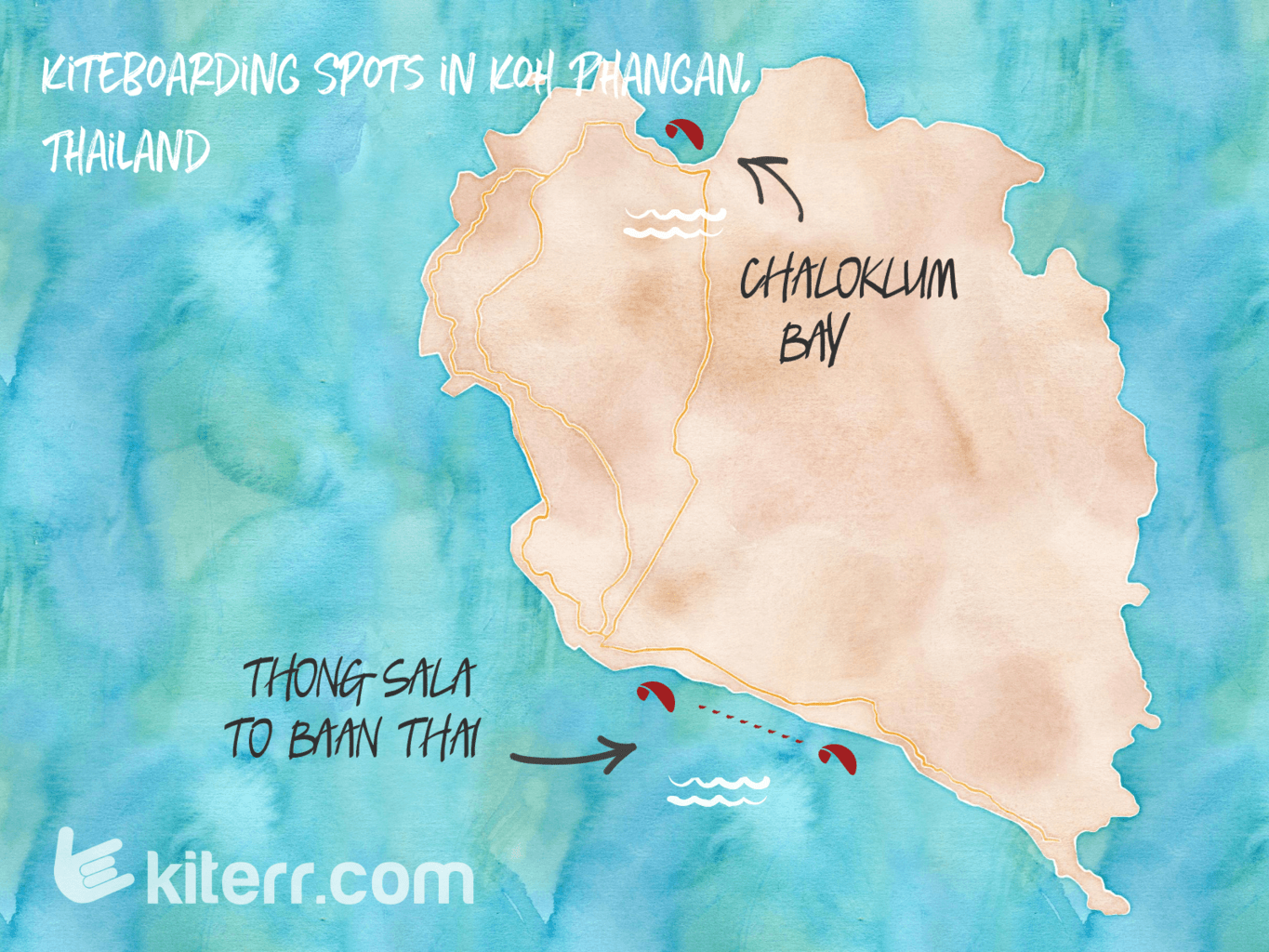 Kiteboarding spots in Koh Phangan
1. Thong Sala Beach to Baan Thai Beach
Located east of the main pier on the south of the island. This  long stretch of coastline going from Thong Sala to Baan Thai is where the kite schools are based for most of the year.
The set-up here is lush: sandy beach, shallow, warm turquoise water lagoon protected from the outer reef. The waist high water makes it an easy ride and a relatively safe spot for the beginners and kiteboarding lessons. This spot is hardly too busy, with a maximum of 5 riders in the visible vicinity. Happy days!
BUT a few things to watch out for:
Sea urchins are sparsely found on the seabed, but nothing a pair of thick booties can't handle.
The low tide can make the lagoon super shallow with bits of coral poking out, making things like body dragging completely out of question. In the season from July to September, it may be quite tricky to coordinate your kiteboarding lesson with the tides and wind.
So If you're thinking of starting out in Koh Phangan, it would be good if you could stick around for a week or so just to make sure you complete you course if the conditions are not on your side.
2. Chaloklum Bay
This spot is located north of the island at an authentic and relaxed fishing village. Wind here runs from November to January and is a stable N/NE direction so many kite schools relocate here during these months.
This spot is a lot busier, but the set-up is another cracker: a sandy beach lined with heaps of coconut palms and a flat, shallow water lagoon. When the wind gets strong (and it occasionally does) then there's reef break with head high waves to play with.
No wind?, yep that happens!
Koh Phangan was made for recovery days. It's such a cool place to hang, soak up the chilled vibes and enjoy the natural beauty.
Be a beach bum from day or two. There are heaps of smashing beaches on the island. But the best are the least crowded, check out Bottle Beach, Haad Yao or Thong Nai Pan Yai.
Head to Haad Salat or the next door Mae Haad for the top notch off-the-beach-must-do snorkeling. You can walk over the big sandbar to Koh Ma (Horse Island) and hike to the top for panoramic views of the island.
Koh Phangan boasts many stunning viewpoints, but one that will knock you off your feet guaranteed is up by the Bluerama Resort. And it nocks up a mean cocktail or two. (No kids allowed btw.) Do watch out on your way back down the hill, specially if you're on the bike and after those two cocktails.
Believe it or not, but Koh Phangan rivals Koh Tao for some quality diving spots, but without too many elbows in the water. If you're an enthusiast, there are plenty of dive schools and spots to check out.