The Biggest Little Secret
Very few people have actually heard of this kiteboarding spot. It's a great thing. Why? … space & peace. Hallelujah!
Also spelt Lemnos with an 'e', this Greek island is all about its pristine beaches, warm crystal Caribbean-clear waters, wild deserts, thermal springs, history, wildlife, and awesome un-touched sprays!
There are loads of things to do on and off the board. And with so much space, a lovely sandy base and almost zero tourists. Limnos was only really discovered in the kiteboarding world a few years ago. With no direct flights to the island (indirect, usually via Athens or by boat from Thessaloniki), it can be a bit of a mission to get here. But everyone else's loss can be your gain! Empty beaches, a varied playground, no crowds, really safe bay and wind (of course) – it ain't gonna take long until this place is on mainstream radar. So do it while you can, replace cars with donkeys, luxury hotels for campsites and step back in time to a refreshingly unspoilt Greece!
Kiteboarding season in Limnos
Just like some of the other Greek Islands, Meltemi winds whip up in this region, blowing from the northeast with a lovely warmth to it – like a blanket giving you a cuddle in your boardies (not in a weird way). This cuddle pretty much runs throughout the summer from May (ish) to September or October, with the best winds falling between June and September, averaging 17-25 knots.
The water temperature is a luke 24°C so a rashy works for many and you can top up your tan a bit too. Outside summer, wrap up a bit more, and even go so far to say, bring a hoodie for the evenings. Days will be warm averaging 25 – 30°C so, bring sunscream!
Kiteboarding spots in Limnos
1. Keros Beach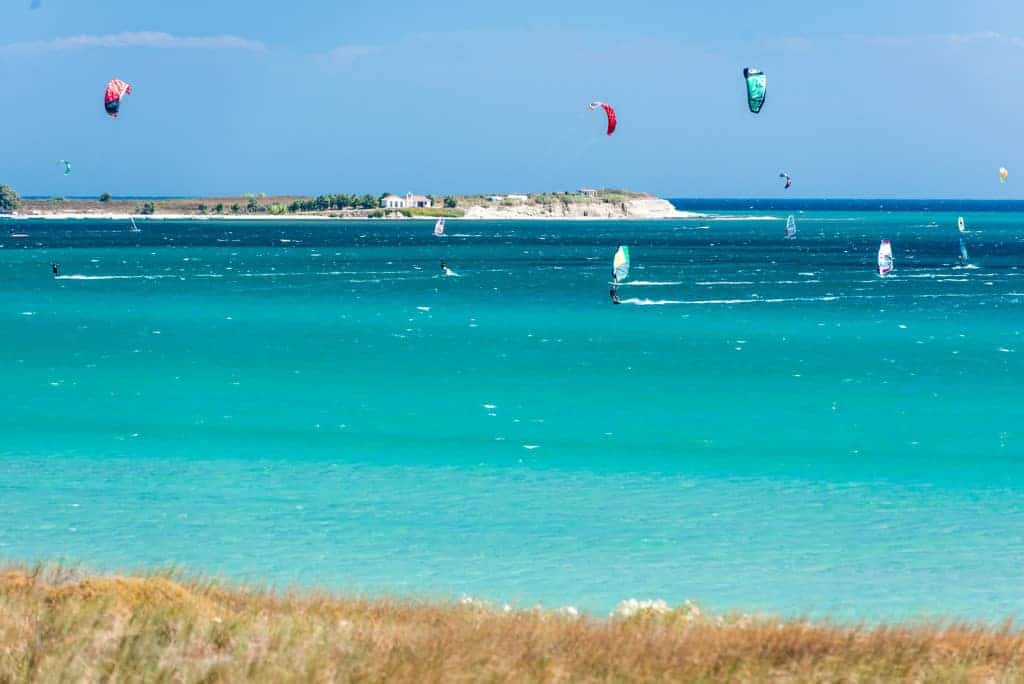 What's super cool about Keros Beach is that this little kiteboarding spot in Limnos really has it all; calm and flat water in the North of the bay, bump'n'jump in the middle and some pretty decent waves to the South of the bay, making it one of the most versatile spots, but also probably one of the best places around to learn to kitesurf.
And just for that reason alone, most folks usually don't venture past Keros Bay. But If you enjoy riding waves, then you'll be quite pleased to know that Limnos offers a few other cool wave spots.
2. Red Rock Beach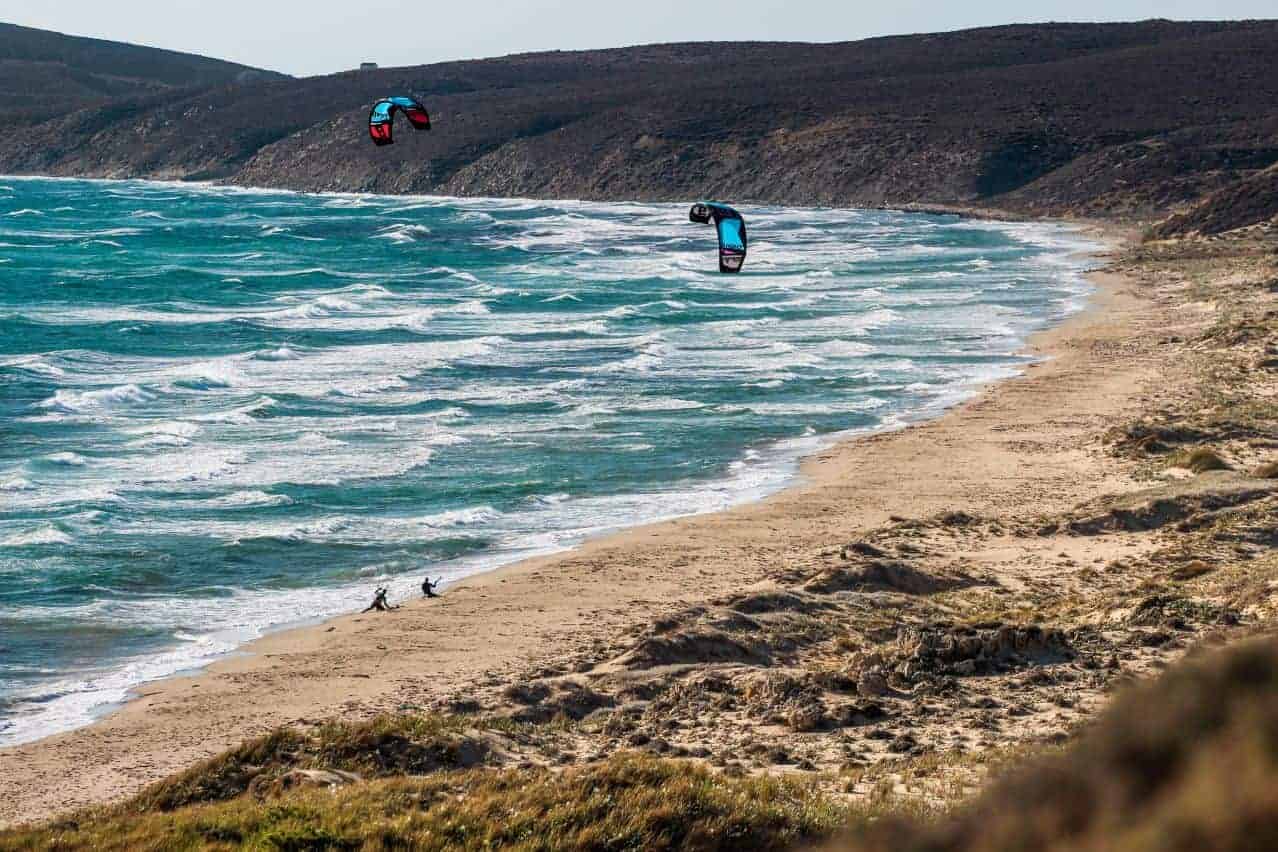 On the same coastline as Keros Bay, just a little down south, you'll get to the Red Rock Beach. Red Rock is known for its 2+metre waves with side-onshore winds (for the most part) and a nice sandy cushion underfoot.
Occasionally the winds will kick, flip, reverse and blow from the south … so it would be obvious to note that when this happens, the flat water section moves to the south, chop in the centre and bigger waves to the north. As most places do, Limnos gets cooler in the winter (October to April). And so what does exist on this teeny tiny island, pretty much shuts down during this period. There really isn't much going on here, out of summer.
Mother Nature tends to give 4 out of 7 kiteable days here, but it does vary so keep your eyes on the forecast! When its windy, it works, but the down days tend to have nada! Throughout the summer months, the winds kick-in in the morning, so you'll need to prepare to have some early starters if you want to enjoy it fully. 09:00 – 10:00am is when it starts to build, and between 10:30 – 15:30 it whips onshore to perfection. Like a sweet, sweet Greek yoghurt. It calms down after then, flipping to an offshore breeze.
If you're a chick, this is a particularly popular spot. Why? Well, there are less people fighting over one wave so you can discount any possible territory wars, there is so much space, and it is a super relaxing place to learn as a complete beginner or perfect your kiteboarding skills!
3. Gomati Beach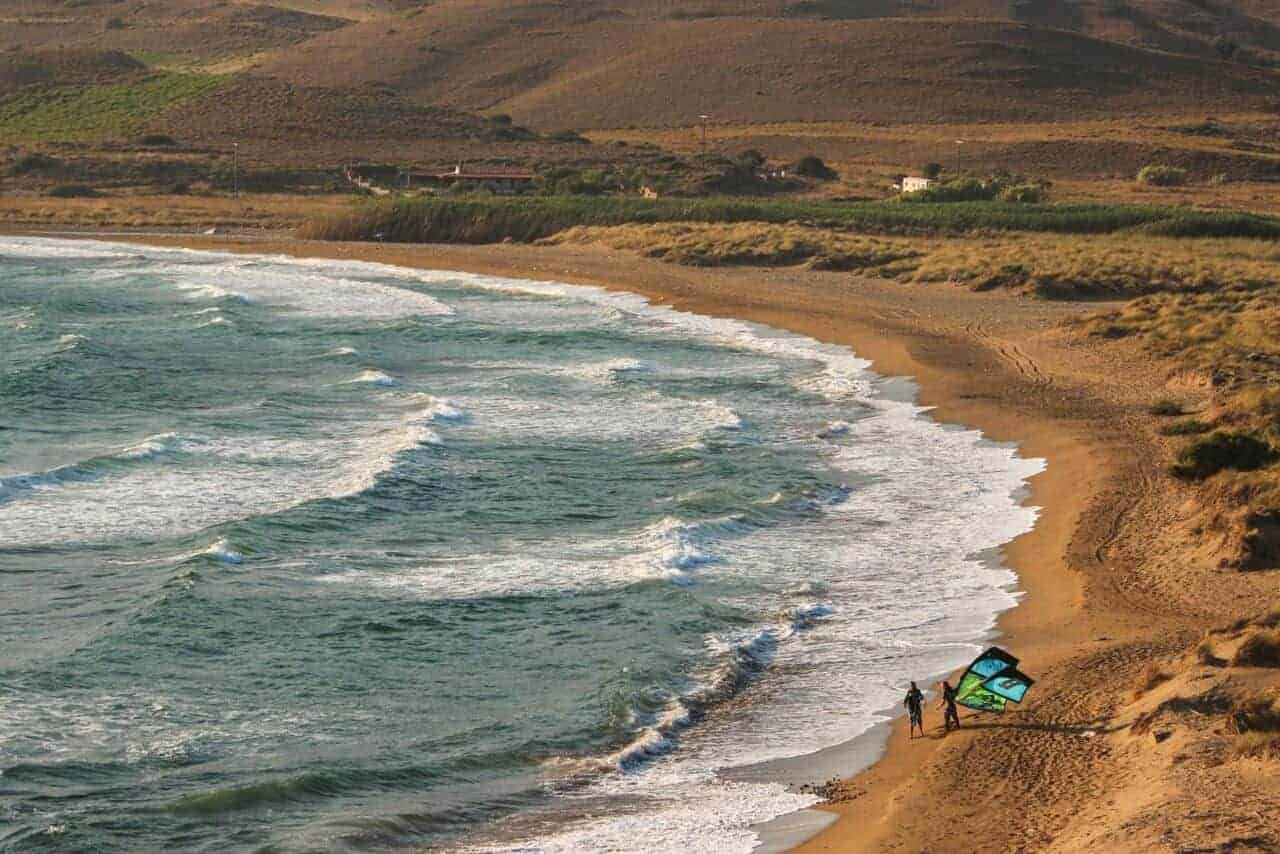 This place is a rocker especially in Spring and Autumn. Gomati could be a pretty challenging beast with classy waves reaching a few metres high. A mini "Sahara" of the Island. The beach has the longest sand dunes in Greece, accessible by dirt road.
4. Kotsinas
This is a great kiteboarding spot for the beginners as it offers about a 100 metre long stretch of calm and shallow water. Winds here are much stronger than in Keros Bay on most days, so if you wanted to try something new, pay Kotsinas a visit.
Greek mythology has taken a walk on the safe side, and Keros Bay is definitely one of the hotspots! This little Greek island in the Aegean, edges towards Turkey … and we all know Turkey has awesome kitesurf spots already. 'Nuff said!
No wind?
FLAMINGOS!!!! 🦩 Sorry for the outburst, but Limnos is an amazing spot for loads of rare animals, including hundreds of flamingos that flock here, ya know, hanging out on one leg, giving it the flamingo walk. If you are cold-hearted and don't like flamingos, then don't worry, there is so much other stuff to keep you occupied on your down days:
Pretend to be a flamingo.
Pretend to be the Greek God of fire and volcanoes (check out the cave of Philoctetes or the ancient theatre at Hephaestus – both are pretty impressive)
Pretend to be a mermaid/sailor – Stay water bound and enjoy some tranquil stand-up paddle boarding or surfing around the Keros Bay.
Pretend to be sober. Did you know that Ouzo is made here in Lakaria, local Ouzerie distilleries dotted around the island? Now you do! Enjoy!
Pretend to be cold. If all of those other things don't interest you, then go and enjoy the thermal springs of Therma. Reaching 35 – 45°C, the therapeutic properties may help you relax after an intense ride.
---
Limnos is pretty tucked away from the usual hustle and bustle of some of the other islands. If going out & party is what you're after, you wont find it here. Try Naxos instead. Check out this guide on kitesurfing in Naxos and read up on some of the best kite spots Naxos has on offer.