Kiteboarding in Tasmania
Tasmania is best known for the little Tasmanian devil that runs around its island, and kangaroos of course. Tassie is described as a hybrid between Australia and New Zealand; the estranged sister that's naturally so different to mainland Australia that people forget it exists because it sits in between Aus and Antarctica in a sort of nomansland bubble. But Tasmania's coastal and wild island is more than just cute wildlife and port harbours. A lot more is in the water sports world; a kiting adventure!
Yes, it is a little off the beaten path, but isn't that part of the charm? No crowds, miles and miles of empty beaches and some epic waves. The unpredictable Bass Strait soars to scary heights in storms and most dare to fight it. But for those with the cahoonas to catch some heights, kiteboarding in Tasmania could be the adventure you're craving.
Wind season in Tasmania
The Devil Winds
Few people realise that Tasmania is located in the pathway of the westerly "Roaring Forties" wind that spins around the world. Back in the day, ships used this to zoom them over as far as Africa. In fact, it still is being used, in the round the world Arc sailing race. Oh, and for sports like kitesurfing, of course.
Tasmania, lonely and cold and separated far from anywhere else, sits constantly battered. Time and time again, the winds kick up and create havoc for land owners… but truly, this is a kiters dream, right? A shed load of wind, privately protected beaches and no crowds. With a few cluster spots dotted around the island, it's the perfect location for a road trip. Take a campervan, pull up anywhere and crash for the night after a long ride. With all ability levels riding a mix of lagoon and open ocean wave, it'll be hard to get bored kiteboarding in Tasmania!
Between Devonport and Stanley, there are a tonne of inlets and long stretches of untouched, clean beaches to act as your playground haven. Hours of fun without another soul in sight.
When to rock up?
Summer months run from December to April when the water temperatures are a balmy 15 – 20°C and air temperatures can reach 26°C. A little cooler than mainland Australia but arguably windier, these summer months regularly get 25-30 knots of wind 4 days a week. Each spot on the island has its own ideal direction, with the prevailing north easterlies offering a reliable breeze from December to April, perfect for some side-shore riding in the north. The Southerly winds are also good but not as consistent. Winter months is another story, with high westerlies, working well in Coles Bay on the east coast.
Kiteboarding spots in Tasmania
With endless inlets, lagoons and open shores that are untouched and some hard to reach, a kiteboarding road trip around Tasmania is the adventures dream. With a map and a weather forecast, you can literally go where the wind takes you. Here are our top picks for the windy island of Tasmania: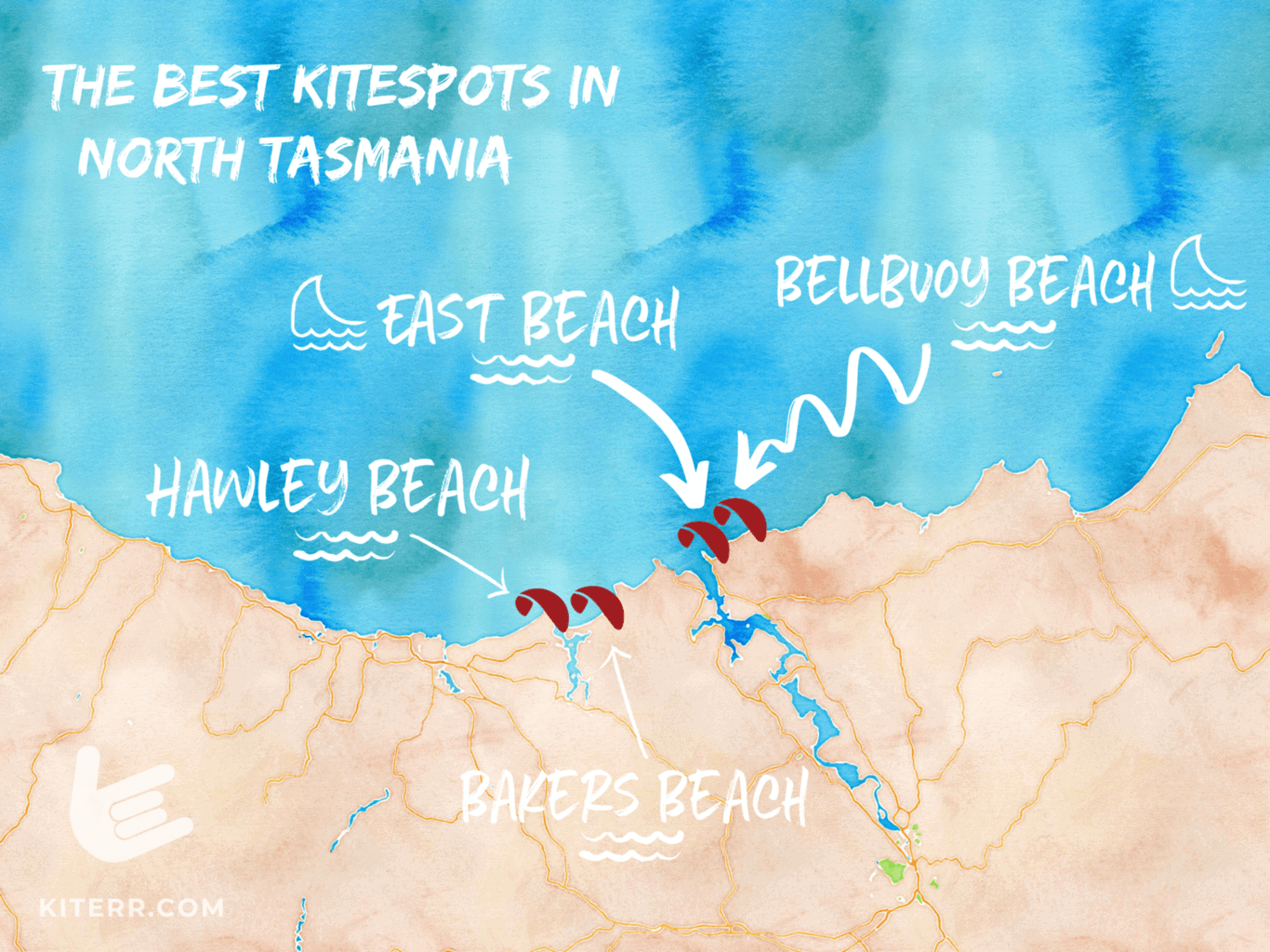 North coast
Port Sorell is the main hub of activity for most riders. A staple kiteboarding diet for beginners, intermediates and expert riders, there is plenty of space and plenty of variety to keep anyone occupied. Located on Narawntapu National Park, the area has a few top spots to check out.
1. Hawley Beach
At the river mouth, this spot is perfect for all levels looking for a safe place to progress. With shallow, flat waters and a light playful chop for freestylers, this offers NW winds at low tide and NE winds at high tide.
2. Bakers Beach
Another renowned spot for all abilities, this vast beach stretches for miles, giving a sizeable, sandy base for ultimate safety! NE and NW winds work for a kiteboarding session here.
3. East Beach
Located slightly further east, this open ocean spot is a bit more isolated so recommended for intermediate and expert riders. With a few hazards poking out of the water, you're meandering skills need to be on point!
4. Bellbuoy Beach
Equally great for the more advanced kiteboarder, ocean riding with small to medium waves offers a massively spacious beach leading downwinders room to reach Five Mile Bluff all the way side-onshore, onshore.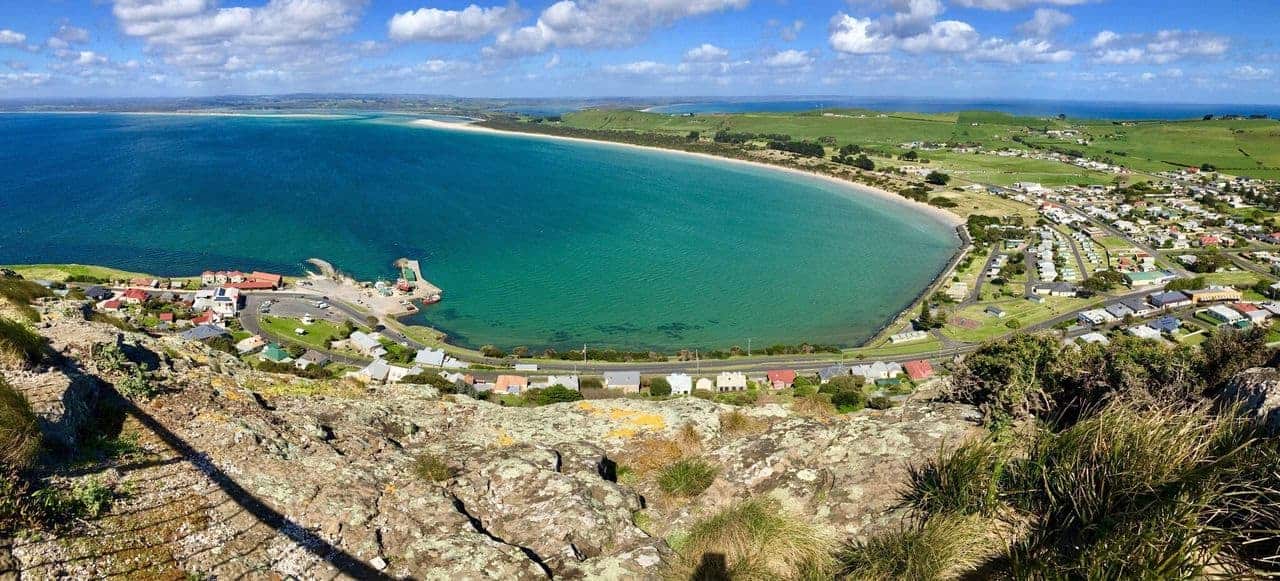 North-west coast
Another renowned kiteboarding spot in Tasmania is the Stanley area along the North / North West coast. With quite the kiting scene, most take to the waters on their boards to catch the medium waves that kick up along this peninsula. Awesome for downwinders, there is a caravan park, light facilities and even a buggy crew out this way!
5. Port Latta
A wee spot suited for the more confident kiteboarders, there are a few hazards here but generally it makes for a great ride. Ocean wave with a few rocks.
6. Godfreys Beach
Continue west past Peggs Beach Conservation Area and you hit the Stanley peninsula. On the east side, you have the East Inlet, and Godfreys Beach. Medium wave, with a few rocks. Best winds are the North / North Easterlies.
7. West Inlet
On the west side of the peninsula is a shallow ocean lagoon, protected and calm. Waters are flat, maybe with mild chop at times, but it is fairly placid and consistent here. Sandy under the toes, its great for SW, W and NW winds.
8. West Beach
Along a stunning stretch of white sandy beach, is West Beach. Ocean riding suited for all abilities, this spot is safe, accessible and sandy! Just note it is tide dependent.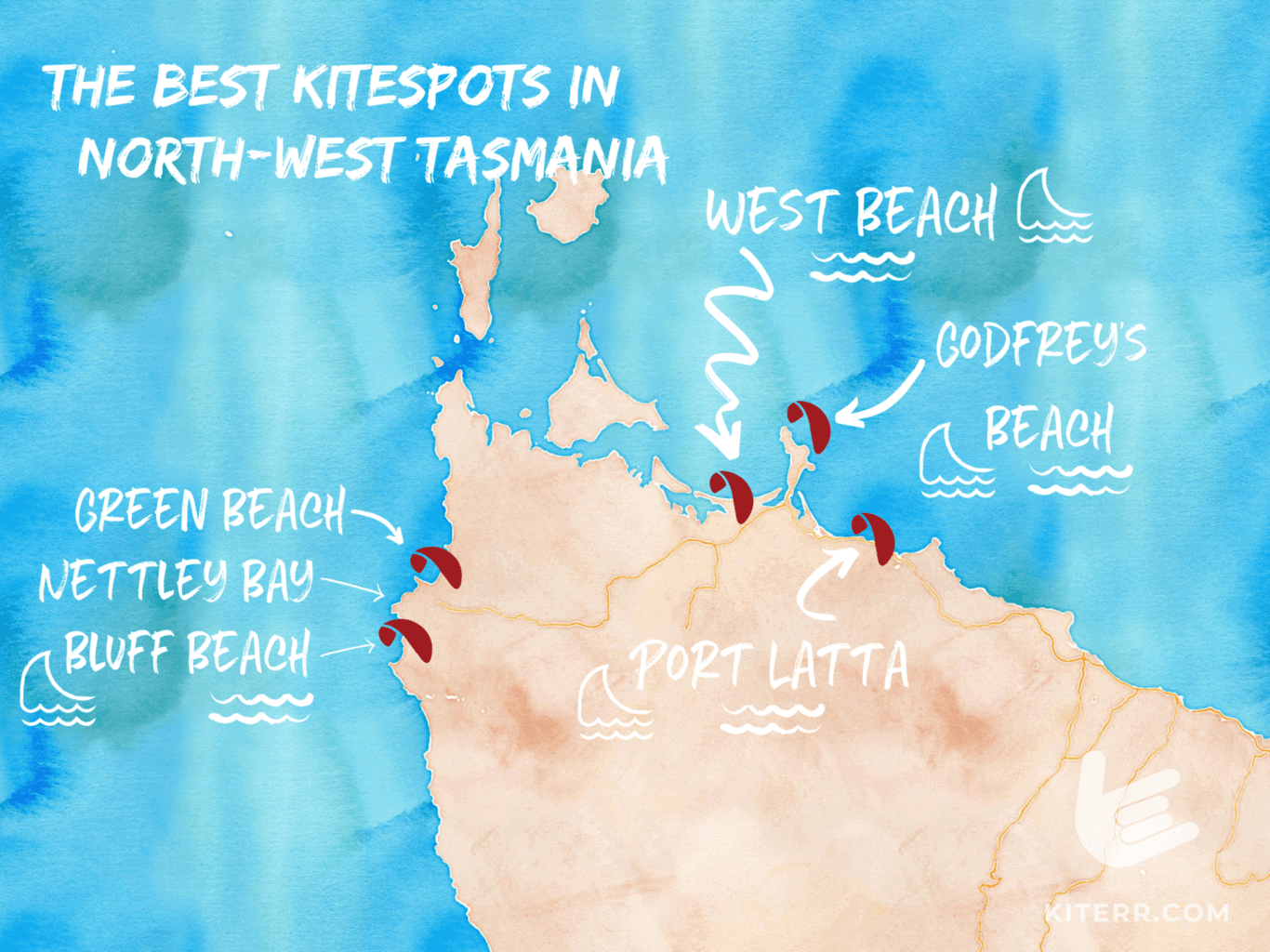 West coast
As we head onto the west coast of Tasmania, things pick up with its gnarly hazards and bigger waves. We'd encourage only the advanced rider to spot this part of the island.
9. Thunder Reef
Big 8m waves can regularly kick up from the swells here at Thunder Reef. Generally speaking, the bigger the swell, the longer and cleaner the waves are. The shores are sandy and you can launch from either end depending on the wind directions. Before side-shore Southerly winds.
10. Green Beach
Greens again is best for the more expert rider with some rocks in line to complicate matters. Equally breezy and swelly, the medium to high waves here work on a NE and SW.
11. Nettley Bay
Right on the peninsular, Nettley bay is Expert Only riding. With a small beach to launch from, it can prove tricky. Medium ocean waves, best in a NE and SW wind.
12. Bluff Beach
A beautifully long beach perfect for some epic downwinders, waves can be a bit hairy here too, keeping the theme with the west coast. The clean beach runs into Bluff Reef, which has reef and rocks to contest with.
13. Trial Harbour
A tide dependent spot located further down the west coast on the edge of Badger River Forest Reserve, this picturesque spot is fairly isolated and homes a fair few rocks. North and North Westerly winds are best, suited for experts only.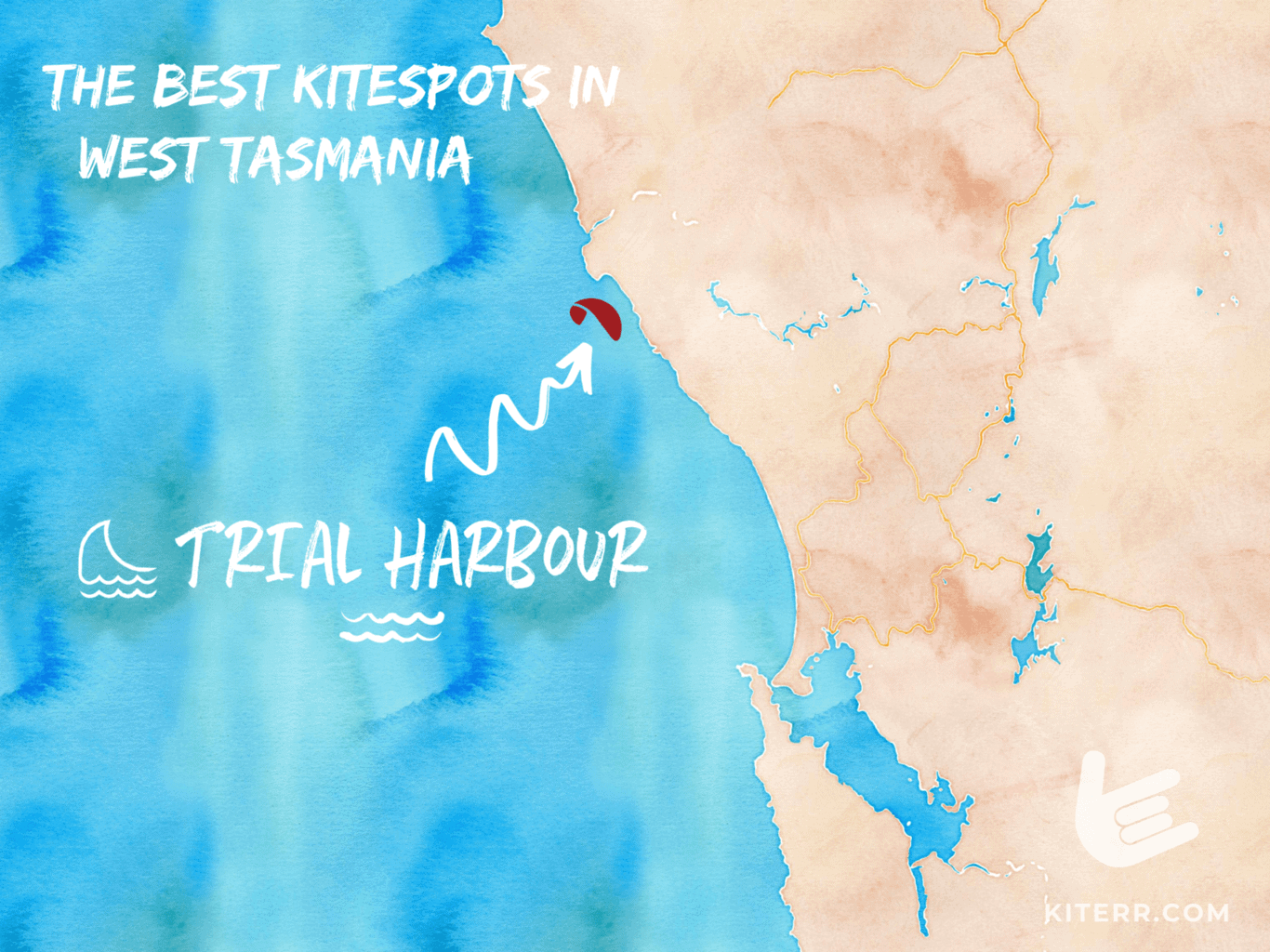 East coast
Flipping to the east coast of Tasmania, there's heaps of fairly friendly kiteboarding spots for all abilities.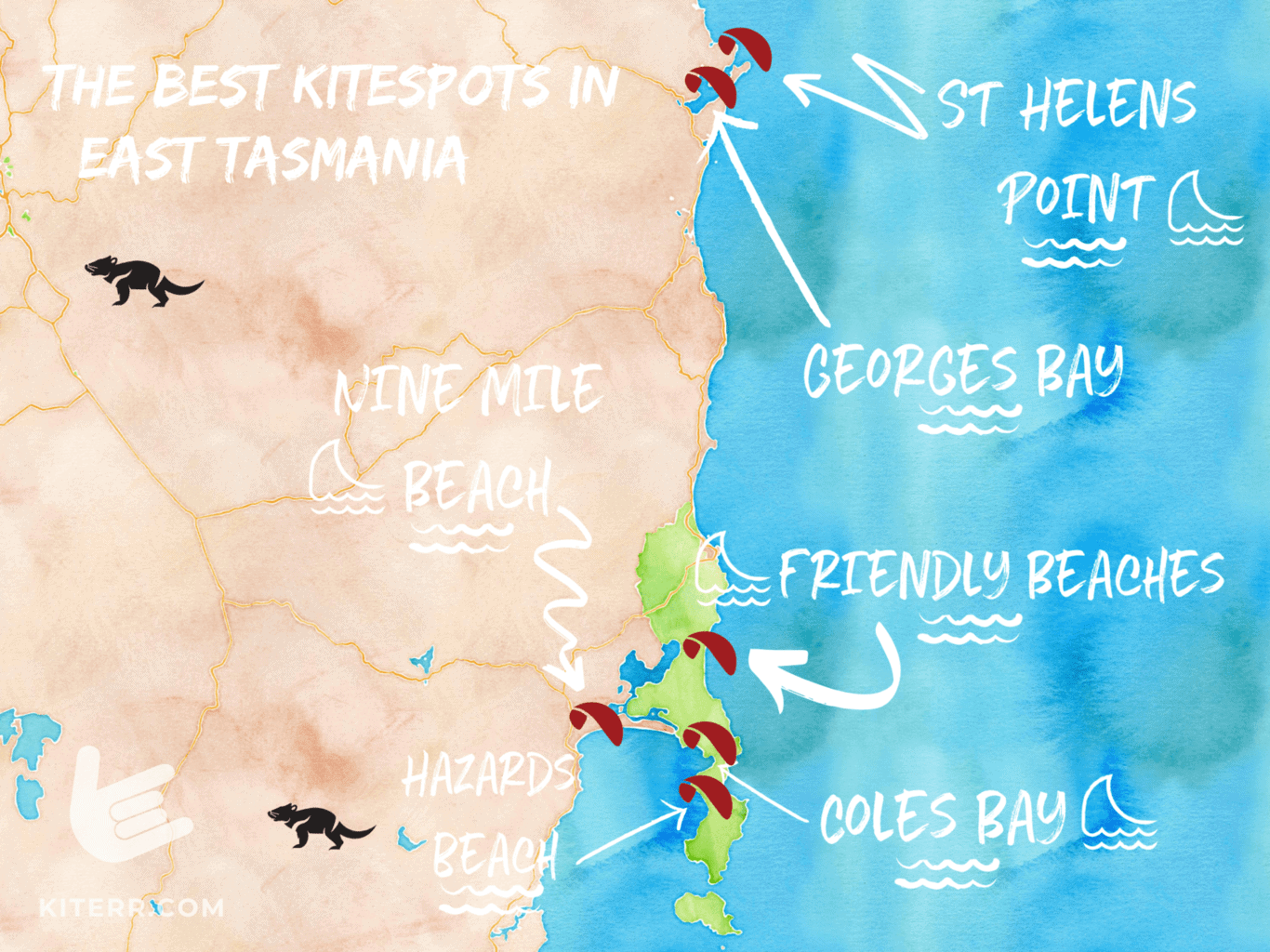 14. St Helens Point
Right between Humbug Point and the St Helens Conservation Area is the sandy spot of St Helens. Small to medium wave kicks up, for some calm ocean riding.
15. Georges Bay
Just in-land from St Helens Point is the secluded lagoon of Georges Bay. A stunning, shallow spot with flat, buttery waters to play on, there isn't much to worry you here other than a couple of moored boats to avoid!
16. Friendly Beaches
A popular, tide-dependent area that offers small chop conditions for all riders. The sandy beach is attached to Freycinet National Park so you can literally pull up in your car and rig up. Wind can drop on the shore, but launching is fairly easy, and the waters are crystal clear with a perfect sideshore wind. Waves vary from 1-3 feet in the summer and up to 6 feet in the winter months.
Note that a National Park Pass needs to be purchased in Hobart or Launceston to access.
17. Coles Bay
Ocean jump 'n' bump for everyone and anyone this spot offers a long, sandy beach. A narrow stretch that makes launching a little busy but there is enough space to play out and about. Great in winter westerlies.
18. Nine Mile Beach
A narrow, long beach great for an advanced rider, the small medium wave makes for a great session. Great for South, south westerlies.
19. Hazards Beach
A tonne of space on this long beach. Despite the name, it's actually a popular spot for beginners and intermediates with small chop wave and sand underfoot.
20. Marion Bay
Small wave with parking, this southerly spot hits 25 knots in summer months with a great NE breeze.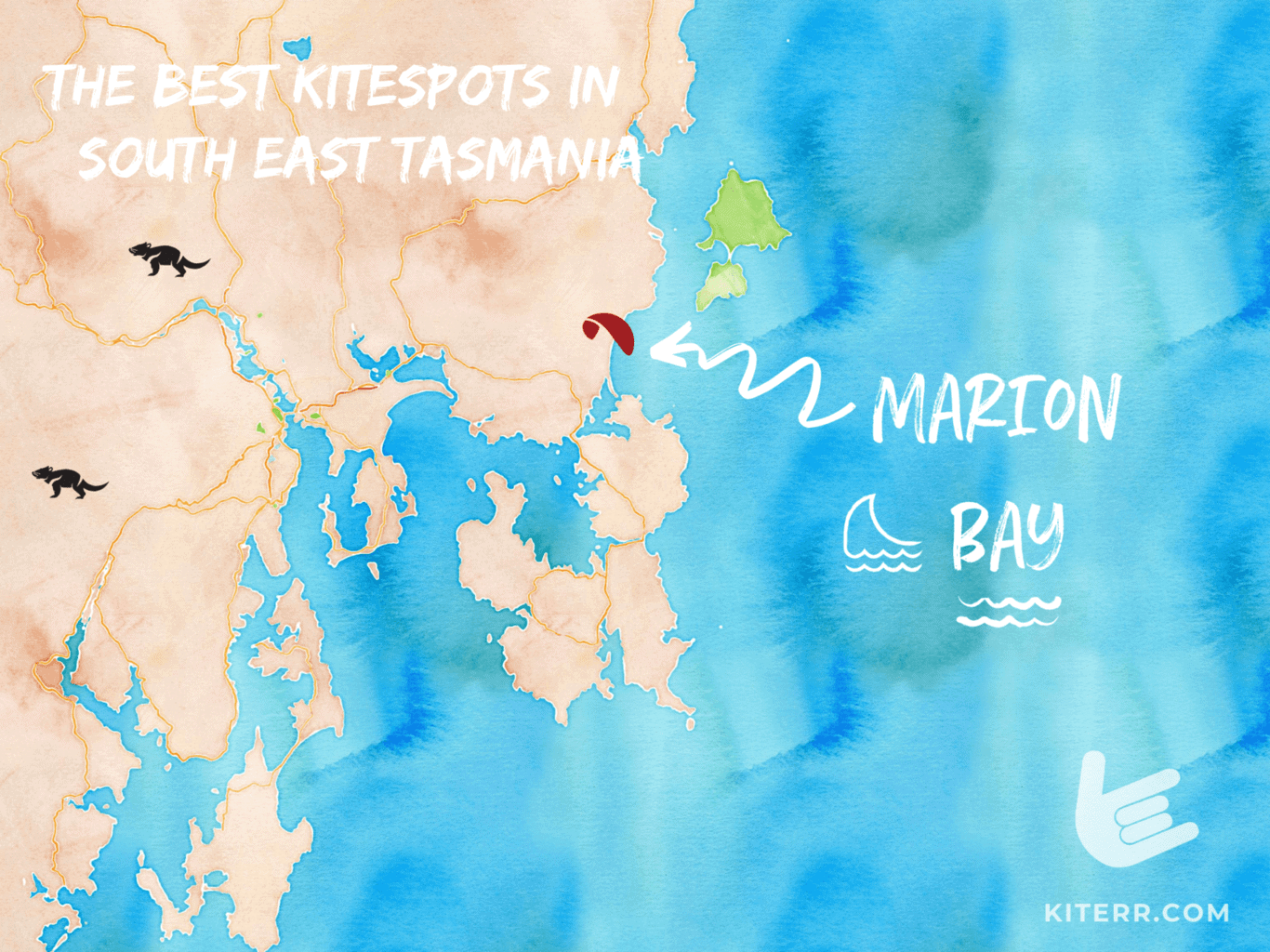 No wind, No Fly!
If you find yourself on a back foot in Tasmania, there is a tonne of alternative activities to keep you busy.
Freycinet National Park
Spotted on the east of Tazzy, the Freycinet Peninsula largely attracts tourists from far and wide to visit its picturesque scenery and vibrant coastline. Home to one of the most beautiful beaches in the world (Wineglass Bay), incredible red and pint granites and "The Hazards" which is named after the rare wildlife and plant species found here.
Cataract Gorge
If you wind up in Launceston picking up a park pass or simply driving through, make time to visit the Cataract Gorge which is an amazing gorge, bridged over the South Esk River.
Hastings Caves State Reserve
Just 100km south of Hobart, Hastings Caves welcomes guests inside the natural warm springs and dolomite enclaves dating back hundreds of years. You can even swim in the warm spring pool on site.
---
Where to next? Check out some other spots in Straya, like WA's crystal clear turquoise waters in Lancelin. Or head further south to Margaret River for The 3 W's… wind, waves & wine!