Megadiverse, Mega windy, Mega-gascar!
There are very few places in the world where you can see rare endemic species of lemurs and chameleons on the same day as catching a wave. Here in Madagascar, you can. And the island's crystal clear emerald waters and freakishly consistent winds just add on to its glory! In fact, Sakalava Bay and the North of Madagascar scores as one of the windiest places on Earth! And if it's not the generous wind season that will blow you away, then its mind-blowing scenery certainly will.
Sitting 400km away from the east coast of Africa, Madagascar is the world's fourth largest island, easily dwarfing the likes of Mauritius and Réunion Island just next door. It separated from Africa somewhat 160 million years ago and now sits on its own, but encompasses life from all over. Language rooted from Borneo and France, tribes from Indonesia, traditions from Africa. It is home to a "megadiverse" population of animals, including many species that cannot be found anywhere else in the world other than here.
Everything about this island is unique. First inhabited by the Indo-Malayans who used the powerful trade winds to sail to Madagascar's turquoise waters around 400AD. Along with the French occupation for over 60 years and other waves of migrants from all over the Indian Ocean, the Malagasy culture is an eclectic blend of indigenous traditions and European influences.
Wind season in Madagascar
Lying on the north-east coast of Madagascar, the Varatraza trade wind blows non-stop from mid March to November every year, earning it the name "season of the trade winds" by the locals. So when we said the North of Madagascar was mega windy, we meant it! In fact, it's howling from July to September with speeds ranging from 25 – 40 knots … now how's that for some power kitesurfing?! Unless you're planning to end up in Mozambique, do consider the choice of your kite size for this season.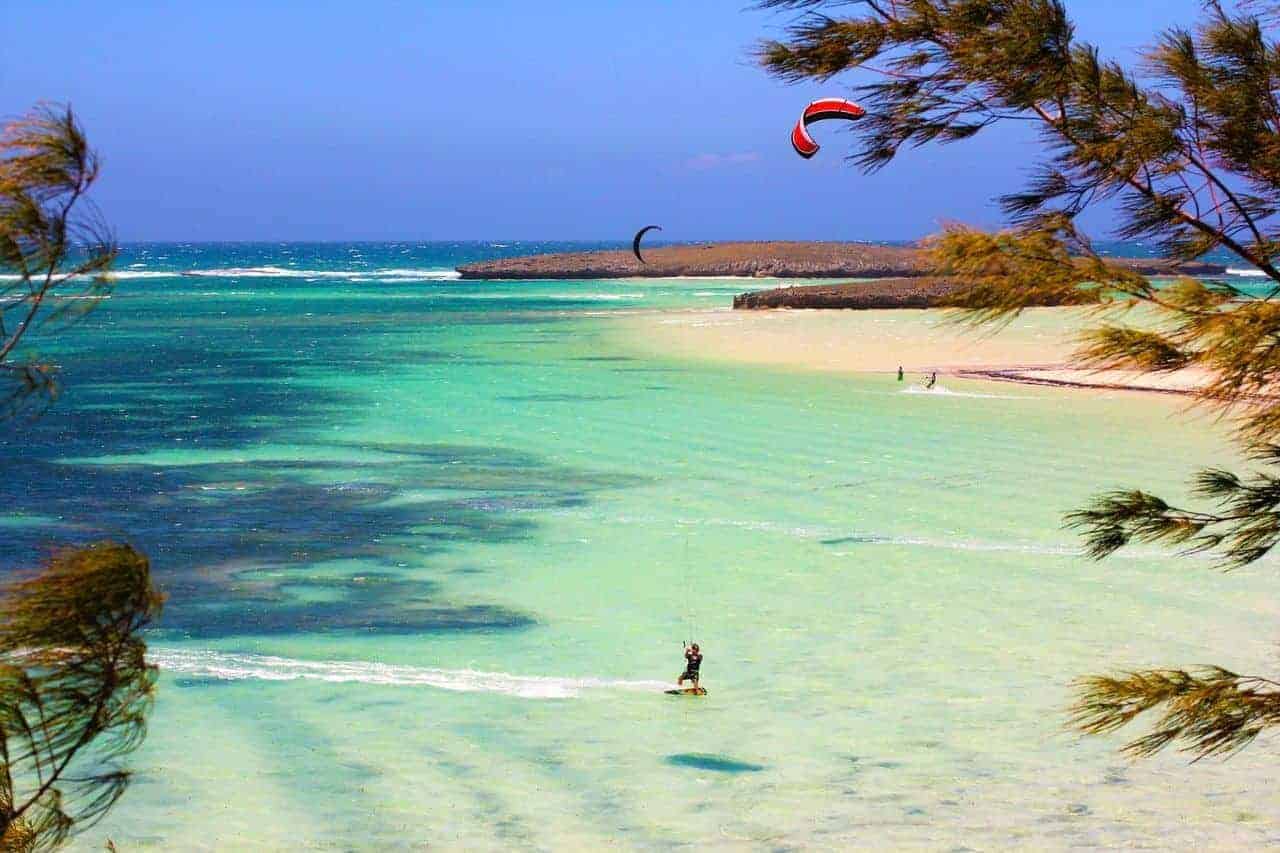 Still powerful, May, June and October could be better months for newbies with more manageable 20-35 knots wind speeds, and the end of March, April and November are pretty decent for anybody's standards with 15-25 averages too. The wind then drops off just before the heart of the monsoon season between December and March where cyclones are hanging around.
So there you have it, a whopping 9 months of windy weather, in a tropical paradise, with white sandy beaches, blue skies and lush greens. Happy days!

Kitesurfing spots in Madagascar
1. Sakalava Bay
This region of Madagascar is a remote, wild paradise. Expect to reach Sakalava Bay and surrounding areas on a dirt road in a 4X4 with cattle roaming freely, minimal infrastructure and bags of untamed natural beauty.
Kitesurfing-wise, this 5km2 bay is protected by a coral reef and has a side-on wind that will always return you back to the beach. It's one of the safest spots around with almost no accidents reported. It's big, it's clear, it's sandy and it's virtually empty.
Depending on where you stay in Sakalava Bay, you can literally rig-up a few steps away from your room. The shallow, mirror flat-water makes it a playground for everyone, particularly beginners and freeride intermediates, with the 1-2m rollers from the reef just a mere couple of minutes ride away from the beach- easily accessible.
In the middle, a 200m long sandbar stretches all the way to Nosy Tsara Island at low tide providing an easy pit-stop.
2. Babaomby Emerald Sea
Lying in between the airport of Diego Suarez and Babaomby Peninsula in the North of Madagascar, you will find a stunning Emerald Sea Lagoon, littered with turtles, stingrays and tropical fish. Beaming shades of blue, green and turquoise, this crystal clear stretch is undoubtedly a magical place to kitesurf, with 12km by 3km of space for you to ride your heart out.
Babaomby is a slightly more isolated piece of coast and its flat-waters make it yet another ace spot for freeriders. It's fringed with nearby islands –Nosy Diego, Nosy Suarez and Nosy Antaly– which you can easily head to on a downwinder. And for those with the wave cravings, there are some easily accessible 1-3m waves just from the reef and behind the islands.
This spot has a few obstacles in the way of actually getting there (like fishermen, and rocks), so it can be a challenge to arrive, but it is completely worth it when you do.
3. The French Bay
If your adventurous spirit likes to explore new undiscovered spots then this is the place for you. Again, located in the same region in the north, close to Diego Suarez airport, there lies the French Bay on Nosy Longo. It has been newly located as a kitesurfing destination so few explore this region on a board, but with the reliability of tradewinds covering this protected lagoon, your options are limitless. You can kitesurf from Nosy Longo to Plage de Ramena, exploring ancient shipwrecks on your way.
4. Nosy Be
This place is slightly further away on the north-west coast of Madagascar but you can get there in an hour by ferry. Nosy Be has long been one of the top tourist islands in the country so it will be busier, but does have beautiful beaches to back it up. The wind here is said to be slightly less intense and there doesn't appear to be any kitesurfing schools yet, so this one is for the more seasoned and independent kitesurfers.
5. Nosy Ankao
Quite possibly the most exclusive kitesurfing spot in the world. If you're rich & famous, the five-star resort of Miavana sits on your own private island of Nosy Anko, high in the North East corner of Madagascar and accessible by a helicopter ride from the nearby airport of Diego Suarez.
Although hard on the pockets, it really doesn't get more exclusive than this. With absolutely no crowds, here you'll find "virgin" terrain, bags of space and consistent trade winds, with just you and the water.
With reliable north-westerlies at 20-40 knots April to November, the owner of Miavana kites almost every day of the year. In the deep blue around Nosy Anko and Miavana, you will find a flush of coral reef protecting the sandy base and a deep continental shelf perfect for other water sports, all included in your stay.
Here's a little video teaser from the F-One team from Nosy Anko:
No wind? Unlikely. But …
There's quite a few no-kite options around for nature lovers:
The Red Tsingys
At the edge of Analamerana national park (65 km from Diego Suarez), these wild, needle-like rock formations are a natural wonder. Literally meaning "where one cannot walk barefoot" (you'll know why when you see it) it was created by a multitude of weather conditions that transformed the sandstone into something that looks like it came out of Mars. Arrange a 4WD or quad to bring you to this geological forest.
The Amber Mountain National Park
There's a reason why 'Madagascar' the movie was set here! Home to a "megadiverse" population of animals, the island is well-known for its adorable, furry lemurs and more than half the world's population of chameleon species. So you'll definitely need to do it justice and head out into the bush!
The closest national park to Sakalava Bay is Amber Mountain. You can take a 3 hour hike through it's lush rainforest (or stay overnight) to sight lemurs, chameleons, crater lakes and sacred waterfalls.
Three Bay Hike
Right on your doorstep from Sakalava Bay, you can take a 3-hour return hike north of the shore to explore the wild landscapes of Dunes Bay, Pigeons Bay and Sakalava. Keep an eye out for the island's famous boabab tree.
Explore Diego Suarez
Named after two Portuguese sailors who discovered it in 1500's, this buzzing yet laid-back city is one of Madagascar's most important ports and full of history. Venture here to gawp at the old colonial buildings, eat at one of the many restaurants or head to a party and watch a traditional salegy dance.
---
Where to next? Stay in Africa to kiteboard on Langebaan's flat-water lagoon in South Africa. Or check out Hamata in Egypt for some Red Sea kiteboarding!