The Persian Pull
Admittedly, Iran isn't the typical kiteboarding holiday destination. But it's pretty fair to say that kiteboarding in Iran is gaining quite a bit of popularity lately.
Previously known as Persia, Iran is the second largest country in the Middle East, and whatever our preconceptions are on this Islamic state, let me tell you. They do love a good surf. With most kitespots in the south and a couple of lakes up north, the variety is definitely there.
Taking you to the South coast of Iran where the Persian Gulf meets the Gulf of the Oman Sea: A number of islands conveniently line up to form a special kiteboarding spot and the wind conditions here make for a pretty decent ride.
Filled with history, natural beauty and ethnic diversity, you will be surprised at the gems surrounding this coastline. From the sandy beaches of Kish Island along to Qeshm's trio of Naz islands, or even the snowy mountains and hidden lakes on Iran's mainland.
But kiteboarding in Iran comes with some rules as you may guess, so if you're feeling adventurous enough to explore this beautiful country with your kite, then read on.
Be Known
If you want to enjoy kiteboarding in Iran, you will need to let the kiteboarding authorities know in advance. Get in touch with one of the kiteboarding schools or the National Iranian kiteboarding organisation to announce your presence to let them know what you're up to.
It is your responsibility to check whether kiteboarding is allowed at the spot as local rules might change. Respect others – kiters or not; kite safely and enjoy the wind!
Get Permission
Some electronic equipment isn't allowed into the country without prior permission and licences, like walkie talkies and drones, which is probably difficult for foreigners to obtain. You may wish to leave these devices at home entirely, or contact the nearest Iranian Embassy or Consulate for advice before travelling. Unauthorised use may lead to an arrest or detention, so whatever you do, don't use them without prior consent.
Photos
Taking photos within touristy areas or of your kiteboarding session isn't a problem, but there's a few restrictions when it comes to photography.
Be mindful that you're not allowed to take photos near military (and nuclear) sites, at borders, of government buildings, police and public demonstrations. Journalism is a pretty sensitive topic in these waters, so it's best not to attract attention of the authorities.
Dress Code
As a Muslim country, respect is expected. Consider your clothing. Men, keep your rashies on, and Ladies, head-to-toe cover is required (and as expected, you'll also need to keep your lovely locks covered, anywhere in public, beach included).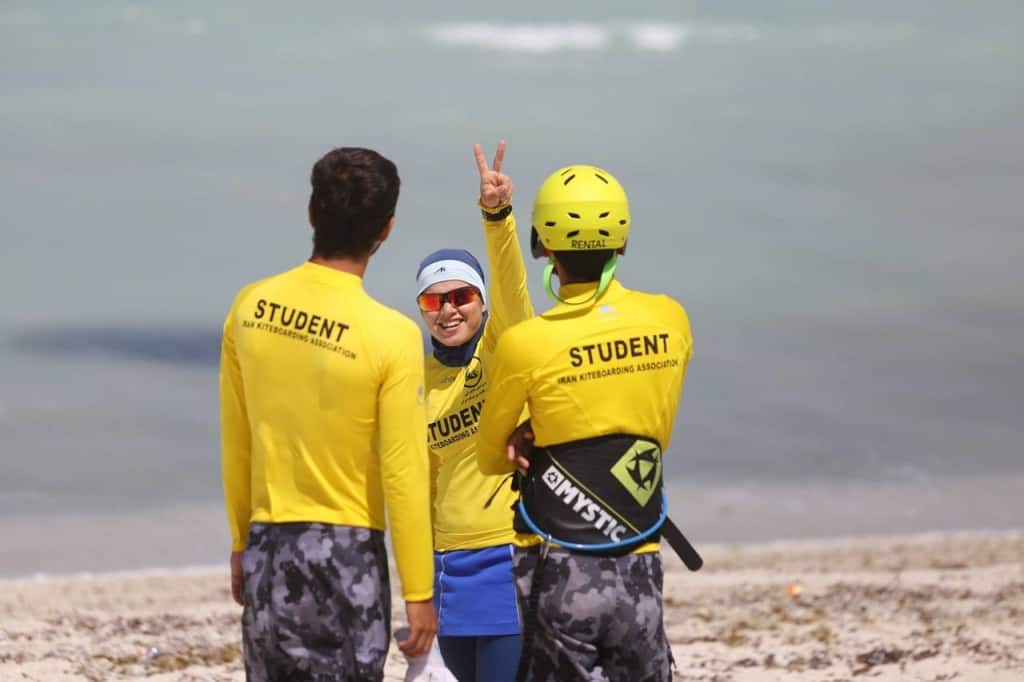 Female kiters
This is a hot topic question. There are a few more rules for the ladies than for the lads unfortunately. Female kiters here are definitely in the minority.
If you're not willing to part with your bikini this holiday, then your chances for a full body tan by the end of it are looking very slim. In fact the only spot where you can actually put on your hot bikini is the 'Ladies Beach' in the north east of the Kish Island.
'Ladies beach' opens daily, and only women are allowed as you can guess. Security here is high and there is a fee to use the beach, but in return there is access to lockers, showers, and, well, freedom.
Some love the spot, and compare the clear waters to something utopian, while others hate the oppressive feel of the concrete walls that block men from peaking in. Expect to give up your mobile phone at security on entry.
It is what it is ladies. But If you're willing to wear a hijab or a full head-to-toe wetsuit (think more Halima Aden), then you can go tear it up in most spots alongside the men.
Party Times
As you may have already figured, Iran is not a party boat. Nearly half a century ago, Iran was a very different place to what it is today. Women dressed in western clothing, drank, danced and the whole country just generally had a more liberal, laid-back atmosphere.
But it all changed with the Islamic Revolution in the early eighties. The new leader took power, and Iran's party scene was forever over.
Kish is nowadays still a bit of an exception to the rest of the country, but Iran strictly remains a dry country, so no booze is permitted (although…homemade moonshine is not unknown, but kept on the down low).
However if it's only the unique riding territory and uncrowded beaches that you're after, then enjoy to your hearts content!
Kiteboarding season in Iran
The best seasonality really does depend on where you plan to be in Iran, so here is a timetable to help you plan your roady:
Kish Island (located on the Persian Gulf in the south of the country) has their best kiteboarding season from November to February/March when the air temperature is cooler and more bearable (26-30°C) and they have the most reliable wind reaching 15 knots (south easterly, onshore) with some 20 knot gusts.
The winds then pull in an unreliable thermal gust in April/May time and onward June to September. The temperatures can skyrocket into the 40's and it can get really humid.
As you head further east along the coast line, the Persian Gulf hits the Gulf of Oman and the Indian Ocean. This is where you will find Qeshm Island. The season here tends to be April to August with the prevailing north easterly winds gusting an average of 10-14 knots. Air temperatures can get warmer, around 35°C on average.
A few other spots have their own time rules again! …
Chabahar (Konarak) is located on the south coast, further east than Qeshm on the mainland and close to the Pakistani border. The windy season here is in summer – June to August with an onshore wind averaging 12 knots, again with air temperatures around the 28-32°C mark.
A hidden lake in the north of Iran (between Tehran and Rasht), Manjil Lake (Loshan) (better for the experienced riders) is a freshwater dam that gets a nice breeze from April to September (thermal wind with the north easterly prevailing wind in full flow).
This is a great spot in the afternoons when the wind picks up, occasionally maxing at 35+ knots! Hold your hats.
Fashafooyeh Artificial Lake is a spot just south of Tehran city and just east of Imam Khomeini International Airport, with an artificial lake for those needing something close by. Here you'll find a wakeboarding cable park, SUP, kitesurf and good vibes.
Kiteboarding spots in Iran
Where to pump up?
Kish Island / South
Kish Island is home to one of the top kitesurfing spots in Iran. Described as the cosmopolitan hub of Iran (still no booze, but heaps of shops, restaurants, malls … ) this is a fairly "cool" island. Located on the Persian Gulf, you can fly here from the mainland in just 1hour 40mins. The kitespots to keep an eye out for are:
1. Kite Beach
Located on the North East of the island (just north of Men's beach), this kiteboarding spot is great for all skill levels. Ocean riding, you'll find some bump and jump and small wave chop here for a bit of a challenge. 
The water is crystal clear, clean and the beach is nice and sandy! You can drive up to the car park and take a short walk down to the launch site. Around here, you'll find few crowds, but still a kite shop, restaurant and plenty of spots to rest your eyes after a long shred. Keep your eyes peeled for coral and swimmers.
2. Damoon Beach
North of Kish Island, to the west of Kish Port, you will find a little spot that isn't so well maintained but it does attract the odd dedicated kitesurfer. Here, it is shallow and tidal, but at high tide you can have a play on the small chop with a safe side onshore wind. There are a few hazards around so keep your eyes peeled for buoys, corals, reef, jetskis and a few stones dotted on the sand beach.
3. Turtles Beach
Located on the south of the island is Turtles Beach, a bit hardier for the more experienced kiter. Ocean riding will maintain that bump and jump with medium wave, and it will challenge you a bit more than Kite Beach in the north. Still with coral, caution is encouraged especially as it is a small beach, albeit beautiful! The onshore winds will gust 15-20 during season (November to February) and the winds keep the temperatures bearable.
4. Naz Islands / Qeshm
As you follow Kish Island back to the mainland, and follow the coastline east, you will eventually reach Qeshm Island. Again in the south of Iran, this spot is still the Persian Gulf, but crosses over into the Gulf of Oman. As you can imagine, this has an impact on the wind patterns, and actually as a result the seasonality is polar opposite to Kish. The island is 120km long by up to 35km wide along the strait of Hormoz, and this spot is WOW. Not just for kiteboarding but it's unlike anywhere else on earth in its history, landscape and attitude.
Naz Islands, or you may see their name spelt as Naaz, are 2 tidal islands on the South east coast of Qeshm. During low tide, the islands connect to the Qeshm island, so you can actually walk all the way from the main island to these natural rocks along the soft sand. 

At high tide, the two hills become islands again. The sea depth never grows beyond 2m so this is a pretty safe spot for kiteboarding lessons. Not to mention the picturesque scenery. What eye candy! 

The tide cycle changes every 2.5 hours, so just keep that in mind folks and be aware of time when you're walking around. Swimming the 1km distance back to the Qeshm island is probably not on the schedule for the day.
5. Chabahar Bay (Konarak)
Close to the Pakistani border on the south coast (further east again) you'll be heading out towards the Indian Ocean / Gulf of Oman for a windy session from June to August.
The kite beach is on the east side of the Chabahar Bay, just by Tiss Beach. With the onshore wind averaging around 12 knots, this is a fab sandy kitespot offering smooth sailing with a touch of a friendly waves.
Northern Iran
6. Manjil Lake (Losham)
Between Tehran and Rasht, you will come across a small dam that offers steady wind and flat water. It's a great little spot for a camper van road trip for few days.
This tidal lake is suited well for all skill levels. It has a stony beach and is an awesome refuge in summer. From April to September the prevailing north easterly winds will help you pick up and ride. But winters here can get very chilly though, so just count that in your holiday plans!
7. Fashafooyeh Lake
Fashafooyeh Lake is a man-made spot just a stone's throw away from Tehran.
If you're flying out from Tehran the very next day, the weather is good, and you feel like you can still squeeze a quick session out on the water before the end of your holiday, then this could be the perfect day trip.
It's an awesome spot to get your kicks. There's a cable, so even if you're not that lucky with the wind, you can make the most out of the wakeboarding park.
No wind?
In its tourist infancy, Iran is fairly undiscovered and misinterpreted. But it's home to some of the richest landscapes, beautiful mountains, jaw dropping and untouched scenes that must be explored. With these suggestions, you will have an epic trip whatever the weather:
Switch sea for snow – Now this may sound like a super crazy idea since you already rocked up with your kitesurfing gear, buzzing for some business, but up in the foothills surrounding Iran's capital Tehran, the ski resorts in the Alborz Mountain range regularly attract hounds of fresh powder.
The snow season usually starts from around late November and can occasionally stretch all the way through to May. So If you happen to arrive and the wind forecast doesn't look good, then here you go, enjoy the snow instead!
Dizin Ski Resort being the biggest with 9 skilifts, 3 chairlifts, 4 gondolas, black slopes, blue slopes, green & red, you'll find it all. There is a ski school as well as gear rental. Snowkiting gear might be a little too ambitious, but skis and snowboards are available for hire.
The resort is considered to be one of the highest ski resorts in the world as it reaches an altitude of 3,600 meters. Pretty impressive, huh!?
Qeshm Island – If you happen to be in the south of Iran on Qeshm Island and the wind forecast doesn't look as promised on the travel agent's website, there are many other things to keep you occupied.
GeoPark – (the only one in the Middle East) filled with unique wildlife and amazing monuments created by mother nature.
Kharbas Caves – 15km from Qeshm City, naturally made caves over 2800 years old with carvings!
Salt Caves – Namakdan Cave is 6km with a 1m deep salt lake. Although this could be a bit of a drive, it's well worth to see. You may need equipment to fully enjoy this one .. and not being claustrophobic.
Shib-Deraz Village – The most famous on the island, due to the Hawksbill turtle habitat (hatching late Spring time)
Chahkooh Canyon – 70km from the city, this used to be known as the Holy Valley storing water for the local villages. Best to visit in Winter.
Harra Forest – An ecotourism site over 2000m2 with the tree trunks appearing and disappearing with the tide.
Stars Valley – tales of this region include a star falling down to earth here, creating all kinds of incredibly unique formations in the sands and rocks. Locals avoid this area at night as they believe it is haunted.
Portuguese Valley – the 110year old castle / Fort of Our Lady of the Conception is located here built in 1507. You will find a reservoir, armoury, barracks, prison, church and more.
For more important ins and outs about visiting Iran, like visas and local customs, check out Nomadasaurus' complete travel guide. Or for more info on getting to and from Qeshm Island, as well as accommodation, visit Omnivagant's awesome post. 
---
Where to next? If you're heading into Asia and are after an all-round good spot, checkout kiteboarding in Rameswaram, India. Or considering Europe? Here is a guide on kiteboarding in Naxos, Greece's 'Island of Gods'.